LOS ANGELES — A massive fire in a storage area that shut down a stretch of the major Interstate 10 freeway in Los Angeles was preliminarily found to be arson, the governor said.
The fire, which broke out early Saturday, has been called a crisis in Los Angeles, which had traffic problems long before they were aggravated by the closing of the stretch of I-10 south of downtown.
Investigators believe there was "malicious and willful intent of starting a fire," California State Fire Marshal Daniel Berlant said at a news conference.
Gov. Gavin Newsom said the preliminary determination is "that this fire occurred within the fence line of the facility you see behind me, that it was arson, and that it was done and set intentionally."
The investigation into who is responsible continues, officials said.
The stretch of the freeway, from near Boyle Heights and running west, might have to be demolished and replaced. Over 100 columns were damaged, Newsom said, around nine or 10 of them severely.
There were no deaths, officials said.
The 10 freeway is a major artery in Los Angeles and the region. Around 300,000 people would normally drive that stretch of the freeway every day, Mayor Karen Bass said, and employers were asked to have staff members work remotely.
The area under the freeway had been leased by the California Department of Transportation, known as Caltrans.
Newsom called the company that held the lease "bad actors" that had been in litigation with state officials, and he said it had stopped paying its rent and had illegally sublet the storage area to others.
The company, Apex Development Inc., had subleased the site to five and possibly six other companies without legal authorization, he said.
An attorney whose office represents Apex Development in litigation with the state said that "we are currently investigating ourselves what happened at the yard under the freeway."
"As such, we are not prepared to give an official statement or answer questions until we have determined what actually occurred. But let me assure you, Apex Development, Inc. did not have anything to do with the fire," attorney Mainak D'Attaray said in a statement.
The lease permitted the storage of nonflammable and non-explosive materials, as well as operational vehicles, Newsom said.
It was clear from the fire that materials stored there included cars, pallets, and fruits and vegetables, Newsom said, but investigators are still looking at what was there.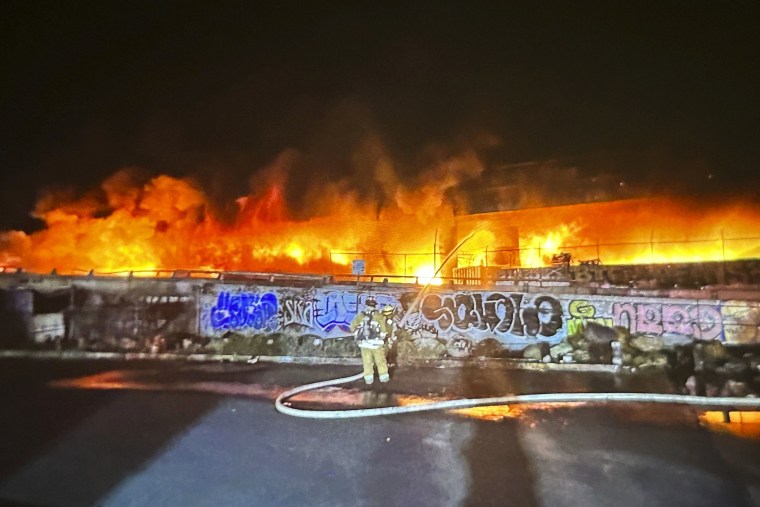 State Transportation Secretary Toks Omishakin said his agency was working 24 hours a day, with workers doing 12-hour shifts.
Concrete and rebar samples have been taken from the bridge, and "engineers are analyzing those samples as we speak," he said.
There were 16 people in the area who were homeless, Bass said. They are all now in housing, she said, and she urged people not to jump to conclusions about the cause.
"We know that the origin of this is arson. We do not know other information," Bass said. "There is no reason to assume that the origin of this fire or the reason this fire happened was because there were unhoused individuals nearby."
Newsom said there will be a thorough review of all Caltrans leases across the state.
Berlant, the fire marshal, said the point of origin of the fire has been identified. Investigators have interviewed people in the area, including homeless people, and are seeking video from businesses, he said.
"We have determined what started the fire," Berlant said. "We are still working to determine who or who, multiple people, may have started the fire. And so our work is not done."