Officials at Yellowstone National Park have confirmed that an Oregon man reported to have fallen in a hot spring Tuesday was killed, the park said Wednesday.
Colin Nathaniel Scott, 23, of Portland, slipped and fell in a hot spring near Porkchop Geyser Tuesday afternoon after he and his sister left the boardwalk in the Norris Geyser Basin, park officials said in a statement.
Rangers confirmed Scott's death Tuesday evening, the park said. An effort to retrieve his remains was called off Wednesday because there was nothing that could safely be recovered, park spokeswoman Charissa Reid said.
The sister, who saw the accident and reported it to authorities, was not injured, Reid said.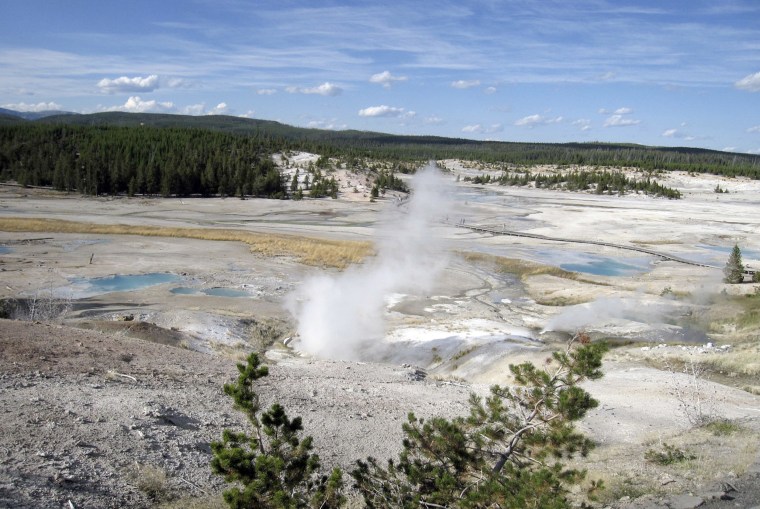 "We extend our sympathy to the Scott family," Park Superintendent Dan Wenk said in the statement. "This tragic event must remind all of us to follow the regulations and stay on boardwalks when visiting Yellowstone's geyser basins."
Tuesday's fatal accident occurred in an area known as the Back Basin. It was the first death related to thermal features in Norris Geyser Basin since 1898, Reid said.
There have been 22 known deaths related to thermal features in Yellowstone since 1890, she said.
Many of the hot springs in the Norris Geyser Basin are at or greater than 199 degrees, according to the park's website. The accident happened about 225 yards off the boardwalk, the park said.
Hazardous conditions in the area forced searchers to take extra precautions, including using experts to make sure the ground was safe, Reid said. Rock and mineral deposits in some places can be fairly thick but in other places can be just a thin sheet with hot water below, she said.
"It wasn't a very secure site," Reid said.
Visitors are prohibited from leaving designated paths at the park's thermal areas. Yellowstone says on its website that more people have died or been injured in the park's hot springs and thermal features than any other natural feature.
Reid expressed condolences to Scott's family, and urged visitors to stay on designated paths. "We have regulations in place for a reason — They're here to protect the features in the park ... they're also here to protect the people in the park," Reid said.
Earlier this week, a father and son suffered burn injuries after leaving the path in a thermal area in the Upper Geyser Basin, the park said.