A broad manhunt continued Thursday night in Florida several hours after two men robbed an armored car outside a grocery store, shot the driver in the head and made off with an undetermined amount of cash.
A condominium complex near the Publix supermarket in Altamonte Springs, a suburb north of Orlando, was under lockdown into the evening while police searched it with a bloodhound after the stolen getaway car was found there, Altamonte Springs police Lt. Robert Pelton told reporters.
"It's very likely they could be harboring in a close-by residence," Pelton said. But the men disappeared, and late Thursday, police said there was no threat to residents of the Royal Arms Condominium.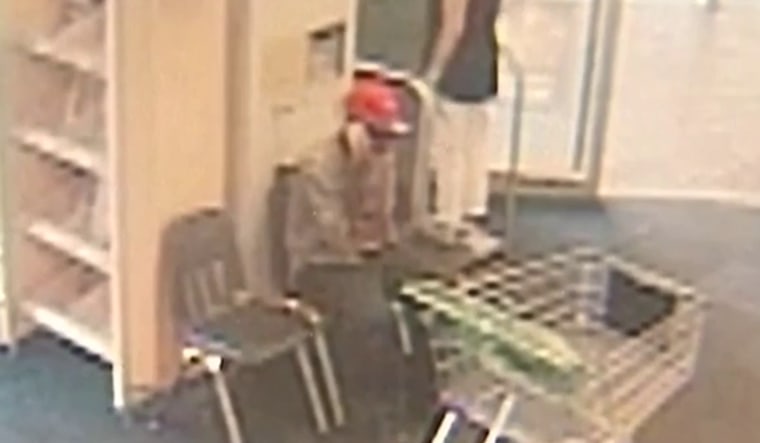 The driver, a 25-year-old man who wasn't identified, remained in serious condition with a gunshot wound to the head at Orlando Regional Medical Center. Pelton said he was "alert and conscious" and was talking with investigators. Three Publix shoppers were being treated for what Pelton described as "cardiac issues."
Police released part of a security camera video from inside the store that they said showed the suspected gunman, described as a black man wearing a long-sleeve plaid shirt and an orange or purple hat, possibly with a Phoenix Suns logo, talking on a cellphone inside the store and then walking outside.
The video later shows the actual shooting and the driver's falling to the ground about 3:30 p.m. ET, police said.
"We have very good images of you," Pelton said, addressing the gunman and his getaway driver. "We will identify you. Turn yourself in before anyone else gets hurt."
Evie Sabo, who was shopping in the store, told NBC station WESH of Orlando: "I was just looking at the shelf to see what I wanted to get (when) everyone came running down the aisle telling everybody to go, go, go.
"There were gunshots, and everybody just ran out the back door, and we all just kind of hid in the bushes," she said.
Susan Buccatello, another shopper, called the experience "horrible, absolutely horrible."
Monika Sabevska, a resident of the Royal Arms, said the police manhunt was "more than scary. 'Scary' is just an understatement."
The Publix is expected to open on schedule Friday morning.