A professional dancer who lost her left leg below the knee in the Boston Marathon bombings danced on Wednesday for the first time since the blasts.
Adrianne Haslet-Davis danced the rumba to Enrique Iglesias' "Ring My Bells" at the TED conference in Vancouver, B.C. — thanks to a custom prosthetic leg designed at MIT.
"I'm thrilled to have danced again," said Haslet-Davis, who was paired with professional dancer Christian Lightner. "It was invigorating to dance publicly with my new leg, but also to realize that my return to dance may have the power to inspire other people to reach for their goals and be proactive in their lives."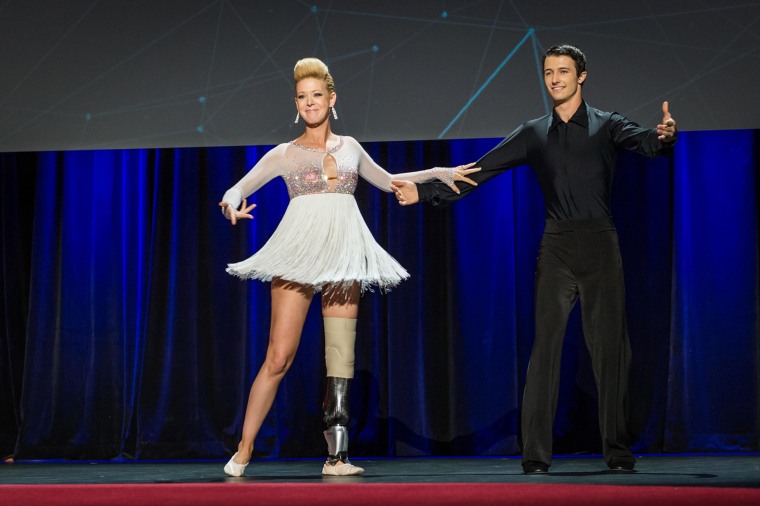 Haslet-Davis journey back to dancing started shortly after the April 15, 2013 explosions near the finish line of the marathon when she met Hugh Herr, director of the Biomechatronics group at MIT Media lab.
Her plight inspired Herr to create what is being hailed as the first prosthetic leg specifically for dance, providing "natural levels of power" to accomplish intricate movements, said David Guarino, spokesman for the TED (Technology-Education-Design) conference. Herr also gave a presentation on the prosthetic and his work.
Three people were killed and more than 250 injured in the blasts.
On Wednesday, President Barack Obama commented on the upcoming anniversary of the bombings.
"My hope is that not only us here in the White House but all over America will take time out to recall that tragedy but also to remember how quickly Boston bounced back."