The diagnosis was dire: Roland Williams, a St. Louis boy with a megawatt smile and a penchant for painting, had an extremely rare form of lung cancer, oncologists told his mother in May 2016.
"They didn't think he would make it to see his 10th birthday," Myra Gregory said. "But thankfully the insurance was covering everything at that time, so we were happy to make it to see number 10 and 11."
Roland is covered under the Children's Health Insurance Program (CHIP), a federal health insurance program that provides inexpensive coverage to nearly 9 million children in low-income families.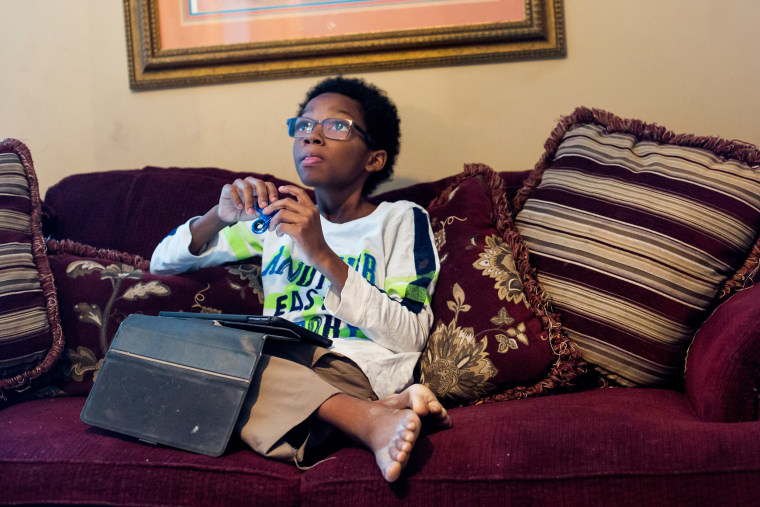 For many kids, CHIP covers annual check-ups and other pediatrician visits; for Roland, it has made chemotherapy, radiation and surgery possible, all of which has made the difference between life and death.
But now Roland — who this week spent time getting ready for Christmas by painting ornaments in between hospital visits — is facing another blow: His health insurance may run out.
CHIP has enjoyed bipartisan support since its inception in 1997, but this year, legislators let the deadline for reauthorizing it pass as they bickered over other health care issues, primarily the latest Republican-led push to repeal and replace the Affordable Care Act.
"There are so many other families out there that won't even get treatment or be able to find out what's wrong, or know that anything is wrong with their child."
While Americans are split over how to handle Obamacare, three-quarters of the public want CHIP renewed, according to the September Kaiser Health Tracking Poll.
If Congress doesn't renew CHIP soon, the consequences could be far-reaching. The program provides health insurance for children and pregnant mothers in families that don't qualify for Medicaid, yet can't afford private insurance — people like Gregory, a single mother to Roland and his two younger brothers.
"There are so many other families out there that won't even get treatment or be able to find out what's wrong, or know that anything is wrong with their child," Gregory, who does temp work at warehouses and factories, said. "I am very appreciative of all the help that I've received. But not receiving this is detrimental and can mean my son's life."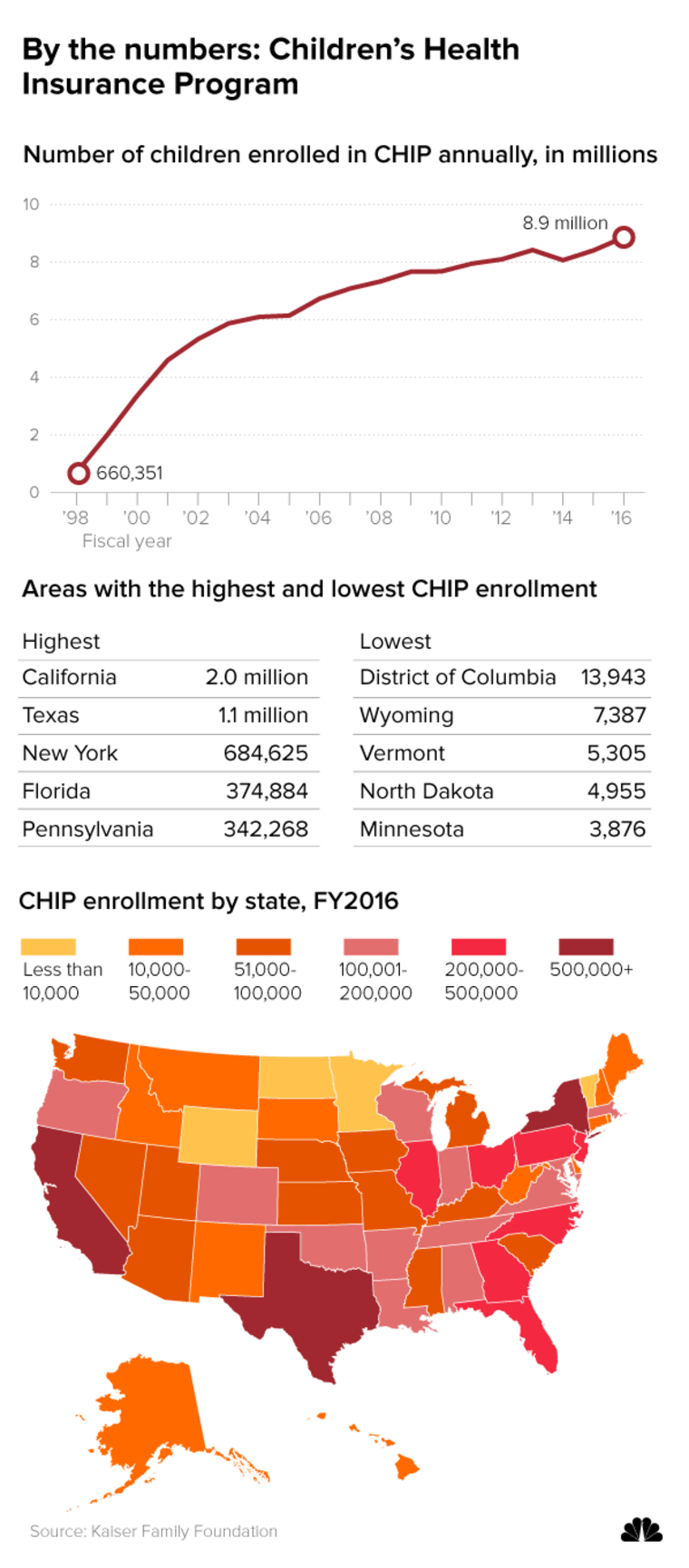 CHIP is funded by a combination of state and federal dollars. An estimated 11 states will run out of federal CHIP funding by the end of the year, according to a study by the Kaiser Family Foundation, a nonpartisan research organization, and 21 more states, including Missouri, where Roland is, will be depleted by March 2018.
"Don't ask me why they can't find 10 minutes to just call up this bill and pass it, but nothing is ever simple," said Sara Rosenbaum, a professor of law and policy at the Milken Institute of Public Health at George Washington University, who has served as a presidential and congressional adviser since the 1970s.
"Popular programs are not above this," she added. "In some ways, they become proxy wars for these controversial issues."
Experts say the program's payoffs have been astounding, citing Census Bureau data that shows that the rate of uninsured children in the U.S. in the past 20 years has dropped from 14 to about 4.5 percent.
"CHIP and Medicaid have worked together, particularly over the past decade, to reduce the number of uninsured children to historic levels," said Joan Alker, executive director of the Center for Children and Families at Georgetown University.
"We're certainly in an unprecedented situation."
The program needs to be periodically reauthorized, but up until recently it wasn't considered a particularly controversial piece of legislation.
Why legislators missed the Sept. 30 deadline to renew CHIP had more to do with other health care bills in Congress than it did with CHIP itself, experts say.
"It just fell through the cracks. The efforts were on the repeal and replace effort and Graham-Cassidy, and it just didn't get the priority it deserved," said Swapna Reddy, a professor at the School for the Science of Health Care Delivery at Arizona State University, referring to one of the bills aimed at Obamacare. "Nobody thought it would expire."
An Office of Management and Budget official, speaking on the condition of anonymity, told NBC News that the Trump administration fully supports CHIP reauthorization and expects Congress to pass it quickly.
But how, or when, it will be reauthorized remains up in the air.
Both the House and the Senate have written nearly identical language to get CHIP through Congress. Earlier this month, the House passed a five-year CHIP reauthorization, but loaded the bill with offsets like cuts in programs for the elderly that don't have bipartisan support and are unlikely to pass in the Senate.
The Senate has a CHIP bill that is more likely to pass, but haven't scheduled a vote on it.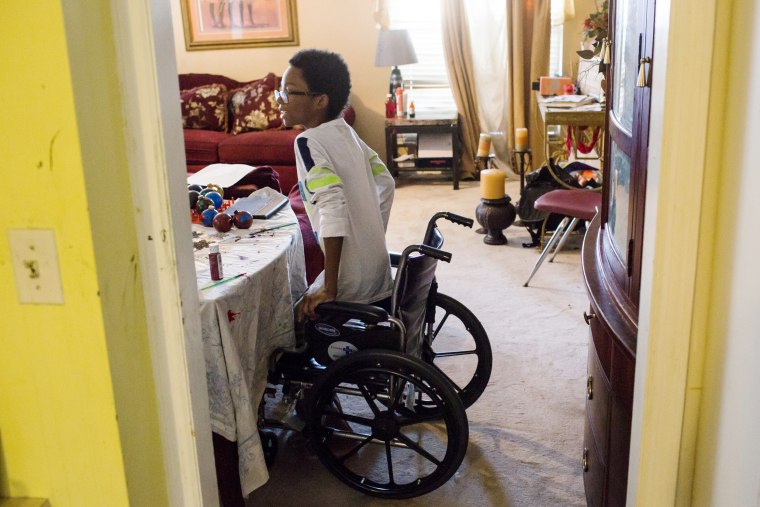 "There's agreement on what the future of CHIP should look like in both the House and the Senate, but there's not agreement on how to get that over the finish line," said Jesse Cross-Call, senior policy analyst at the Center on Budget and Policy Priorities, a nonpartisan think tank that focuses on issues that affect low-income populations.
Hillary Clinton, who as first lady championed CHIP, chastised Congress for waiting.
"This is the first time where we're really playing roulette with these kids and their families," Clinton said on Nov. 9 at a health care symposium in Pennsylvania. "States are going to start shutting down these programs because they don't have a funding stream."
In the meantime, families like Roland's are asking for help. Gregory has a GoFundMe set up and wrote an op-ed in The St. Louis Post-Dispatch begging Congress to take action.
"I hope that maybe if they really saw how this affected us, even one family, that they would do what they had to do to get it passed," she told NBC News.