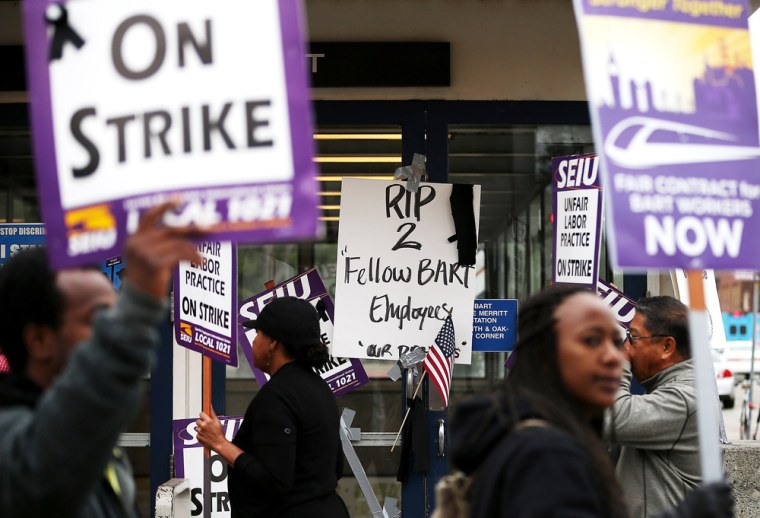 Unions representing transit workers in the San Francisco Bay Area resumed negotiations with management Monday in an effort to end the four-day-long strike that has left commuters in gridlock, transit officials said.
"If we can reach an agreement by 6 p.m., we can have train service running tomorrow morning,"  BART spokesman Rick Rice said as the talks were resuming Monday afternoon. 
Bay Area Rapid Transit (BART) employees walked off the job on Friday after the Service Employees International Union Local 1021 and the Amalgamated Transit Union Local 1555 could not come to an agreement with BART management over wages and workplace rules, according to BART.
Reuters reported that both sides suggested they had narrowed their differences and that a settlement was in sight as they negotiated with the help of a federal mediator, Greg Lim. As another rush hour came to a close on Monday night, BART Deputy Chief Communications Officer Jim Allison said the two parties were still in the midst of face-to-face talks.
On Monday -- the second workday of the strike -- the estimated 200,000 commuters who use the train system daily had to deal with heavy traffic and overloaded buses, according to NBC Bay Area.
"It seems a little bit excessive now … at this point, we're all inconvenienced, and it's really hard to understand what's at issue anymore," Gina Sponzolli of San Francisco told NBC Bay Area.
According to BART, the unions and managers have fought for six months over benefits, salaries, rules, use of technology and work assignments. Rail workers also staged a strike in mid-July, which was ended by a two-month cooling off period in order to give the two parties time to come to an agreement.
The Service Employees International Union Local 1021 argued that BART wants employees to make a choice between workplace rights and economic security. BART called for a "spirit of compromise" on Friday in order to better serve riders.
According to NBC Bay Area, the picket lines took a much more somber tone on Monday, as compared to Friday, after the Saturday deaths of two BART employees who were struck by an out-of-service commuter train.
On Monday, NTSB investigators learned that a BART trainee was operating the train that hit Christoper D. Sheppard, 58 and Laurence Edward Daniels, 66, reported NBC Bay Area. NTSB lead investigator James Southworth said that it could take weeks to determine if the limited BART workforce on duty because of the strike contributed to the accident.
Reuters contributed to this report.