With last week's transfer of nine detainees to Saudi Arabia, the population of the U.S. prison camp in Guantanamo is now down to 80 – but the Obama administration and its critics still can't agree what to do with the remaining inmates.
The Pentagon released a proposal in February to close the Cuban prison camp and move up to 60 of the remaining detainees to a single federal correctional facility on U.S. territory. Opponents call the proposed transfer a security threat, and lawmakers have threatened to make any move to the mainland impossible. The House Homeland Security Committee has scheduled a hearing for the end of April.
Terror experts contacted by NBC News, however, say the inmates' new home in the U.S. would almost certainly be at least as secure, far harsher -- and much colder -- than "Gitmo."
Officials have cited the federal "Supermax" prison in Florence, Colorado, which sits in mile-high desert south of Colorado Springs, as the most likely destination.
The famed prison, also known as Florence ADX, already houses about 30 convicted Islamic terrorists in solitary confinement, including Boston Bomber Dzhokhar Tsarnaev, failed "shoe bomber" Richard Reid, and failed "underwear bomber" Umar Farouk Abdulmutallab.
Bernard Kleinman, a New York defense attorney who represents accused terrorists jailed at Guantanamo and at ADX, says the Colorado prison is a "much, much greater punishment" for those accused or convicted of terrorism.
"We have to remember who these people are"
Kleinman believes he's the only lawyer who represents inmates at both facilities. His clients include Yousef, in solitary in Florence, and Ammar al Baluchi, an accused 9/11 plotter held at Guantanamo.
"ADX is as secure a facility as exists anywhere," said Kleinman, who's visited Florence eight times. "No one is escaping or getting out."
James Connell, who is lead counsel on the al-Baluchi defense team at Guantanamo, agrees. "To claim ADX is less secure than Guantanamo is ludicrous." Similarly, Karen Greenberg, author of "The Least Worst Place: Guantanamo's first 100 Days," says security at the two sites is greater than at any other prison in the United States. In fact, only one inmate has escaped from any federal prison in the past 20 years.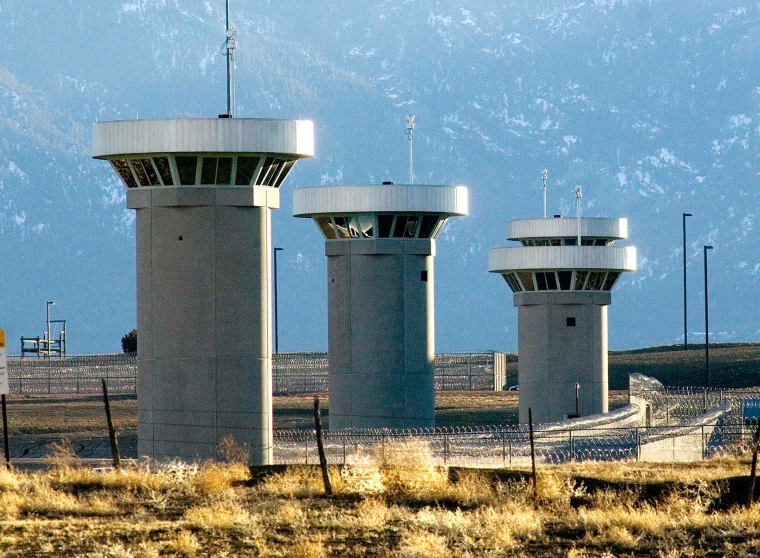 The declining prisoner population at Guantanamo is divided into two main groups. Sixty-six detainees live in dorm-like structures and have some amenities, including a soccer field. Many have already been approved for transfer to other countries.
Guantanamo's 14 other inmates are its "high value" detainees, who include 9/11 mastermind Khalid Sheikh Mohammed and four other 9/11 plotters. They're currently held in Gitmo's highest security facility, Camp 7, and are the focus of security concerns by critics of the proposed move.
Former Vice President Dick Cheney, among others, has claimed that a move to Florence "would be a cause for great danger and regret in the years to come." Colorado Sen. Cory Gardner joined with 13 other GOP senators to propose that any captured ISIS fighters be sent to Gitmo to restock the camp's population. The House Committee on Homeland Security will hold a hearing on the transfer April 28 to "examine state and local perspectives regarding the impact."
The Republican congressman who represents Florence, Rep. Doug Lamborn of Colorado's fifth district, tells NBC News that Supermax is "safe and secure" but notes, "We have to remember who these people are. Unfortunately, even the most secure facility in the world won't fully address issues of radicalization, additional access to communications and lawyers, and contraband."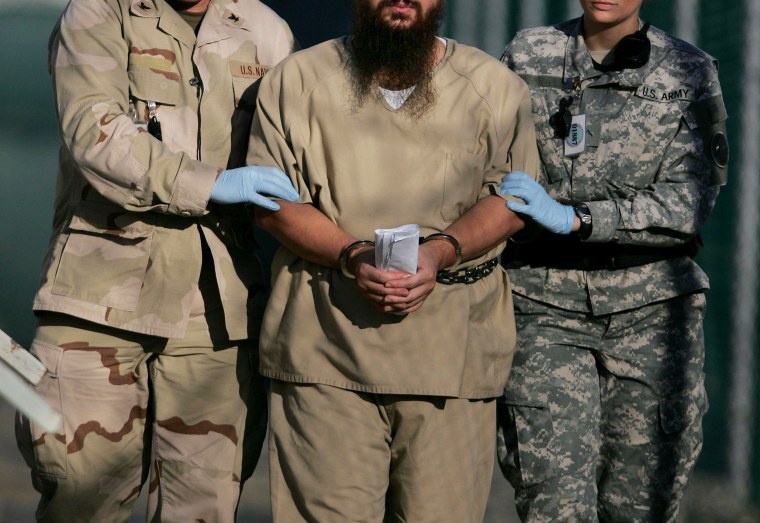 Connell, who has visited Camp Seven, dismisses Lamborn's fears, particularly any implication about misconduct by defense attorneys. He notes that most of the accused terrorists' lawyers, including him, as well as paralegals are either uniformed U.S. military or civilian employees of the Pentagon. "The idea that we are firebrand radical lawyers is foolish."
Kleinman said the entire region around "Supermax" is essentially a prison complex, with three other prison buildings with lower security levels in the federal facility and several state penitentiaries nearby. It is treeless, dry and sunny, but cold in the winter, with average lows in the 20s and 30s. There was a blizzard this past weekend.
Surrounding ADX are check points, razor wire, attack dogs, motion detectors, a dozen guard towers and biometric scanners.
Inside, there is space for nearly 500 prisoners, and there are gradations of Supermax. One set of prisoners, including most of the convicted Islamic terrorists, lives under additional restrictions called Special Administrative Measures and is housed in the Special Security Unit, also known as H Unit. The highest value Gitmo prisoners would most likely be housed in H Unit.
The Special Administrative Measures are specific to each inmate, and are set by the Office on Enforcement Operations at the Justice Department in Washington, in conjunction with whichever U.S. attorney's office prosecuted the inmate.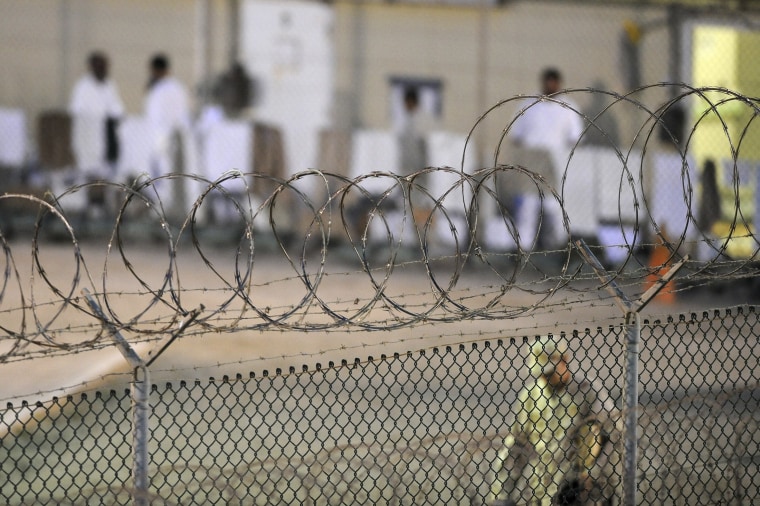 H Unit prisoners are eligible over time to be "stepped down" as a reward for good behavior and held under slightly less restrictive conditions in other units. Prisoners singled out for still more discipline are sent to Z Unit, which is darkened and soundproofed.
Each prisoner in Supermax is given a 7' by 12' cell with a small sink/toilet unit, a concrete stool and table, and concrete bed.
The only light comes from a 4-inch-wide window that is designed so the prisoner doesn't know where he's located in the complex. He can't see the nearby Rocky Mountains. Meals are delivered through a slot in the door.
H Unit cells have no televisions, while other cells in ADX have black and white TV with limited programming (news is not permitted). H Unit prisoners are only allowed visits from immediate family and attorneys.
The convicted terrorists in H Unit have no physical contact with visitors, including their attorneys. All communications with visitors take place through a plexiglass window. When prisoners are moved outside their cells, their hands and feet are shackled.
That lack of physical contact, say Kleinman and Connell, is the biggest difference between ADX and Guantanamo and that makes for a worse prison environment.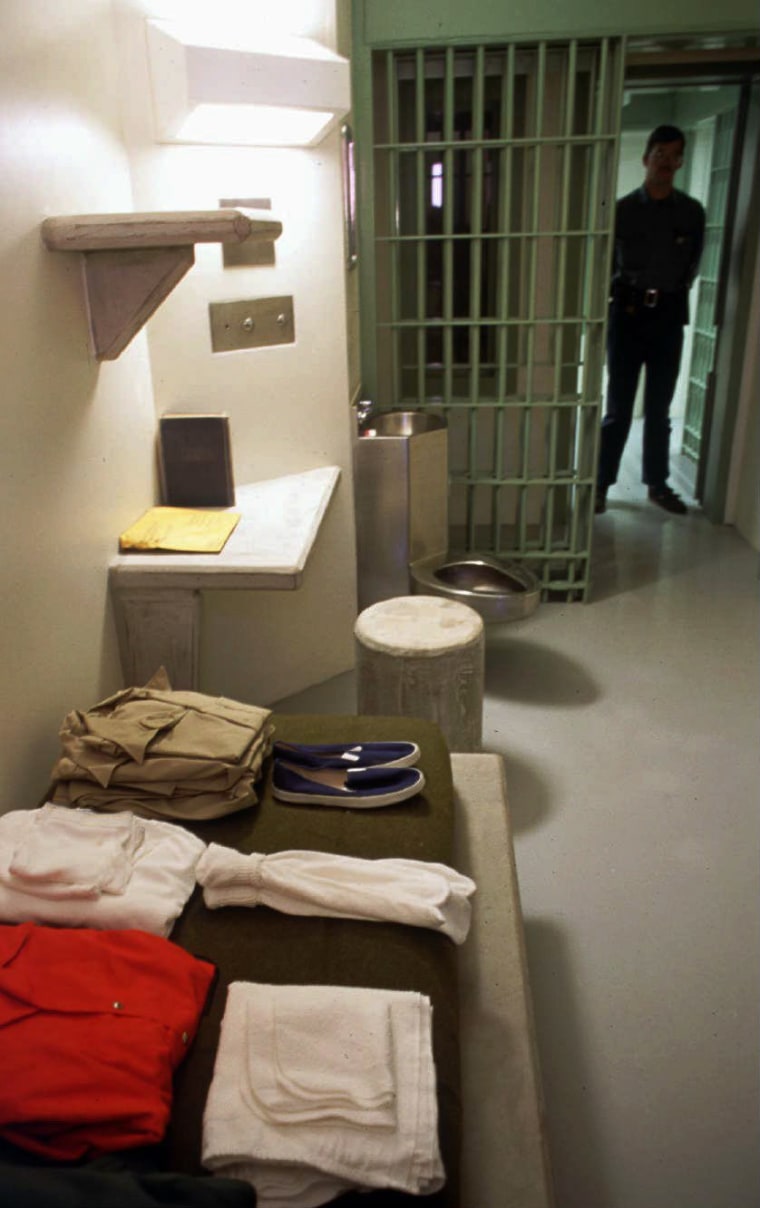 "ADX, a solitary confinement facility, is a much, much greater punishment than anything they are suffering at Gitmo," said Kleinman. "And, if the desire of the public is to punish those, who have not even been convicted, then ADX is much worse than Gitmo.
Group prayer is not permitted, notes Connell. However, prisoners have figured out ways to work around the restrictions. Inmates in H-unit pray at the designated times with one acting as an imam and leading the prayer, yelling at each other in Arabic along the two "ranges" of cells – upstairs and downstairs.
Prisoners are allowed short stints of exercise in a cage-like structure open to the sky. While many get just one hour a day in the cage, some are permitted as many as four. Prisoners who have been "stepped down" to J Unit, for example, get two hours outside in the cage. Ramzi Yousef, the mastermind of the 1993 World Trade Center attack, has been "stepped down" and now gets additional hours outside his cell.
The exercise and prayer limits at Guantanamo's Camp 7 are similar to those at ADX.
The biggest question with the Obama plan, say experts and defense lawyers, is what happens to the other detainees at Guantanamo, those who've never been charged with terrorism-related crimes and are likely to be released into the custody of other nations. Would they be moved to ADX, or to one of Florence's lower security buildings?
For these "general population" prisoners at Guantanamo, says Greenberg, conditions are much better than they would be at any maximum security prison in the U.S. They live in dorm-like structures and have greater amenities. They can socialize with each other, participate in group prayer, and play soccer in the tropical sunshine on their own soccer field.

"They're not as hard," she said of conditions at the Cuba-based facility. "Not only not as bad as ADX, but they don't replicate conditions at any maximum security prison. It is a kinder and gentler place than the U.S. prison system in general."
She adds that there was a bit of an unspoken tradeoff between the government and defense counsel for these detainees, that as legal conditions got worse at Guantanamo -- the lack of formal charges or hearings for most detainees -- physical conditions got better.
The plan released by the Pentagon says that after examining 13 different facilities in the U.S., authorities decided that all the Guantanamo detainees should be sent to one place. In addition to its ADX "Supermax" facility, the federal complex at Florence includes medium and lower security prisons, but discussion of where to move the Gitmo detainees has centered on ADX.
If Gitmo prisoners are transferred to ADX, says Greenberg, she expects defense counsel to object to the change in conditions, noting that their clients, who have yet to be tried, would be thrown into a prison for the worst convicted terrorists.
Kleinman says there is an irony to the discussion of which prison --Guantanamo or ADX Florence-- is more secure and has the harshest conditions.
"if the 9/11 defendants had been tried in New York, as they should have been, these trials would be long since over. And the defendants [if convicted] serving life sentences at ADX, or perhaps on death row at Terra Haute. But, for solely political reasons this has not happened," said Kleinman.
Both the Federal Bureau of Prisons and the Pentagon declined comment.