Editor's warning: This story contains graphic content. 
An Ohio judge has sentenced T.J. Lane, the Ohio teen charged with shooting three students to death and wounding three others last February, to life in prison without the possibility of parole. 
Lane showed up to his sentencing wearing a white T-shirt with the word "KILLER" in capital letters scrawled on it -- the same word police say he had emblazoned on his shirt the day of the shootings at Chardon High School.
Lane, 18, pleaded guilty last month to all charges against him in the Feb. 27, 2012, shootings, in which he opened fire on a cafeteria table full of students in the rural community of Chardon.
In a brief statement during his sentencing on Tuesday, Lane flipped his middle finger at people in the courtroom, which included family members of his victims, reported NBC affiliate WKYC.com. He revealed his "KILLER" T-shirt to the court once he was inside, taking off a blue button-down he had worn on the way in, the station reported.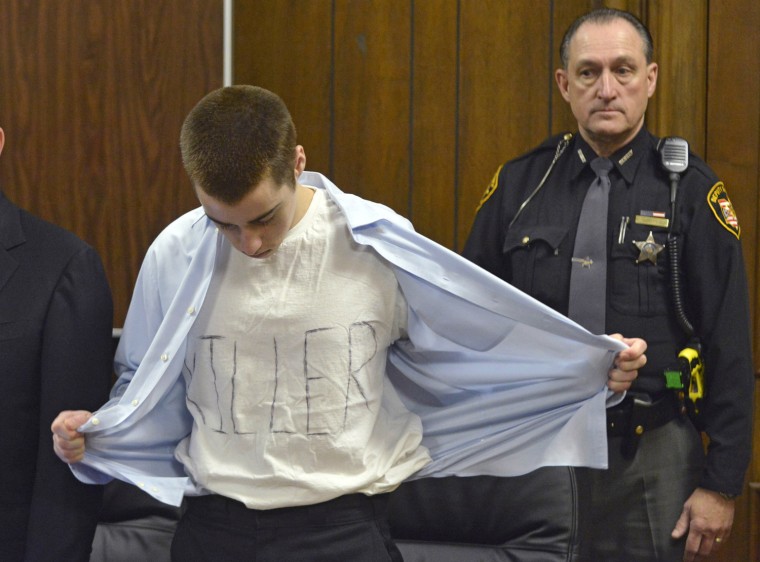 Three students -- Demetrius Hewlin, 16; Russell King Jr., 17; and Daniel Parmertor, 16 -- were killed last February. Nate Mueller and Joy Rickers were wounded, as was Nick Walczak, who is paralyzed from the waist down, according to Reuters. 
Lane has not given a motive for the shootings, which rocked the tiny town 30 miles outside Cleveland. He gave only a short, defiant statement in the courtroom on Tuesday: "This hand that pulled the trigger that killed your sons now masturbates to the memory. F--- all of you."
Gasps were heard in the courtroom as Lane then proceeded to stick up his middle finger at both his own relatives and those of his victims, The Cleveland Plain Dealer reported. Some people started crying.
Geauga County Judge David Fuhry sentenced Lane to three life sentences without eligibility for parole for three counts of murder, plus 8 years for a fourth count of attempted aggravated murder, 6 years for a fifth count of attempted aggravated murder, and 6 years for a sixth count of felonious assault.
In handing him the sentences, Fuhry said Lane lacked remorse for the killings. Lane was ruled mentally competent enough to stand trial last year despite evidence he suffers from hallucinations and psychosis. Fuhry said Tuesday that court examinations showed Lane faked mental illness and was such a smart student that he was set to graduate from high school early, Reuters reported. 
The families of the boys who died in the shooting have attended every one of Lane's court hearings, The Plain Dealer said. Other victims' family members also attended Tuesday's sentencing, and read statements to the court ahead of Lane's sentencing.
"Because of you, our quiet little town will never be the same. Why? Why did you do it? Why?" Holly Walczak, mother of paralyzed victim Nick Walczak, said in court on Tuesday. Lane smiled as she read her statement, The Plain Dealer said.
Dina Parmertor, mother of slain victim of Daniel, said, "I want you to be ensured years and years of pain, which in my opinion is not enough. You don't deserve to take another breath while my 16-year-old son lies in the ground because of your cold, disgusting actions."
"You're a pathetic excuse for a human being. In fact, you're not even human. You're a monster," she added, according to The Plain Dealer.
Lane's sister, Sadie, who was in Chardon High School's cafeteria when her brother opened fire, also spoke on Tuesday, talking to reporters outside of the courthouse after the sentencing.
"The brother in the courtroom and that did this is not the brother I knew," she said, offering her condolences to victims' families. 
She described the moment she learned from a police officer who the shooter was last February. 
"Along with other students, I heard the gunshots and screams, ran for my life, ducked under tables, hid in the teachers' lounge, not knowing who the shooter was," Sadie Lane said. "When those words hit me, I shook and cried and denied that all this could be true."
She said she hoped for some good to come from the situation. 
"It may be hard for some to understand, but I love my brother, and I hope he can touch other lives in a positive way," she said.
Lane lived with his grandparents and attended an alternative school for students who haven't succeeded in traditional schools. He was waiting for the bus to his school from Chardon High when he began shooting from a .22-caliber semiautomatic Ruger handgun last February, according to police reports. 
He was taken into custody a short distance from where the shootings happened.
Reuters contributed to this report.