An Ohio woman who had been kicked out college and flew into a murderous rage when her mother found out was sentenced to at least 15 years behind bars Thursday.
Sydney Powell, 23, will be eligible for parole after serving a decade and a half in custody under the life prison term imposed by Summit County Common Pleas Court Judge Kelly McLaughlin.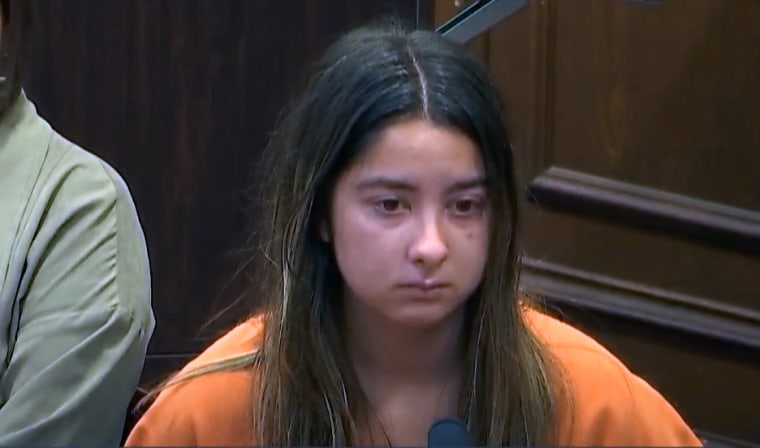 Powell hit her mother, Brenda Powell, 50, with an iron skillet on March 3, 2020, in Akron before she stabbed her nearly 30 times in the neck, prosecutors said.
A jury last week found her guilty of murder, assault and tampering with evidence.
She had been suspended by the University of Mount Union for poor grades, and school officials were on the phone with Brenda Powell when the fatal attack occurred.
School officials called Akron police when they heard screaming on the other end of the line.
"The phone cut off at some point after, I would say, somewhere in the neighborhood of six or seven of those thudding, those sort of thud sounds, and the screaming had continued," Associate Dean of Students Michelle Gaffney testified this month.
Alarmed school officials repeatedly called the Powell home back before a woman picked up claiming to be Brenda Powell, who was a child life specialist at Akron Children's Hospital.  
"The voice on the other ends said, 'Yes, this is Brenda. Yes, this is Brenda,'" Gaffney recalled. "It was not Brenda. I was sure it was Sydney. Both Dean [of Students John] Frazier and I looked at each other and sort of shook our heads at each other and said that's not Brenda. He then said, 'Sydney, I think this is you, this is not Brenda.' The phone went dead."
Sydney Powell, wearing orange jail garments, declined to make a statement in court because of her coming appeals case, her defense lawyer said.
She said "yes" in a soft voice when McLaughlin, the judge, asked whether she wanted the court to appoint an attorney to represent her for the appeal.
"To the victim, to the family and the friends, I am terribly sorry for your loss here," McLaughlin told the court. "I cannot imagine what you have been through."
Powell, shackled at the waist, cried as she was led out of court.
CORRECTION (Sept. 29, 2023, 12:20 a.m. ET): A previous version of this article misspelled the last name of the dean of students at the University of Mount Union. He is John Frazier, not Frasier.