One of three inmates who escaped from a Southern California jail a week ago turned himself in to police and is cooperating, authorities said.
Escaped inmate Bac Duong "contacted a civilian on the streets of Santa Ana and stated he wanted to turn himself in" at around 11:30 a.m. Friday, Orange County Sheriff Sandra Hutchens said.
The other two inmates, Hossein Nayeri, 37, Jonathan Tieu, 20, remain on the loose and investigators believe they may be in a white utility van in the San Jose area or bound for Fresno.
The three inmates escaped from the Orange County Central Men's Jail by using a makeshift rope to rappel from the roof of the facility sometime Friday. Tools were used to cut through steel bars and a grate.
Related: Jail Teacher Arrested Over California Jail Escape
"Mr. Duong is in custody and continues to cooperate with investigators," sheriff's Lt. Jeff Hallock told reporters later Friday. He faces additional charges for the escape. "He is providing us information,"
Investigators believe that Nayeri and Tieu may be together, driving a stolen 2008 white GMC Savana utility van, and they could have been in the San Jose area as recently as Thursday morning or afternoon, Hallock said.
"Both should be considered armed and dangerous," Hallock said.
The manager of the Alameda Motel in San Jose, California, told NBC Bay Area Friday that he believes all three inmates stayed at his hotel for two nights before leaving Thursday.
At some point, Duong left them and returned to Santa Ana but it is unclear how he made the around 370-mile trip back.
A teacher at the jail, Nooshafarin Ravaghi, 44, was arrested Thursday for allegedly giving Google Earth images showing the area around the jail to Nayeri.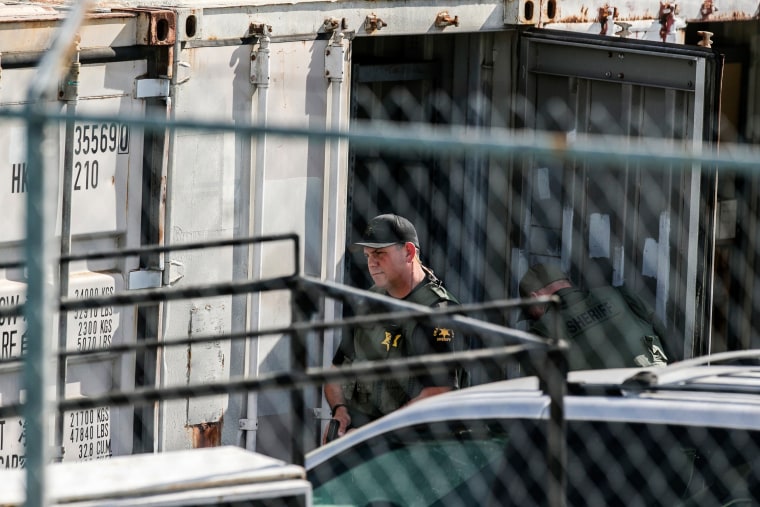 Ravaghi, who taught English as a second language classes, developed a relationship with Nayeri when he was in her class but it isn't clear she knew about the planned escape, authorities said.
"We don't really know what her mindset was," Hallock said.
Hallock said there is no indication that the relationship was romantic, but it may have involved written correspondence.
"We do know that it was much closer and much more personal than it should have been," Hallock said.
Ravaghi has denied bringing any tools into the jail and the tools used in the escape have not been found, he said.
Related: Manhunt Expands for 'Dangerous' Inmates Who Escaped From Jail
Ravaghi is charged with being an accessory to a felony. She is being held without bail and is scheduled to be arraigned Monday.
Of the three, Duong spent the least time at the jail before the escape. Duong, charged with attempted murder for allegedly shooting a man in Santa Ana in November, arrived at the jail in December.
Tieu had been at the jail since October 2013 on charges of murder, attempted murder and street terrorism.
Nayeri, charged in the torture and mutilation of a California marijuana dispensary owner in 2012, has been at the jail since 2014. He successfully fled to Iran where he lived for several months, but was arrested by the FBI in Prague in 2013.
A $200,000 reward has been offered for information leading to the arrests of Nayeri and Tieu.