One of the former high school football players convicted of raping a 16-year-old girl after an alcohol-fueled party in 2012 — a case that continues to roil the city of Steubenville, Ohio — has been released from juvenile prison, his family said.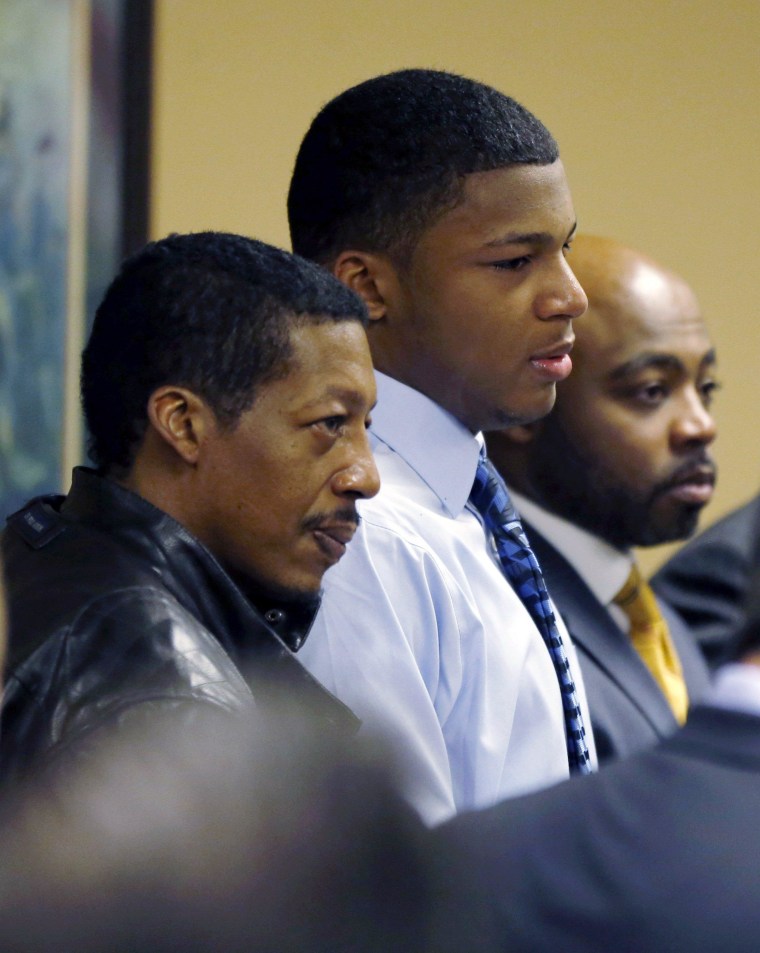 The former player, Ma'Lik Richmond, recently completed his time at Cuyahoga Hills Juvenile Detention Facility, the family said in a statement issued through a lawyer.
"Ma'Lik has reflected, learned, matured, and grown in many ways," the statement said. "He is a better, stronger person and looks forward to school, life and spending time with family. At this point, Ma'Lik wants most to be a high school teenager."
Richmond, 16 at the time, was sentenced last March to at least a year in juvenile prison. The lawyer, Walter Madison, declined further comment on his release.
A second player, Trent Mays, is serving two years. He was also convicted of using his phone to take a naked picture of the girl. The case drew national attention to Steubenville and led to questions about the influence of its celebrated football team.
While the two players were convicted, activists questioned why others were not charged, including other students who sent photos and texts about the assault and adults who may have known about it and did not report it.
Later last year, four school workers, including the school superintendent, were indicted by a grand jury investigating possible cover-ups in the case. They have pleaded not guilty.
Mays and Richmond both were required to register as juvenile sex offenders. Both apologized tearfully after a judge found them guilty last March.
"I'd like to apologize to you people," Richmond said. "I had no intentions to do anything. I'm sorry to put you through this."
The statement from Richmond's family after his release asked for privacy and said that "we all need to heal and move on with our lives."
Bob Fitzsimmons, a lawyer for the victim, said in a statement to WTOV, an NBC affiliate in Ohio: "One would expect to see the defendant publicly apologize for all the pain he caused rather than make statements about himself. Rape is about victims, not defendants."
The Associated Press contributed to this report.