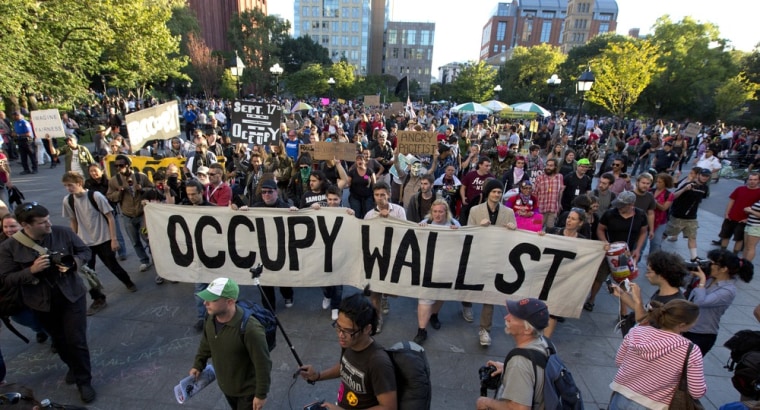 Occupy Wall Street took center stage last fall, galvanizing thousands of people across the country to protest against the abuses of what they called the "one percent."
But one year after the movement began, it has been reduced to a shadow of its former self: Occupy's makeshift camps have been shuttered, its membership has dwindled amid internal squabbling and what critics called a lack of direction and goals, and its hopes for social change so far have been unrealized.
Amid this backdrop, Occupy protesters have organized a sit-down protest around the New York Stock Exchange in Wall Street on Monday, their one-year anniversary, hoping to regain some momentum.
Photoblog: Occupy Wall Street protesters attempt to reignite their movement in New York
"Why are we going back to Wall Street? Because the one percent wants it all and they're not giving anything up without a struggle. Economic conditions are roughly as bad as they were a year ago and for many, many people they're precarious," said Bill Dobbs, of the Occupy Wall Street public relations team.
As Occupy struggled to find its footing after being booted out of its camps, the New York flagship, in particular, wrangled with internal conflicts over financial transparency, leadership and tactics.
Jon Reiner, a laid-off New York marketing executive who traveled to many Occupy camps last fall, is disheartened the movement didn't engage in electoral politics.
"I think there's an opportunity that it has missed," said the 50-year-old husband and father of two. "I'm still meeting people my own age who are still being laid off. … so the issue has the same prominence in terms of its, you know, impact on people's lives, and I think that the movement shouldn't be quiet about any of this, and one way not to be quiet in an election cycle is to get yourself in the face of the … candidates."
"I still identify myself with the movement," he added, "but I don't feel like I have necessarily an outlet for my activism."
Another point of contention was whether the movement should embrace violent tactics. 
"These big arguments took up a lot of time and energy for months over whether the tactics should remain strictly nonviolent," said Todd Gitlin, a professor of journalism at Columbia University who wrote a book on Occupy. " … the turning inward of energy was not constructive."  
New York couple Betty and Dennis Carbone, former anti-war and anti-nuclear activists, still come once or twice a week to Zuccotti Park to maintain a presence at the birthplace of the movement. They are disappointed others haven't done the same.
"We were down here for the winter," said Dennis Carbone, 69, as some protesters chanted, blew whistles and held up the familiar yellow-and-black banner reading, "Occupy Wall Street." The barricade-lined park protesters once called home had security officers at entry points on Friday many months after the encampment came down.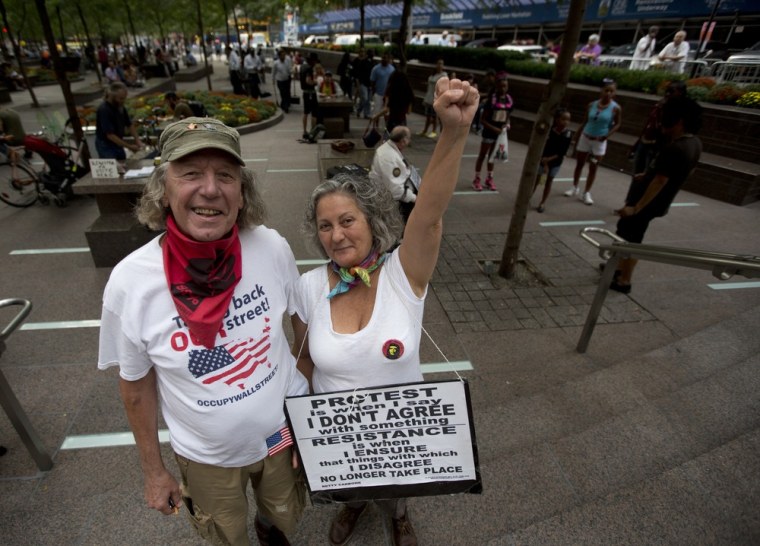 "Everybody was all pumped up: 'Wait till spring, wait till, wait till spring.' Guess what? We're in fall. No spring, no summer. What did we Occupy?" Carbone said. "That was probably the most disappointing … . And now, here we are what, one year, and what's happened?"
Disillusion over the perception that things weren't getting done led some protesters to create spinoff groups, such as OccuEvolve, which is focused on bringing more people into the movement and collaborating with the seven Occupy branches in New York city.
"I saw the stagnancy in the movement," said Sumumba Sobukwe, 44, who started the group in February. Though he had previously been working with others on Occupy outreach and movement building, "even then, I didn't see enough outreach into the community that represents the 99 percent." 
Unlike other Occupy demonstrators who plan to join the sit-down protest on Monday, those with OccuEvolve will be in the subways, hoping to attract newcomers.
"I think a lot of people kind of naively thought … that things would automatically change and it takes work, it takes organization," Sobukwe said.
Other social movements have taken years to achieve results, such as the Civil Rights struggle, so Occupy should not be counted out, said Dorian Warren, an assistant professor of political science at Columbia University.
"The underlying social conditions that created the movement are far from over," he said, citing money in politics, poverty and income disparity. " … which means the potential for the movement to still exist is there."
Sue VanDerzee, a 66-year-old retired newspaper editor from Durham, Conn., participated in Occupy Wall Street a few times and in a few Connecticut chapters, but she has turned her efforts to groups focusing more on local issues. She last visited an Occupy camp in March.
"I think that there's other groups which sort of seek to reach people where they are and not so much out of a sense of anger but out of a sense of possibility," she said.
When asked if she thought Occupy could carry on, she said: "As a movement, I'm not sure. As an idea, definitely. It's embedded in our culture."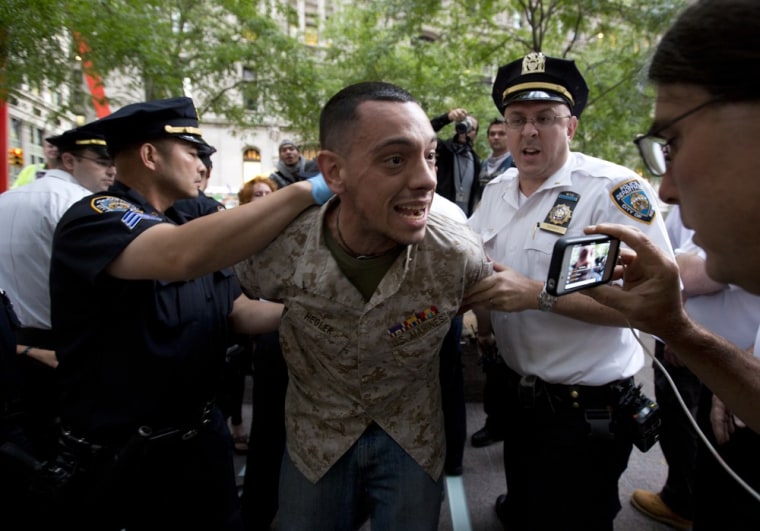 Related:
'Battle for the soul of Occupy': Activists fear becoming Democratic 'pet'
'Tea and Occupy' -- a discussion/debate between members of the two movements
Occupy Congress: Could it be politics as unusual?
To demand or not to demand? That is the 'Occupy' question
Chicago braces for major protests as NATO summit looms
Old guard back in the trenches at 'Occupy' protests