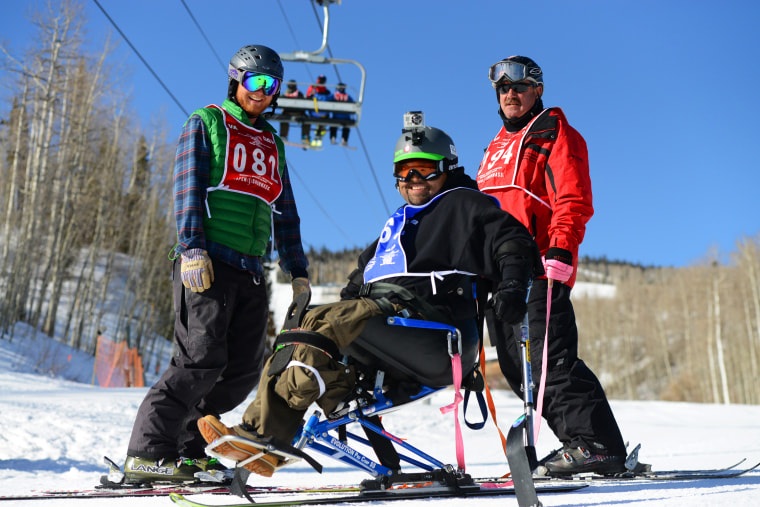 An Iraq war veteran who yearns to snowboard next March at the Sochi Paralympics recently told a priest he would give his left leg to compete for his country. And then, he did.
Six weeks ago, retired Army Sgt. Carlos Figueroa allowed a surgeon to amputate below his left knee — 10 years after an IED blast rendered the limb nearly useless. The decision was surprisingly simple, he said, because it sliced away a decade of mounting pain. Yet he also acknowledged: "I did give it up because I want to get into the Paralympics."
"When I went in, my doctor asked me: 'What's your biggest goal?' I told him: 'Be on my board within three months.' He just said, 'Dude, most people aren't walking within three months,' " Figueroa recalled. 
Walking will come. What he can do — already — is carve down a mountain, the lone place Figueroa, 34, feels at peace: "Up there, I'm no different from anybody. No PTSD. I'm at my happiest." On Thursday, Figueroa beamed while manhandling an Aspen, Colo., slope atop a monoski at a sports clinic for disabled veterans. As a familiar, cool breeze brushed his face, he also dreamed about racing in Russia.
"My love for snowboarding is about loss, the loss of what I had in the military, where you're used to being on the move, on patrols, on raids. That's how I treat my races. The moment that gate drops, it's like the door opening on a raid. I go full blast. I'm able to get something back that I felt was taken away. That rush. I love it."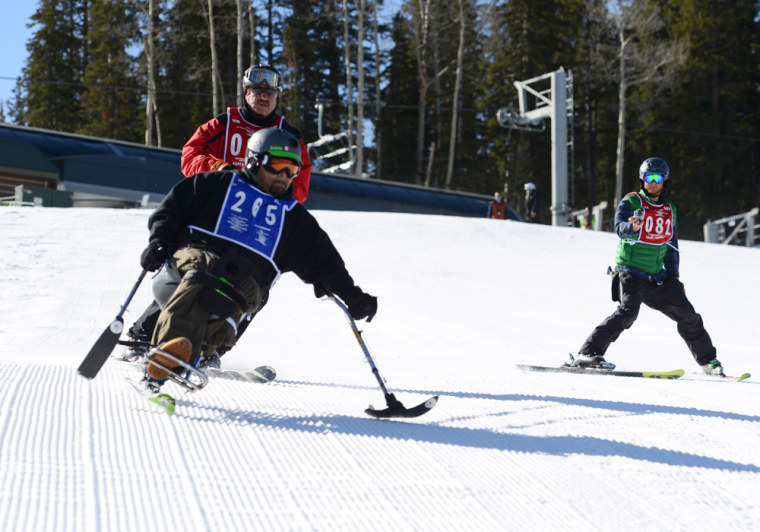 The wars in Iraq and Afghanistan have borne a bittersweet byproduct: scores of American Paralympic hopefuls. The Sochi Paralympics, to be held just after the 2014 Winter Games in that city, marks the inaugural Paralympic snowboarding event for disabled athletes. The U.S. men's Paralympic snowboarding squad will consist of five members.
'Slim chance'
Figueroa (and those close to him) knows he's the longest of long shots. His own coach, Mike Shea, estimates he took two years to, literally, make the leap from his own leg amputation to landing jumps. The raw nerve endings in an amputated limb must become desensitized to the harsh pounding. When the board hits the snow, the stump pushes into the prosthetic leg, "sending chills up your spine," Shea said. "It doesn't feel good."
Then there's the calendar. If Figueroa is indeed back on his board by autumn, he'll have a limited number of sanctioned races — beginning in January 2014 — to rack up enough points to rank among the top five American men. And the U.S. Paralympic snowboarders, including Shea, compose the world's deepest talent pool in that sport. The roster likely will be named in February.
"It's a slim chance, a super, super small window," Figueroa said, "but we're still going to push."
He needs only a sliver of possibility to kindle his hope — or better yet, someone telling him he can't. He certainly doesn't need two legs.
The Feb. 15 amputation came 10 years after a bomb detonated beneath his armored vehicle, ejecting him through an open roof hatch. A decade spent lugging a useless left limb (with no heel), suffering increasing back and knee pain, instantly convinced him to say "Let's do it," when an orthopedic surgeon in San Diego suggested, "Let's cut." He was done, he said, wasting another day "in a bubble" due to his injury, calling the operation "liberating."
'Go fast and have fun'
Nobody who has heard that account is betting against Figueroa.
"With any military athlete, you can definitely see that sense of pride and determination above and beyond what you see with other athletes. Part of it is just a chance to represent their county again," said Kevin Jardine, high performance director of Parlaympic alpine skiing and snowboarding for the U.S. Olympic Committee. "They're willing to sacrifice a lot."
Added Shea, who lost his leg in a 2002 wake-boarding accident: "Anything you tell Carlos, he'll get it done. He always seems to find a way. He has no fear up there. He has passion. And I've learned from him the smiling gets you a long way in life."
This week at the National Disabled Veterans Winter Sports Clinic in Aspen, organized by the Department of Veterans Affairs, Figueroa has been tempted to grab a board and shred. This is his fourth year attending. As a testament to his disregard for other people's timelines, he couldn't even stand on a snowboard four years ago due to his injury, yet he competed in a World Cup event for disabled snowboarders not long after that.
Until his prosthetic leg arrives, he'll stick to monoskiing, during which he sits in a "bucket" atop one ski, using his arms to hold smaller, balancing skis.
"The first run, I took it slow. After that, I opened it up," Figueroa said. "I just want to go fast and have fun."
When the instructor noticed his raw speed, he warned Figueroa: "You do realize if you go down, you may peel off half your face."
Figueroa simply grinned: "That's alright."
Related: