Christians and Jews joined Muslims in mourning the death of Muhammad Ali at a packed mosque in the boxing legend's hometown of Louisville, Kentucky, on Sunday night, where he was remembered as an ambassador for all humanity.
Ali — the three-time world heavyweight boxing champion who grew up in Louisville as Cassius Marcellus Clay before he took his Muslim name in the 1960s — died Friday of septic shock from natural causes. The man universally hailed as The Greatest was 74 and debilitated by Parkinson's disease.
Ali's body was returned Sunday to Louisville, where a public memorial service is planned for Friday. He was accompanied by his wife, Lonnie, and other family members and friends, said Bob Gunnell, a family spokesman.
Scores of people of all faiths and races packed River Road Mosque at the Louisville Islamic Center for an interfaith service to celebrate Ali, a man who made his living through violence but who preached peace outside the boxing ring.
"He was not only an ambassador of Islam," Muhammad Babar of Muslim Americans for Compassion, NBC station WAVE reported. "He was an ambassador for humanity, and he's beloved by people across the planet, irrespective of their faith or ethnicity."
The Associated Press reported that even though he was never mentioned by name, the shadow of presumed Republican presidential nominee Donald Trump and his call to ban Muslims from the United States hung over the service.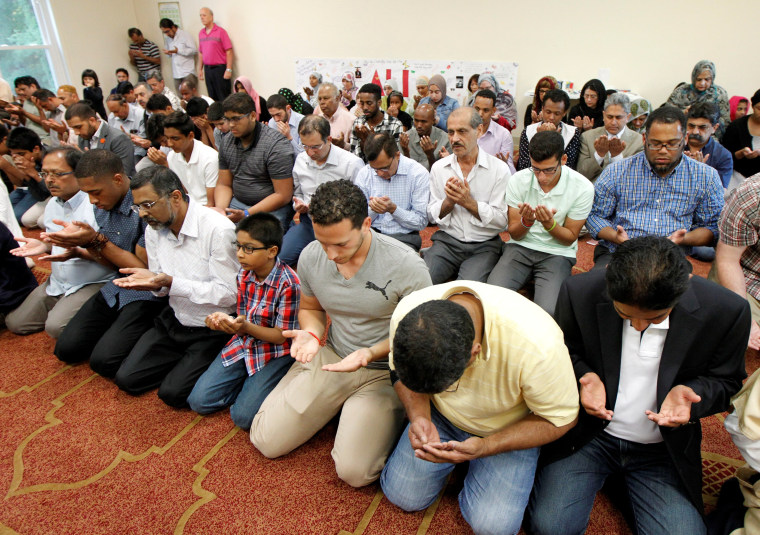 Many speakers said Ali's death was particularly difficult at a time when Trump's political rhetoric is being interpreted as seeking to divide the country — something for which Ali himself rebuked Trump in December.
"Who is going to carry the torch?" the Rev. Jason Crosby of Crescent Hill Baptist Church asked Sunday night. "Who now is going to carry that light forward? If someone doesn't, other voices are going to creep in."
Babar, a physician and civic leader in Louisville, likewise asked who, in the absence of Ali, might "testify for our innocence in this season of witch hunting."
Mayor Greg Fischer said Ali blazed trails not only in boxing and civic activism, but also in interfaith understanding.
"He was an interfaith leader before we even knew what an interfaith leader was," Fischer said.
"In the past few years, he was in pain, and for us to think that we could hold onto him forever would really be an act of selfishness," the mayor said.
"He's free now, but his spirit is with us, and it will stay with us."
Those attending used markers to write notes to Ali on a paper banner. Mourners were offered two types of stamps to choose from: a butterfly or a bee.