The 16-year-old daughter of the "Fast and Furious" actor who was killed two years ago in a fiery California car crash claimed in a civil lawsuit Monday that her father was burned to death because of a poorly built vehicle.
The suit, filed in Los Angeles Superior Court, claims that Paul Walker, 40, was killed because Porsche, maker of the 2005 Carrera GT sports car that crashed, skimped on "safety features that are found on well-designed racing cars or even Porsche's least expensive road cars."
Both Walker and Roger Rodas, the 38-year-old professional race car driver who was behind the wheel, were burned beyond recognition after the car plowed into a concrete lamppost and a tree.
Investigators with the Los Angeles County Sheriff's Department and California Highway Patrol concluded that it was high speeds — and not a mechanical failure — that were responsible for the November 30, 2013 crash.
Rodas' widow, Kristin, has also sued Porsche, claiming the vehicle's design was flawed.
Walker's only daughter, Meadow, filed the suit Monday.
Among the problems with the car, her lawsuit claims, were poorly designed seat belts. When the car broke apart, the shoulder belt anchors "traveled with the rear engine compartment while the seat belt anchors remained with the passenger compartment," the suit says. "This snapped Walker's torso back with thousands of pounds of force, thereby breaking his ribs and pelvis, flattening his seat and trapping him."
There, the lawsuit claims, he remained alive and "in a supine position" until the vehicle burst into flames 80 seconds later.
The fire, the suit adds, was caused by another design flaw — "rubber fuel lines that lacked break-free fittings to automatically" shut off the flow of fuel.
"Absent these defects in the Porsche Carrera GT, Paul Walker would be alive today," the suit says.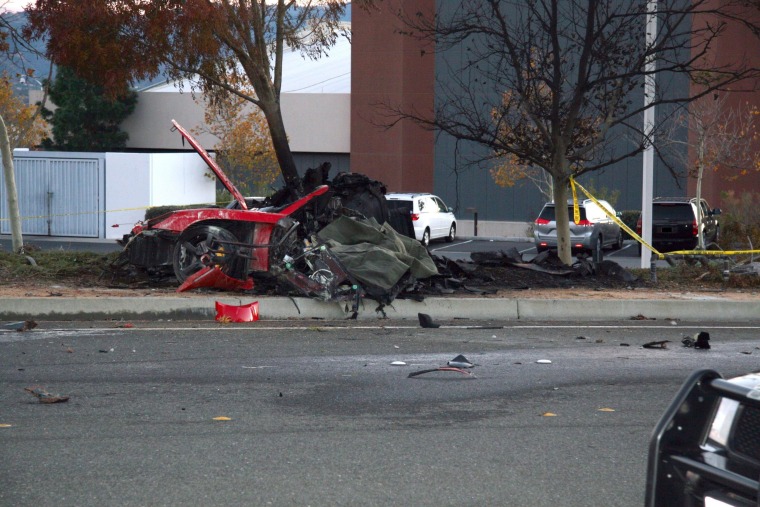 The suit, which lists Meadow Walker as the sole heir of her father's estate, does not specify damages.
Porsche in a statement released Tuesday said: "We have not seen the new lawsuit and therefore cannot comment on its specifics. As we have said before, we are saddened whenever anyone is hurt in a Porsche vehicle, but we believe the authorities reports in this case clearly established that this tragic crash resulted from reckless driving and excessive speed."
Last year, in response to Rodas' lawsuit, a Porsche spokesman told Reuters that the "crash was the subject of a detailed investigation" by "proper authorities." The investigation, the spokesman said, "disproves the allegations in the lawsuit."
Meadow Walker's lawsuit includes a detailed recounting of the crash and contends that the Porsche was traveling 63 to 71 mph when it spun out of control.
But investigators concluded the Porsche was going much faster — up to 94 mph — when it crashed.
That investigation was aided by engineers from Porsche, who evaluated the wreckage of the rare car.