Opioid addicts are using man's best friend to fetch fixes for themselves from their veterinarians.
And now states are bounding into action to prevent pill-popping puppy-owners from treating their furry companions as enablers.
Veterinarians don't typically prescribe some of the most commonly abused opioids, like oxycodone and fentanyl, but do dispense other heavy drugs like hydrocodone, a semi-synthetic opioid often used to treat nagging coughs in dogs, and alprazolam (Xanax), an addictive benzodiazepine used to treat household animals for anxiety stemming from thunderstorms, fireworks and vacuum cleaners.
The most common drug carried by vets and targeted by addicts by far, however, is tramadol, an opioid pain medication prescribed to both animals and humans.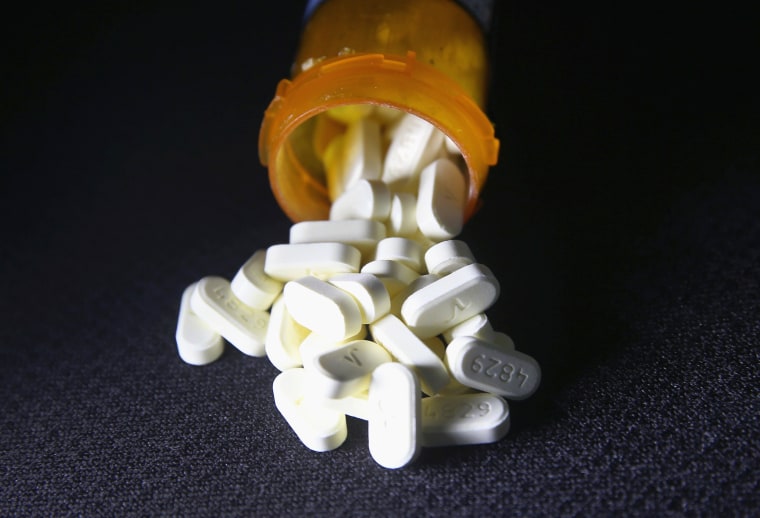 In recent years, as the opioid crisis in the U.S. has worsened, vets say they've seen an increase in the number of patients who are making repeated visits to their offices in search of such drugs, prompting some states to add them to a list of prescribers required to report suspicious activity.
The first sign that usually suggests something is amiss is when a pet-owner comes in and asks for a drug by name, explained Dr. David Gurzak, a family vet at Brackett Street Veterinary Clinic in Portland, Maine.
Gurzak recalled a situation a few years ago when a client was coming in repeatedly asking for tramadol.
"This person was coming in constantly asking for it for a dog who had a condition, an impacted anal gland, that would normally not require any medication at all."
"I suspected that she was using it herself," Gurzak said.
Instances like that in Maine — where in 2016 a record 376 people died of a drug overdose — helped prompt Republican Gov. Paul LePage to sign into law late last year a measure that required any professional who can prescribe drugs — including veterinarians — to check a statewide database called the Prescription Monitoring Program (PMP) before writing prescriptions for opioids and benzodiazepines.
The measure makes sure that doctors like Gurzak check in with the system, and notify the proper authorities if certain criteria are met when a patient comes in and has reason to leave with opioids.
"You can find out if that person has been prescribed any drugs that are addictive, or if they've seen multiple doctors or veterinarians, which could all be signs of abuse," Gurzak said. "In the owner, not the animal."
With that information, Gurzak can decline to prescribe drugs for the animal or flag the state's Prescription Monitoring Program within the Office of Substance Abuse and Mental Health Services.
Maine isn't alone in learning new tricks when it comes to trying to curtail drug abuse.
In April, Colorado Gov. John Hickenlooper, a Democrat, signed into law a similar bill, requiring veterinarians to flag pet-owners who they have reason to believe are committing drug abuse.
Like Maine's measure, the law allows veterinarians to use a statewide electronic prescription drug monitoring program to query the pet-owner's name.
Previously, only health care providers who had the authority to prescribe controlled substances to humans had the ability to query the program for a patient's' name.
Similar legislation was enacted in Connecticut and New Hampshire in 2016.
And in July, Alaska Gov. Bill Walker, an independent, signed into law a bill that put strict seven-day limits on opioid prescriptions from any doctor — including veterinarians. Previously, doctors and vets were able to dole out 30-day prescriptions.
One of the first states to include veterinarians in the list of drug-prescribers who must use a statewide PMP was Oklahoma.
Dr. Eli Landry, the owner of the Seminole Veterinary Hospital, in Seminole, Okla., told NBC News he's welcomed the measure, explaining that he'd seen dope-seeking dog-owners "a lot more over the past few years."
When an owner comes in looking to obtain opioids for themselves rather than their pet, it almost always follows the same pattern, Landry explained.
"Generally, it's a new client that we've never seen before who comes with an old patient, and they'll ask for the drugs by name," he said. "Like, 'Oh my ailing and aging dog really needs some tramadol for his lame leg.'"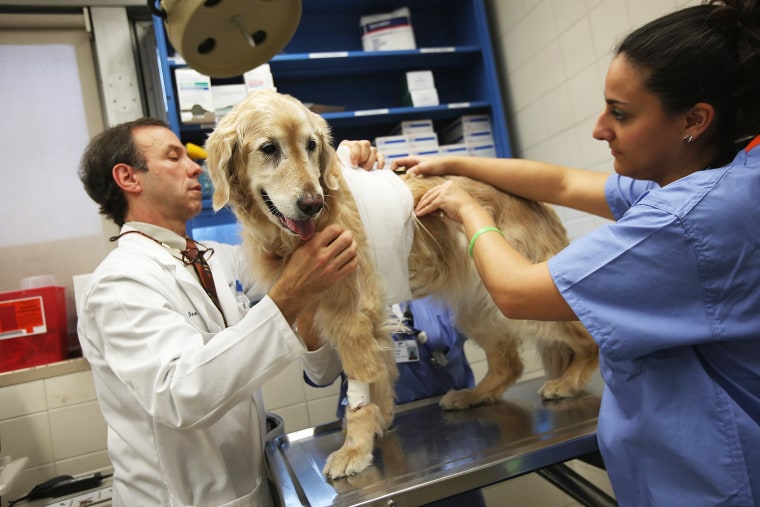 "Almost always, they refer to the hips, which in some breeds is the first thing to deteriorate," he said, a plausible explanation that can make it harder to decipher who's lying and who's not.
But, thanks to a law passed by the Oklahoma legislature in November 2015 putting a PMP into place that also required the participation of vets, "when we do send out a controlled substance, we have to log it into the system."
In the most obvious situations, Landry said he refuses to write the prescription.
"A lot of dogs with arthritis would best served by going on a diet and losing weight anyway, not with drugs," he noted. But he also takes matters into his own hands at times and emails a group of other vets in the area to warn them to be on the lookout for a particular owner and the patient.
Not all veterinarians are on board with this kind of legislation, however.
The Maine Veterinary Medical Association put out a position statement against their state's requirement last month, writing that while the "opioid epidemic is a serious public health crisis that requires all prescribers and dispensers of opioids and benzodiazepines to assist in preventing the misuse or diversion of these drugs," veterinarians "are ineffective participants in reducing drug abuse by the public" because they "do not have the human medical exposure or background to review medical prescription information for animal owners."
"The MVMA believes that the law should be amended so that veterinarians are not required to check human records, but that a solution be found in which veterinarian involvement with the PMP helps reduce opioid abuse," the group said.
In addition, veterinarians in New Hampshire were so unhappy they were being forced to monitor the medical histories of humans in their state that they advocated for a revised bill that exempted them from the PMP requirements. That bill passed in June.
But some veterinarians find the responsibility worth it.
"Practically speaking, it's hard to prove this is making a big difference," said Gurzak, of Maine.
"But it's such a terrible crisis, what's happening," he added. "So whatever avenues we pursue to avoid the diversion of drugs is good idea in my book."
CORRECTION (Sept. 5, 2:00 p.m.): An earlier version of this article misidentified the current party affiliation of Alaska Gov. Bill Walker. He is an independent, not a Republican.