A petition calling for the removal of Donald Trump's star on the Hollywood Walk of Fame has garnered nearly 16,000 signatures, but the star likely won't be going anywhere.
The Republican front-runner received the star in 2007 for the category of television, according to the Hollywood Chamber of Commerce, which awards the stars. The Hollywood Boulevard location where the star sits has reportedly been defaced and vandalized several times since Trump announced his candidacy for president.
"The fact that Donald Trump has a star along with the likes of Meryl Streep, Bill Murray and Audrey Hepburn is an insult in and of itself. The presidential candidate and former reality TV star has been spawning hateful, sexist and racist rhetoric since the beginning of his campaign," said the petition calling for the removal of the star, which had 15,467 signatures on Friday evening.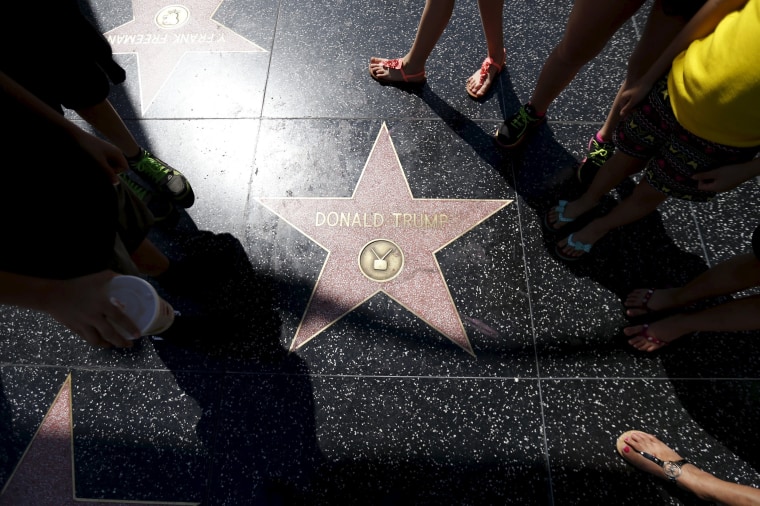 "Everything from spray paint to spit to feces has shown up on his star in the last few months," the petition said. "The message is clear: the public does not approve of Trump or the fact that he has a Hollywood Star."
The Hollywood Chamber of Commerce faced similar calls last year over Bill Cosby's star as a growing number of sexual assault allegations against him came to the fore. His star was also vandalized at least once.
"The answer is no," Leron Gubler, president and chief executive of the chamber, said at the time. "Once a star has been added to the Walk, it is considered a part of the historic fabric of the Hollywood Walk of Fame."
The Hollywood Chamber of Commerce did not immediately respond to requests for comment from NBC News on Friday.