Seven months after a drive-by serial killer began ambushing residents of Phoenix, police have released 911 calls of victims' relatives begging for help in the hope of getting new tips.
"My brother — they just shot him," an anguished woman tells the emergency operator after a March 18 shooting. "Just right in front of my house."
The recordings capture the panic and the horror of the shootings but don't provide any new clues to the identity of the gunman.
However, Phoenix police hope the release of the calls might spur someone with information to come forward and give detectives the break they need.
"We've done what we can do forensically and it has not helped us solve the case," Sgt. Jonathan Howard said Thursday. "We're still hoping for that one piece of the puzzle and we think that will come from the community. We're confident that somebody knows something."
Investigators have linked nine shootings between March and June through physical evidence. Seven people have been murdered, including a 12-year-old girl.
Nancy Pena's twin brother, Horacio, was gunned down June 3 as he returned home from his job at a group home. She's frustrated by the lack of progress in the case.
"In the beginning, I had all this hope like we are going to get him and now I feel it's faded," she said. "Like he got away with it."
Former FBI profiler Clint Van Zandt, an NBC News analyst, said there are a number of reasons the suspect may have stopped killing.
"Sometimes it means there was so much attention the shooter is smart enough to say, 'We better lay low for a while,'" he said.
"Or sometimes we see the shooter has been arrested for some nondescript crime. It could be something has changed in their life — a marriage or a job change. Or they may have moved, temporarily or permanently."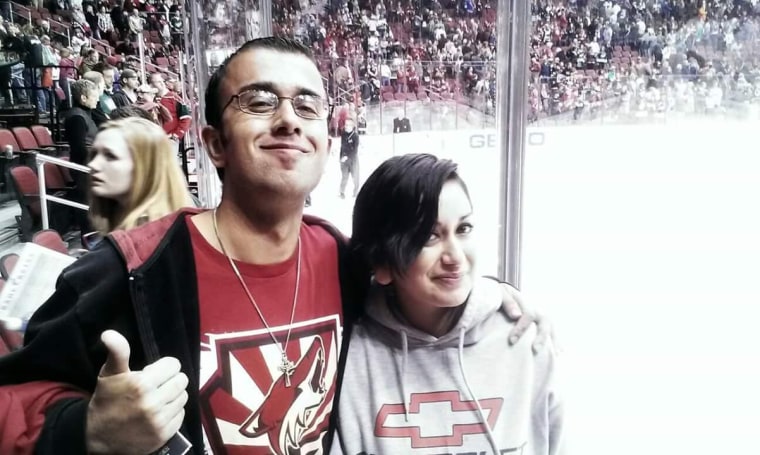 But just because the gunman has not struck in three months doesn't mean he won't kill again, Van Zandt said.
"For some, it's like emotional heroin," he said. "They get a high and then they get off and then that old itch comes back again."
The Phoenix police are taking a calculated risk by releasing the 911 calls, he said. The resulting publicity might dislodge an important lead, but it could also "instigate" a certain type of killer to go out hunting for new victims.
"You don't want to challenge someone to go out and kill again," Van Zandt said.
Although, he said, that could be law enforcement's best chance to catch the suspect.
"Many times — it's a terrible thing to say — we have to wait until the next shooting," he said.