A bullet pierced the side of a tractor-trailer on a Phoenix freeway Thursday, and police said they were treating it as the 11th attack in a string of shootings over the past two weeks that have terrorized drivers.
The governor pleaded for the public's help earlier Thursday, and authorities said they could be dealing with more than one gunman.
The bullet hole in the semi was reported Thursday morning, and police were checking out at least one other report that could be related, a projectile that damaged the window of a car.
In less than two weeks, 10 other shootings have been reported on or near Interstate 10. Seven have been bullet strikes, and the others were unspecified projectiles, which could mean BBs or pellets.
Police say drivers have been lucky so far: The only injury was a 13-year-old girl who was cut by flying glass when the window of her car was shattered by a bullet.
Robert McDonald was driving an empty tour bus when a bullet came through and sliced into the seat just behind him. He said it would have grazed his shoulder if it had been a little more powerful.
"And if I would have moved my head," he said, "I would have got hit."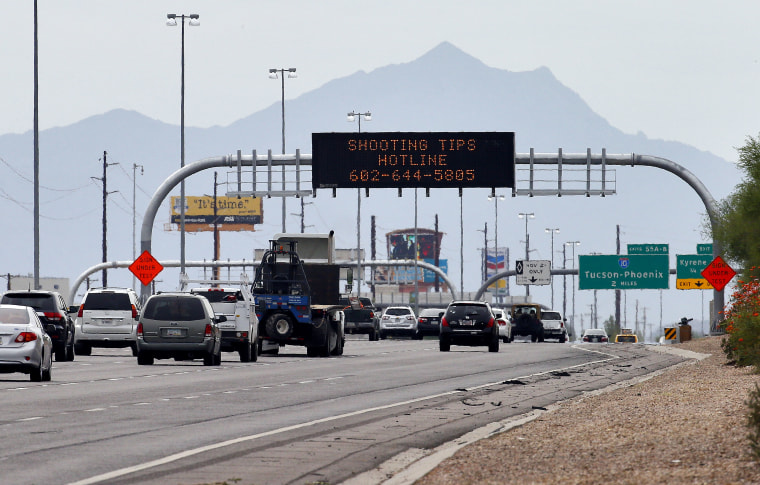 There are no suspects, not even a description of the suspect's car. Billboards along the interstate have flashed a phone number for drivers to report tips.
Col. Frank Milstead, the state director of public safety, referred to the attacks as "domestic terrorism crimes."
And he said there may be more than one person behind them.
"I am of the opinion right now that we have multiple shooters just because the M.O.'s have changed," he told NBC News.
Authorities offered a $20,000 reward, and Gov. Doug Ducey appealed to the public for help.
The shootings have drawn comparisons to the sniper attacks that terrorized the Washington, D.C., area in the fall of 2002. Ten people were killed in those shootings, which targeted drivers pumping gas and people out for other ordinary errands.
One gunman, John Allen Muhammad, was executed in 2009, and his accomplice, Lee Boyd Malvo, is serving life without the possibility of parole.
The Phoenix gunman is similarly feeding on terror, said Clint Van Zandt, a former FBI profiler and NBC News analyst.
"He knows the time he wants to be out there. He knows the location," he said. "He, in his mind, is playing this chess game with the authorities."