He's a bloodhound for the digital age.
A rambunctious black Labrador named Bear — one of only five dogs in the nation trained to sniff out electronic data devices — played a key role in the arrest of former Subway pitchman Jared Fogle on child-porn charges.
The 2-year-old rescue pooch nosed out a thumb drive that humans had failed to find during a search of Fogle's Indiana house in July, several weeks before he agreed to plead guilty to having X-rated images of minors and paying to have sex with teenage girls.
Bear has taken part in four other investigations, including this week's arrest of Olympics gymnastics coach Marvin Sharp. And he's just been sold to the Seattle Police Department to help investigate Internet crimes.
Steven DeBrota, a prosecutor in the U.S. Attorney's office in Indianapolis, said when he first heard about Bear's olfactory abilities, he was skeptical.
"I thought I was being punked, but it does work," said DeBrota, who was the lead prosecutor on the Fogle case and calls Bear "a key part of the team."
Read NBC News' coverage of the Jared Fogle case
Bear's dog whisperer, Todd Jordan, gave NBC News a demonstration of how he works his magic, walking him through an apartment while repeatedly giving him the command "Seek!"
The dog zeroed in on a kitchen drawer, which Jordan opened to reveal a device. "Good boy!" he told Bear, giving him a handful of food.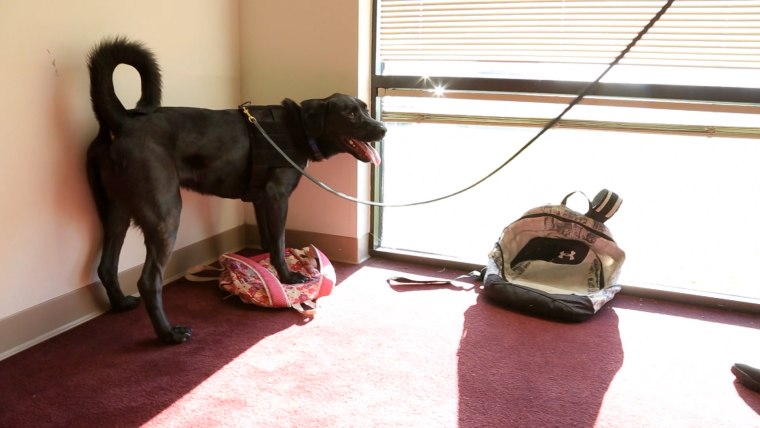 Jordan, whose regular job is deputy fire chief in Anderson, Indiana, got Bear as a rescue a year ago and spent four months training him on a food-reward system.
Much the way other dogs can pick up the scent of a fugitive or a cache of cocaine, Bear can smell the components of electronic media, even a micro-card as small as a fingernail that a suspect could easily hide.
"Labs are the best on this," said Jordan, fending off playful licks from Bear. "They'll do anything to please their owner."
Bear just got a new owner. The Seattle Police Department paid $9,500 — basically the cost of the training, according to Jordan — for the unique K-9.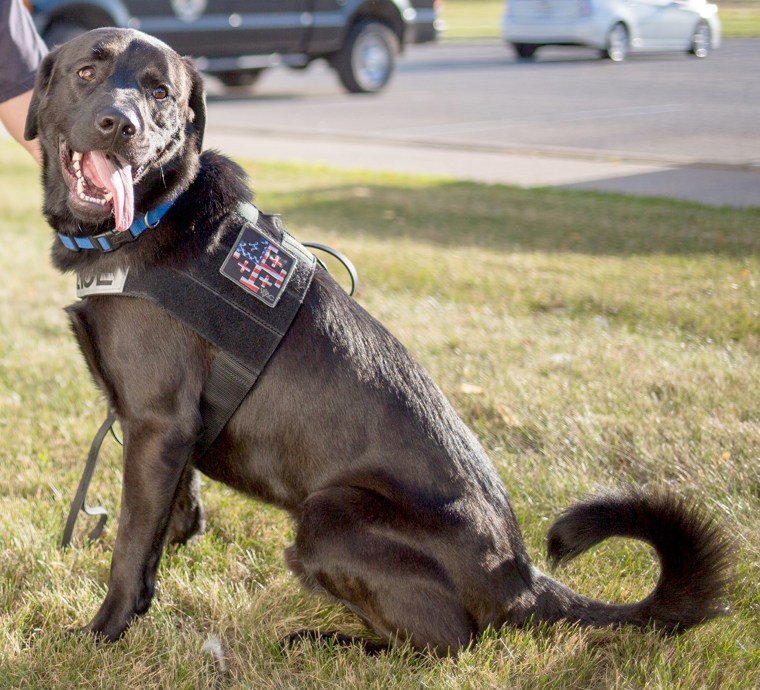 Jordan plans to train more dogs using the technique he's developed and believes he can place them with police around the country.
Nationwide, there are dozens of task forces devoted to child pornography, but he knows of only four other dogs who specialize in hunting down electronic media, including one in Arizona and one soon headed to New York.
Since the animals are drawn to the smell of chemicals from the device — not the specific content — there's no reason they could not be used in other kinds of operations, like terrorism probes, he said.
DeBrota agrees.
"I became a believer," he said. "I think it's going to become a regular law enforcement technique."