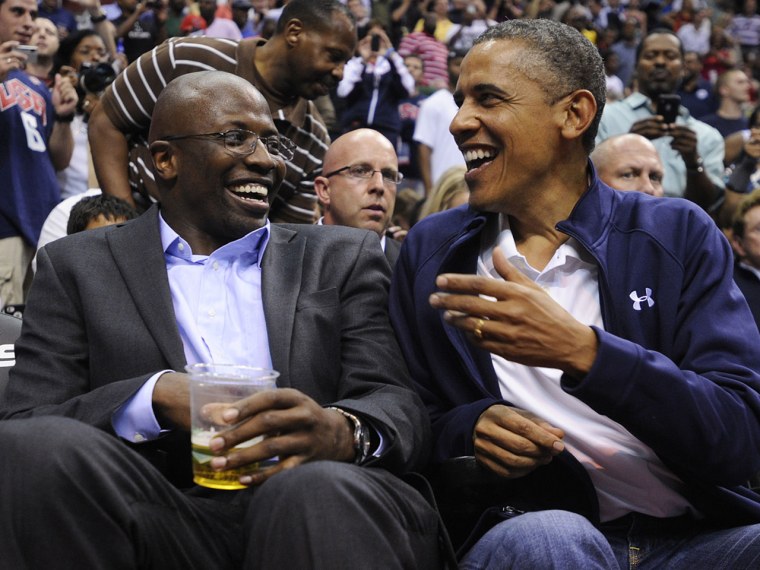 The day members of SEAL Team Six stormed Osama bin Laden's compound in Pakistan and killed the terrorist mastermind, President Barack Obama at one point left the Situation Room to play cards, according to the president's body man at the time.
It was not clear from Reggie Love's brief remarks last month at what point or for how long the president left the room during the day-long operation.
NBC News National Security analyst Michael Leiter, who was also in the room during the operation, said the president did leave at several points but was present during the raid itself.
In an interview with NBC News a year after the raid, Obama described the secretive assault as "the longest 40 minutes of my life."
Love recounted the day during a public affairs forum at UCLA of the story, telling the moderator, "most people were like down in the Situation Room, but he [the president] was like, 'I'm not, I can't, I'm not going to be down there, I can't watch this entire thing, just, so he, myself, Pete Souza, the White House photographer, Marvin, we played, we must have played 15 hands, 15 games of spades."
The president and his team, including Love, spent the entire Sunday of the raid at the White House, the former body man said.
NBC News reached out to a number of White House officials regarding Love's remarks. They declined to comment.
But Obama was definitely in the room when SEALs stormed the Abbottabad compound and took out the man responsible for the Sept. 11, 2001 terrorist attacks, says Leiter, who was director of the U.S. National Counterterrorism Center until July of 2011.
"He was in the room before they landed in [Pakistan] and also in the Sit. Room until after the helos were out of [Pakistani] airspace," Leiter said. "He largely stuck around after that, although there were times he stepped out, but not for especially extended periods – except to work the speech."
Love's comment about the day of the May 2 raid on the bin Laden compound came amidst a wide-ranging discussion about his time spent working at the side of the president. Other topics included his awkward first encounters with the future commander-in-chief, and how Obama's team avoided watching political coverage on TV in downtime during the 2008 campaign.
Love also recalled a time when, during a trip to Florida, the president once said, "I cannot believe that you guys let me, that you talked me into running for president."
Describing himself at the time as a 24-year-old who tried to "stay out of sight," Love said his response was straightforward: "Sir, if it's any consolation, I'm having the time of my life."
NBC News' Matthew DeLuca contributed to this report.
Related: