It was the rarest — and "ugliest" — catch a Georgia shrimp captain said he's ever made.
Captain Carl Moore was working about 10 miles off the coast of Key West, Fla., last month when he cast his net into gulf waters — and discovered a fearsome finned creature known as the goblin shark.
The species of deep-sea shark was last recorded by ocean researchers in 2000. Goblins are identified by their flat, elongated snouts that point off from the tops of their heads.
Their mouths open up to reveal razor-sharp teeth resembling the creatures in the sci-fi film, "Alien."
"Man that thing looks prehistoric," Moore, 63, said after pulling up the creature on his April 19 shrimping expedition.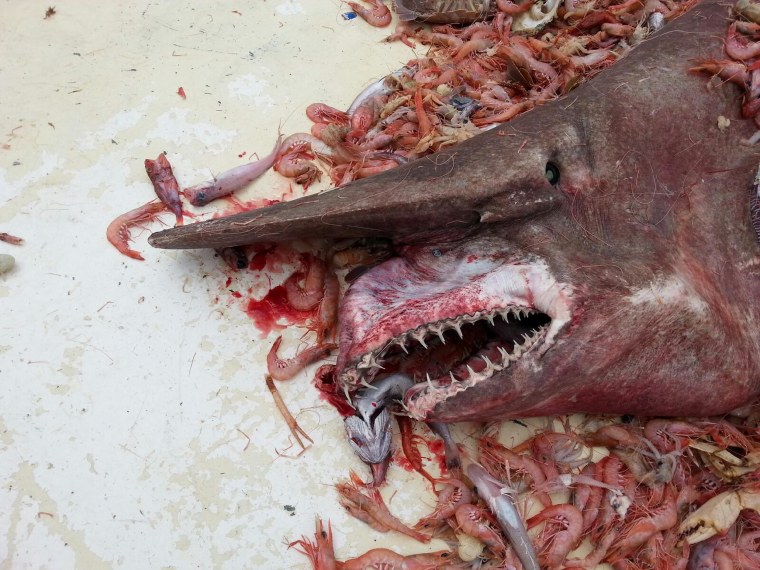 After returning to shore Wednesday, Moore reported his finding to the National Oceanic and Atmospheric Administration.
Goblin sharks have been found in the Pacific, off the coasts of Japan and California, and in ocean depths of up to 5,000 feet. The latest sighting has surprised researchers.
"This is a very rare finding," John Karlson, a research biologist at NOAA, told NBC News on Saturday. "We don't know very much about these animals."
Karlson said they can range up to 10 to 13 feet, although Moore's goblin shark was around 18 feet.
"From the photographs, we are assuming this is a female shark," he added.
Moore said he was flabbergasted by his find.
"When it came up, I didn't know what it was," Moore told NBC News. "I didn't measure him because his head was slashing around, and he had some mean-looking teeth and I didn't want to get caught up in those."
After snapping pictures of the shark, he quickly released it back into the water, he said.
"As ugly as it was, I don't think I'd bite into it."
The World Conservation Union lists the sharks as a minimal concern to humans because of how seldom people come into contact with them. They're also not considered endangered or threatened.
NOAA is using information gathered from sightings to build a database about the elusive species. Those will eventually be submitted to a scientific journal, Karlson said.
Moore, meanwhile, has caught other sharks during his 15 years as captain — just never one this rare.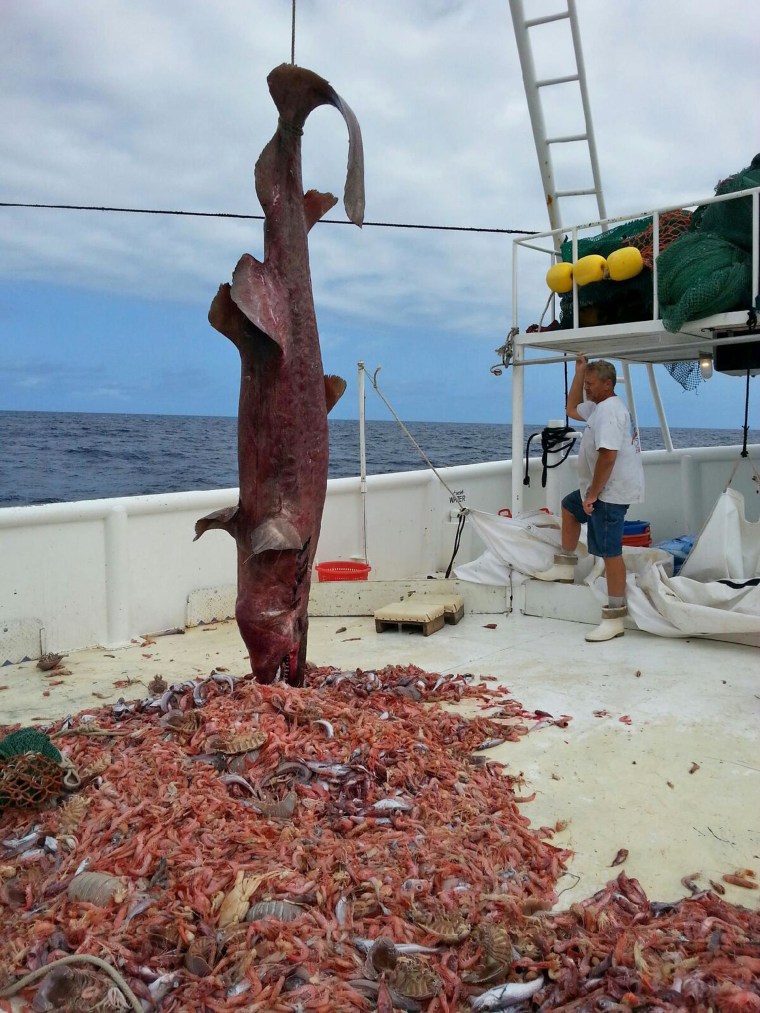 He spends about 300 days of the year at sea, he added, and health issues with his arm won't stop him any time soon.
"I'm going to keep fishing until the day I die because that's what I love to do," Moore said.
As for the goblin shark, he had no intention of trying to keep it as a trophy — and he definitely never imagined putting it onto a dinner plate.
"As ugly as it was," he said, "I don't think I'd bite into it."