Hundreds of mourners, including family, friends and community members, gathered at a Southern California church on Saturday to remember a mother and 8-year-old boy who were allegedly killed by kidnapping and murder suspect James Lee DiMaggio.
Hannah Anderson, who was allegedly kidnapped after DiMaggio killed her mother Christina and brother Ethan, arrived at the memorial service Saturday with her father, Brett Anderson, in a black SUV. About five hundred people attended the service.
Teammates of Ethan, who played for the Pop Warner Football Lakeside Panthers, came to Guardian Angel Roman Catholic Church in Santee, Calif., wearing their jerseys in honor of their slain friend. Hannah was coach for the cheerleading squad that rooted on Ethan's team.
Bookmarks bearing a photograph of Christina and Ethan and a poem, "To Those I Love and Those Who Love Me," which was read during the service, were distributed to everyone who attended the ceremony.
"I gave to you my love. You can only guess how much you gave to me in happiness," a copy of the poem provided to the media read. "I thank you for the love you each have shown, but now it's time I traveled alone."
Authorities say the mother and son were killed on Aug. 3 by DiMaggio, who then rigged his house to burst into flames and fled with 16-year-old Hannah Anderson. A week-long manhunt culminated with Hannah's rescue and DiMaggio's death in a remote corner of the Idaho wilderness, after the pair were spotted by riders on horseback.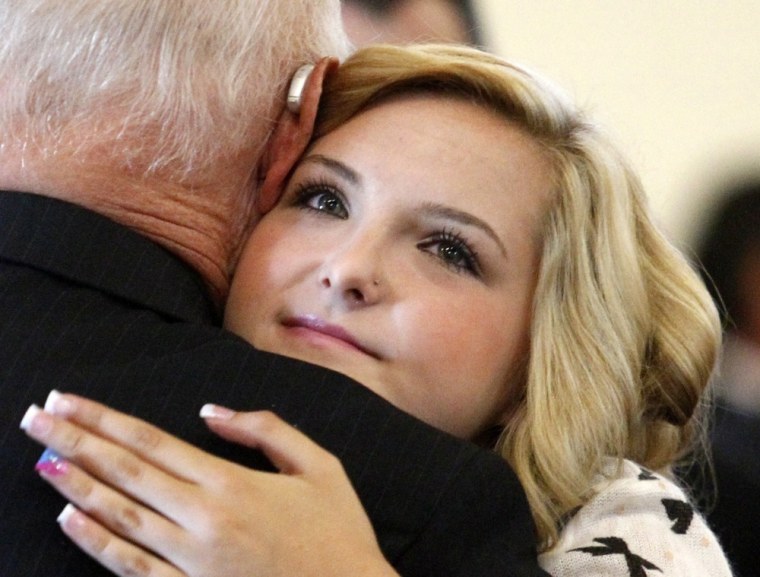 A large photograph of Christina and Ethan Anderson, flanked by large floral arrangements, was at the front of the church on Saturday, along with a football.
The ashes of Christina and her son were combined in an urn and carried into the church by a family member. Christina's uncle, David Braun, the only family member to speak during the service, delivered the eulogy, and described the events as "the very worst tragedy to befall our heritage as a family."
After the service ended, Hannah and her father were escorted out of the church and away from the media to a reception on site. Braun, who lives in Tampa, Fla., and his brother Alan Braun, of Point Loma, Calif., spoke with the press about their loss, their pain, and their confusion over Christina and Ethan's deaths. The two Brauns, who are brothers of Christina Anderson's mother, also spoke of their immense gratitude to everyone who was involved in Hannah's rescue.
"This is a situation where you have a best friend and that is so, so hurtful. It's not that you can't trust anybody, but look after your children," David Braun said. "Watch over them. Don't leave them to the mercy of just anybody. Apparently, not even a family friend … These were murders. And, because, it was a family friend, it shocked everybody. How do you get over that?"
David Braun said his family, including his 91-year-old mother, is holding up "pretty good." Hannah has been spending a lot of time with her grandmother, with whom she is very close, he said.
"I think they're going to be fine," he said. "We're concerned now about Hannah and how fine is she going to be, and how she's going to recover from this, if ever."
The family is still struggling to understand why this happened and are having trouble sleeping, the Braun brothers said.
"We just can't imagine why," David Braun said. "There's some thinking along that lines that maybe this man was terribly infatuated or more with Hannah. And it looks like it was very pre-meditated in my view — when you look at that whole story. I have a lot of questions about that … It's very surreal. Who would ever imagine the best friend of the family doing something like this? Why did he have to murder Tina and Ethan? That's my biggest question."
Alan Braun remembered his niece, Christina, as a little girl who made him grilled cheese sandwiches in the toaster when he was recovering from a car accident in 1974 and staying at his sister's home.
"She was the nicest person," he said. "Tina and I were very close. I wish she'd called and asked more favors from me. Maybe this monster wouldn't have been involved."
David Braun said he does not know where Hannah will live now, but he's hoping she will stay with her grandmother, who has helped raise her since she was born. Hannah's parents are separated and her father lives in Tennessee. Although Hannah wanted to focus on saying goodbye to her mother and brother on Saturday and not make public statements, her granduncle said he would not be surprised if the public hears from her soon.
"I'm sure she will say something soon," he said. "She's very outspoken, whether that's good or bad," he said. "I suppose it's good for her to get that out and to see this love from the family."
In an emotional interview earlier this week, Hannah Anderson revealed more about her harrowing ordeal – and broke into tears as she spoke about her mother and brother.
"He had a really big heart," Anderson said of Ethan in an interview with the TODAY show on Thursday, her first time speaking out in person since her abduction. She will remember her mother for her kindness, too, Anderson said.
"She was strong-hearted and very tough," Anderson said in the interview. "She knew how to handle things."
NBC News' Kate Snow, Matthew DeLuca, Erin McClam, and Tracy Connor contributed to this report.
Related: