Less than 24 hours before she endorsed Donald Trump, Sarah Palin's son was arrested on domestic violence charges, police in Wasilla, Alaska, said Tuesday.
Track Palin, the former governor and vice president candidate's 26-year-old son, was arrested and charged with interfering with the report of a domestic violence, possession of a firearm while intoxicated and assault on his girlfriend, which are all misdemeanors, police said.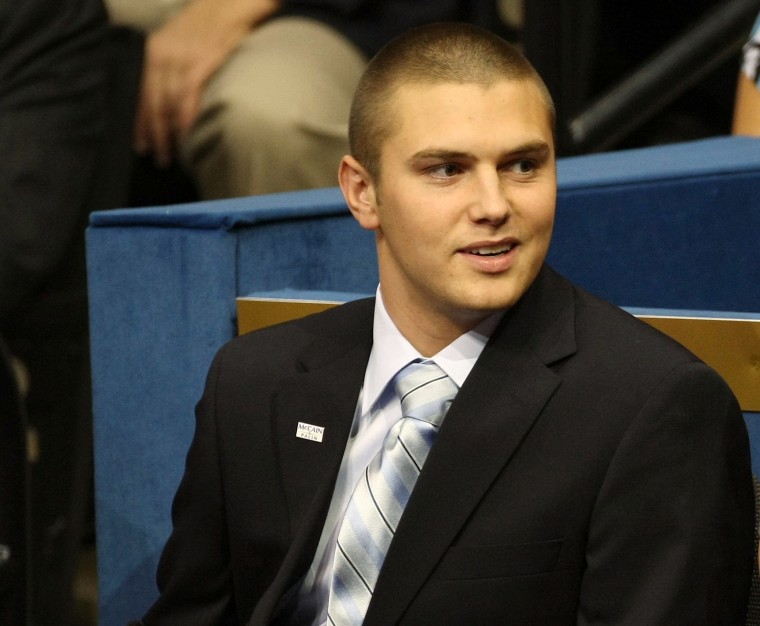 Around 10 p.m. Monday local time (2 a.m. Tuesday ET) a police officer responded to a 911 call at the Palin household in Wasilla. The officer wrote that when he met Track Palin in the driveway he was "uncooperative, belligerent and evasive with my initial line of questioning," court documents show.
Track and his girlfriend of one year had been arguing about her contact with an ex-boyfriend most of the day, even during a dinner at his sister's house, before returning to the house where he lives with his parents, according to the court documents.
The girlfriend, who NBC News is not naming because she is a victim of alleged domestic abuse, told a police officer at the scene that Track approached her and, "struck her on the left side of her head near her eye with a closed fist," sending her to the ground, where she curled up into a fetal position, the documents show.
Track then allegedly kicked his girlfriend in the right knee, and threw her phone across the driveway, the girlfriend told police. She then ran to retrieve her phone and ran back inside the Palin home, where she was met by Track — and his AR-15 rifle, according to the court documents.
Track allegedly cocked the weapon and menaced the girlfriend by asking, "Do you think I'm a p-ssy?" and "Do you think I won't do it?" documents said.
The girlfriend, not sure if Track "would shoot himself," ran outside and around the house — losing sight of Track — and ran to hide under a bed, documents said.
Track Palin was arraigned in Palmer District Court and was released after posting $1500 bail later Tuesday. The courts didn't immediately have a lawyer on record for him.