A school bus driver died and eight children were injured when their bus rolled over on a northern Mississippi highway on Tuesday, authorities said.
A spokesman for the Mississippi Highway Patrol said they got a call of an overturned school bus in Benton County, which is on the border with Tennessee, just before 7 a.m.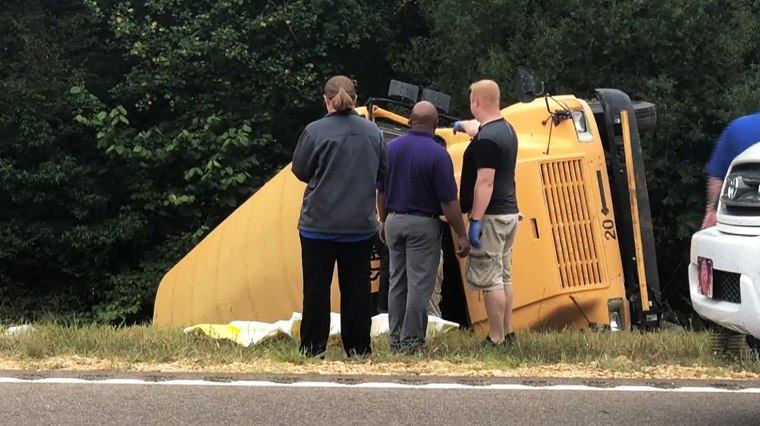 The driver of the bus was either killed in the crash or died due to a medical condition, according to the spokesman.
Download the NBC News app for breaking news and politics
Four children on the bus were airlifted to Le Bonheur Children's Hospital in Memphis, Tennessee, the hospital's director Regan Williams said during a news conference Tuesday afternoon. Those four children were in serious condition.
Two more kids were brought to the hospital by ambulance, and another two were driven there in private vehicles, the Williams said. Those children suffered minor injuries and would likely be discharged from the hospital later Tuesday. The ages of the children have not been released.
None of the children were ejected from the bus, but they had been "bounced around," Williams said. Photos showing the aftermath of the crash show the bus entirely on its side.
Williams said all eight children will receive psycho-social assessments at the hospital to gauge how the crash might have affected them mentally.
Benton County Schools Superintendent Steve Bostick told NBC affiliate WMC in Memphis that the driver of the bus has been working for the school district for years and is considered dependable.
No other vehicles were involved in the crash.