The man suspected of fatally shooting two Iowa police officers in the line of duty early Wednesday is familiar to cops and has a history of arrests and confrontations, records show.
One of the last run-ins for Scott Michael Greene came less than three weeks ago, when police booted him from a high school football game in his hometown, Urbandale.
"I understand it was a Confederate flag and he was waving [it] during the national anthem, and he had picked out some people of color and was waving it," Urbandale Police Chief Ross McCarty said at a news conference announcing Greene's capture Wednesday morning.
"We never charged him with trespassing," McCarty said. "We gave him a trespass warning."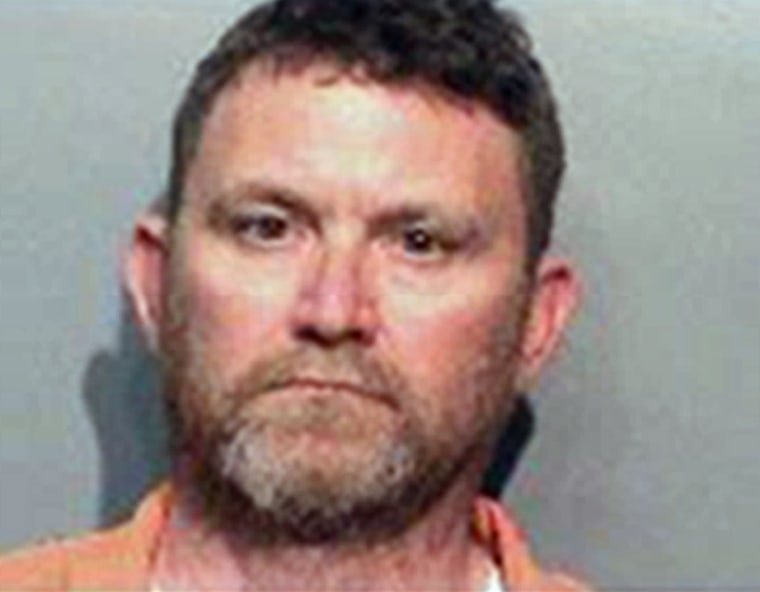 In trying to piece together what set off the early-morning bloodshed across the Des Moines area, police said they were also investigating YouTube videos purportedly taken by Greene of the football game incident.
In one clip, a still image shows a man holding a Confederate flag in front of black spectators.
In another nearly 11-minute video, officers ask the person holding the cellphone camera to leave the school property because his flag was causing a disturbance. The man argued that he had a constitutional right to carry the flag.
NBC News could not immediately verify all of the videos but interviewed people who were at the game and remembered the confrontation with Greene, after seeing his picture in media reports.
No motive has been given in the "ambush-style attacks" against the two officers, police said, and it's unknown whether Greene's ouster from the game was a factor.
Greene, 46, turned himself in to police during a manhunt several hours after the shootings, which killed Urbandale police Officer Justin Martin and Des Moines police Sgt. Anthony Beminio.
The men were killed in separate incidents, and both were sitting in their patrol cars when they were targeted, police said.
Greene served as a mechanic with the Army from 1989 to 1993 — spending just under two years in Germany — but was known to police in his quiet Des Moines suburb for various domestic incidents.
He was jailed and charged with interference with official acts in April 2014 after he resisted Urbandale police who were trying to pat him down for a weapon, records show. They described him as hostile and combative. He pleaded guilty and was fined.
Police arrived at his apartment complex two days later for a call about harassment. He threatened a man in the parking lot and uttered a racial slur used against African-Americans, according to a complaint.
He pleaded guilty and received a suspended jail sentence and probation, and he was ordered to complete a substance abuse and psychological evaluation.
In the latest incident, on Oct. 17, just after being ejected from the football game, Greene was involved in an incident against his 66-year-old mother, records show.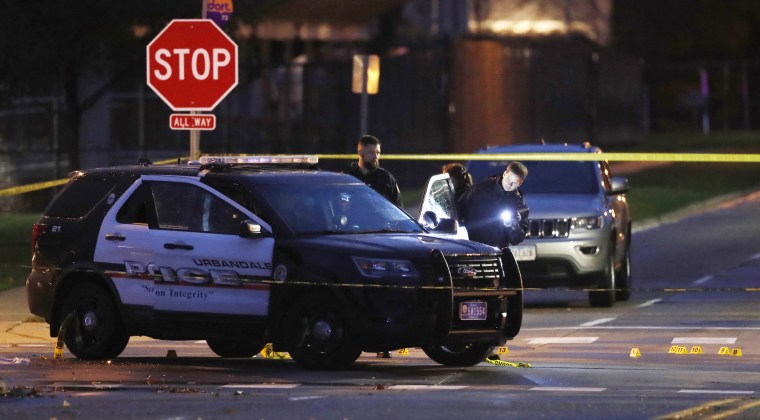 A criminal complaint says Patricia Ann Greene yelled at her son to remove his daughter's service dog from her home.
Scott Michael Greene was wearing his deceased father's dog tags and his mother tried to tear them from around his neck, according to the complaint. He said his mother scratched and hit him in his face, and he used a cellphone to record the fight for evidence.
A judge ordered Greene's mother to stay away from her son, and she was later released on a $1,000 cash bond.
Patricia Ann Greene's home phone went unanswered Wednesday, and she couldn't be reached for comment.
Des Moines and Urbandale police later said they had identified Greene as a suspect in Wednesday's killings through "a series of leads and investigative tips." It was unclear whether either of the shootings was recorded on police cameras.
Greene Wednesday night was in police custody at a Des Moines hospital for "some kind of flare-up of an existing medical condition," a police spokesman said. He has yet to be charged.