A suspected carjacker died in a hail of police gunfire after allegedly stealing three cars and leading cops on a high-speed chase through Seattle.
Police were "piecing together the trail of a 35-year-old violent felon after he brandished two handguns at several downtown businesses Sunday" and fired on officers before the "fatal confrontation" with police, according to a Seattle Police Department statement.
Dashcam video released by police on Monday showed squad cars chasing a black Chevy Camaro speeding through the streets. The Chevy was eventually cornered after officers crashed into the Camaro head-on.
In the video, officers were seen getting out of their vehicles and shooting repeatedly at the suspect as a cloud of smoke engulfed the car.
"SWAT officers approached the suspect and fired," according to the police statement. "The suspect died at the scene, with two guns found in his possession."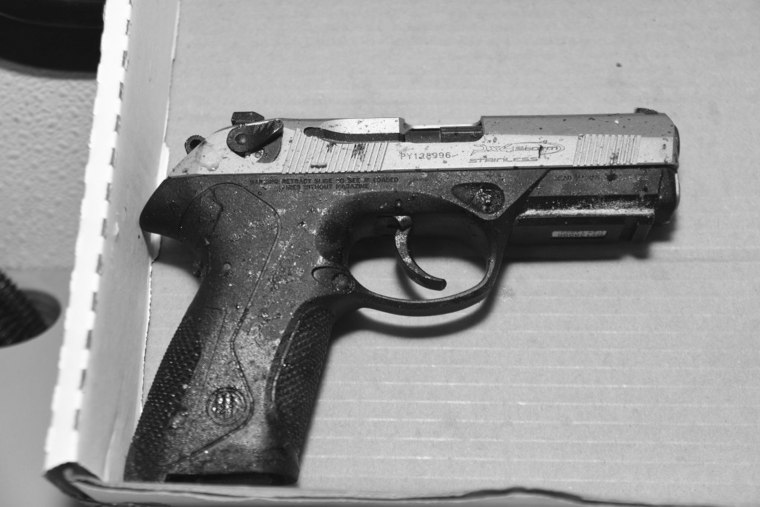 Officials initially received got a call from a coffee shop in the city's famed Pike Place Market at around 12:35 p.m. local time (3:35 p.m. ET) after a sweating suspect who was "acting nervously" entered the cafe.
"He began manipulating a handgun in his pocket, leading employees to call 911," according to police.
The suspect left and was then seen threatening employees and brandishing a gun in a nearby Turkish restaurant, a surfing and snowboarding store and finally a tattoo parlor, according to police.
He then ran into an alley behind the tattoo parlor where he commandeered a red Volkswagen Golf, police said. He then carjacked a red minivan, and tried unsuccessfully to take a Mercedes at a local gas station, before going on to steal the Chevy Camaro from a car rental agency, which is when police began pursuing him.
The suspect fired on police officers during the chase through northern Seattle, officials said.
"The pursuit ended in the Wedgwood neighborhood, where officers collided head-on with the suspect's Camaro," according to the police statement. "An uninvolved motorist's SUV was also struck during the incident."
"The suspect reportedly pointed his gun at officers and began maneuvering the Camaro towards police, who opened fire," according to police.
No bystanders were hurt during the incident. Twelve police officers were on paid administrative leave as the department investigated the shootout.