The TV news helicopter that crashed Tuesday in downtown Seattle — killing two people on board and injuring a third person on the ground — was a temporary replacement used while the station's own chopper was in the shop, the station said.
The 11-year-old helicopter, being operated by KOMO, an ABC affiliate, went down near Seattle's Space Needle about 7:40 a.m. (10:40 a.m. ET). Three vehicles were set ablaze, sending large plumes of smoke into the air. The aircraft was also used by KING, an NBC affiliate.
Investigators don't know why it crashed, said Dennis Hogenson, acting deputy chief of the National Transportation Safety Board's Western Pacific region.
Killed were Bill Strothman, 62, of Bothell, Wash., a retired news photographer with 13 Emmy awards who was working freelance, and Gary Pfitzner, 59, of Issaquah, Wash., a contract pilot well-known to the station's employees.
"Our family is grief stricken and in shock in the wake of the horrible tragedy that claimed the lives of Bill Strothman and Gary Pfitzner this morning," Strothman's family said in a statement, adding that it hoped to share his story later but for now preferred to make no further comment.
Molly Shen, an anchor at the station, described Strothman as "one of the best storytellers to have ever graced the halls of KOMO," while Dan Lewis, another anchor, said, "He put so much into getting just the right shots, the right video, putting it in the right place in the story."
Pfitzner, who received co-credit for at least five patents as a technician for Boeing Co., was making plans to retire soon but intended to keep on flying, his brother Mark said in a statement Tuesday night.
"He loved adventure and to travel. He loved to scuba dive and sky dive. He LOVED to fly," Mark Pfitzner said, adding: "Gary died doing what he loved."
Richard Newman, 38, of Seattle managed to pull himself out of one of the burning cars. He was taken to Harborview Medical Center in critical condition and was later upgraded to serious condition with burns on his legs and back that will eventually require surgery, the hospital told NBC News.
The drivers in the other two vehicles weren't seriously injured, police said. Early reports indicated that a third person may have been on board the helicopter, but those reports appeared to have been caused by confusion over the burned driver.
Daniel Alejandro Gonzalez, a college student, was outside smoking a cigarette when he saw the helicopter crash between a gray truck and a red car. The driver of the red car was the one who climbed out, he said, but it took him several minutes.
"He was struggling really bad, and his shirt was burned a little bit," he said.
The helicopter — a Eurocopter AS350-B2 that federal aviation records show was manufactured in 2003 — was lent to KOMO by Helicopters Inc. of Cahokia, Ill., near St. Louis, because its regular helicopter is at the company's facilities to have new equipment installed, the station said. Helicopters Inc. wouldn't comment Tuesday.
The company said in a statement Tuesday evening that it would have no comment on the crash itself "so that we do not interfere" with the federal investigation, which it said it would cooperate with "fully and completely."
"On behalf of the Helicopters Inc. family, I would like to extend our deepest sympathies to the families of those lost and injured in Seattle today," said the statement, which was attributed to the company's president, Stephen Lieber. "We mourn their loss and suffering and our thoughts and prayers are with them."
A U.S. flag was lowered to half-staff outside the company's headquarters, NBC station KSDK of St. Louis reported.
"It's hard to say we were fortunate when two people have died and one person is in critical condition, but it could have been worse."
The replacement aircraft had arrived from the town of Covington, about 25 miles southeast of Seattle, and had landed to refuel on its way to Renton, a suburb about halfway between the two, Hogenson of the NTSB said at a news conference.
Witnesses told investigators that it made a "whining" noise, whirled counterclockwise and crashed, said Hogenson, who said a preliminary report could be released within five days.
The helicopter's manufacturer, Airbus Helicopters, said it had sent its own investigator to Seattle and would fully cooperate with the federal inquiry.
The wreckage, which remained on the site Tuesday afternoon, wasn't expected to be cleared for several more hours, and police asked residents to stay away.
The crash happened in the 400 block of Broad Street, next to Fisher Plaza, where KOMO is based. The weather was cloudy with winds of about 7 mph at the time.
The scene is just a few hundred yards from the iconic Space Needle, which is on the grounds of Seattle Center, one of the Pacific Northwest's busiest tourist attractions. The center draws about 10 million people a year, but "it was not busy" Tuesday, Seattle Mayor Ed Murray said.
"It's hard to say we were fortunate when two people have died and one person is in critical condition, but it could have been worse," Murray said. "If it had been a busier day, then it might have been a bigger tragedy than it was."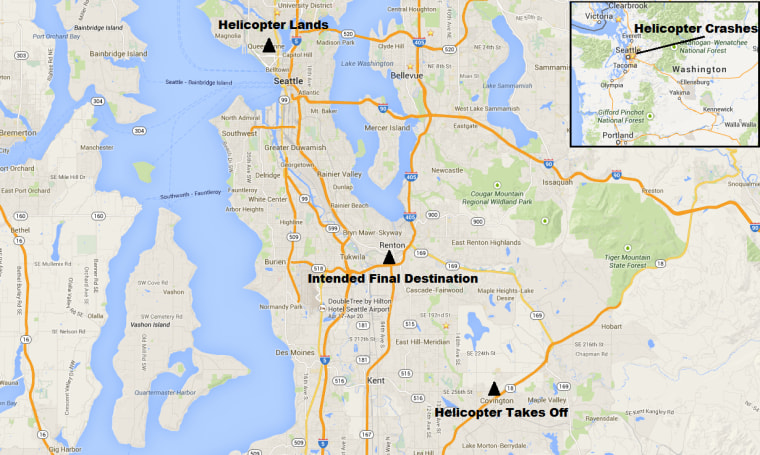 Seattle resident Ryan Kirk, who works three blocks from the Space Needle, was walking to a nearby coffee shop Tuesday morning when he heard a loud noise.
"I saw black smoke coming up right by the Space Needle, like the Space Needle was on fire," he said. "I knew it was something serious."
He walked closer to find out what had happened and was overwhelmed by the smell of burning rubber.
"You almost had to cover your face," he said. "There was helicopter debris everywhere."
Witnesses said police arrived quickly, within perhaps 90 seconds.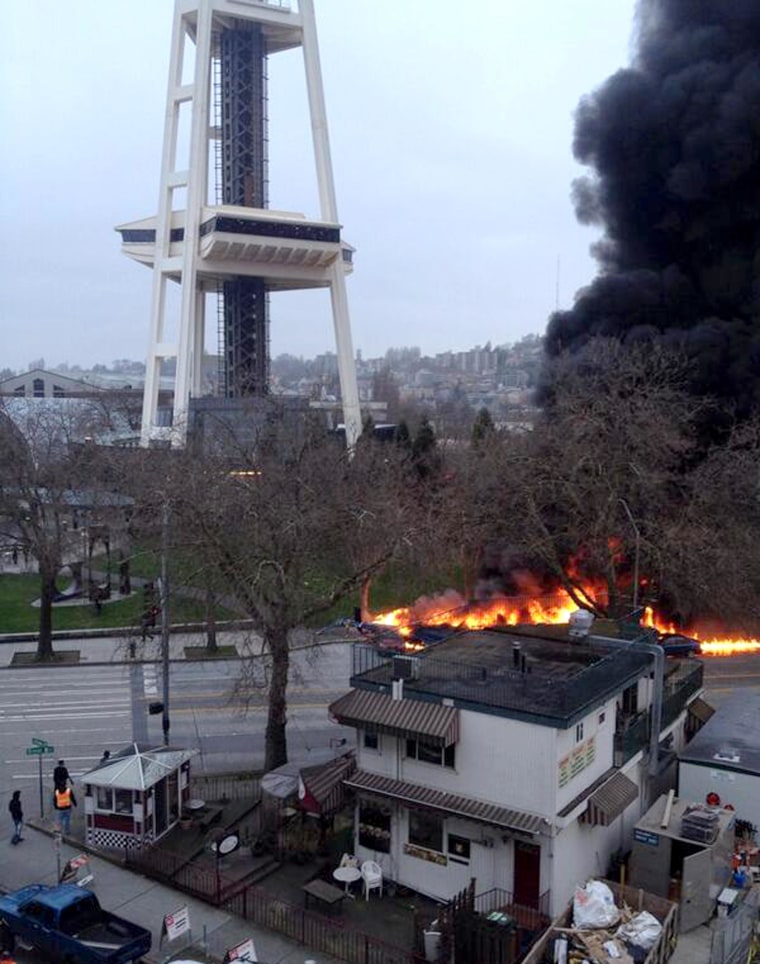 Reporting from the scene, Greg Copeland of KING said officials dumped a large amount of sand on the ground to soak up fuel from the crashed aircraft.
Out of an abundance of caution, CBS affiliate KIRO grounded its news chopper. The Space Needle and its restaurant, SkyCity, were closed for the rest of the day, meanwhile.