With a deadline looming, Attorney General Jeff Sessions is using executive authority to name 17 interim U.S. attorneys in cities from coast to coast.
Seven of the prosecutors have been serving as acting U.S. attorneys since President Donald Trump axed dozens of the lead federal prosecutors in March, but there's a 300-day limit on that status. The other 10 will replace current acting prosecutors, who get bounced back to their old jobs.
Trump now has 120 days to submit nominations for the permanent positions to the Senate — or else the federal court in that district will make a temporary appointment until the White House and lawmakers from each state can agree on the selections.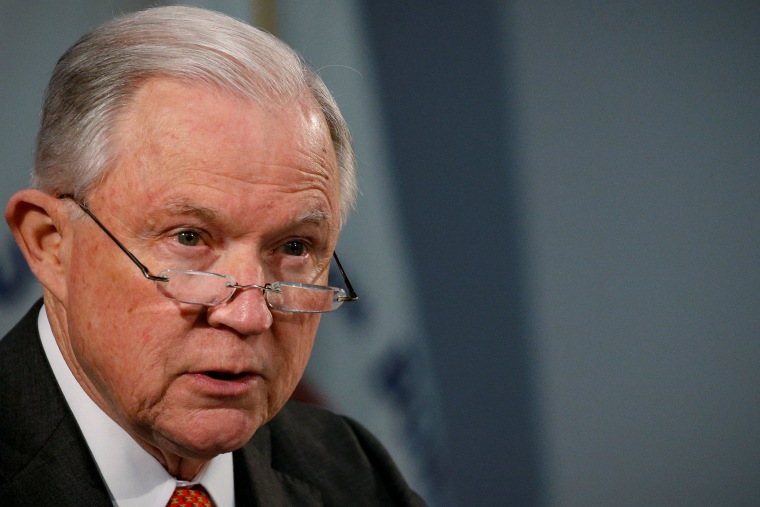 A source familiar with the process said some senators have not yet signed off on the candidates Trump supports in their states, which has contributed to delays in officially nominating them.
In New York, for instance, Sen. Charles Schumer and Sen. Kirsten Gillibrand approve of the administration's choice for the Eastern District, former prosecutor Richard Donoghue, a source familiar with the process said. But they have not given a thumbs-up to its preferred candidate for the Southern District, Geoffrey Berman, who is Rudolph Giuliani's law partner, the source said.
If confirmed, Berman would fill the vacancy left when Preet Bharara was fired after refusing to resign. Bharara's deputy, Joon Kim, has been serving as acting U.S. attorney but will now step aside for Berman to take over as interim.
Berman was a federal prosecutor for four years in the 1990s. His then-boss, Mary Jo White, said he "was a star" in her office.
"I tried to talk him into staying — he was that good — but he went into the private sector. And ever since, he's had a terrific reputation," she said.
The districts where Sessions made interim appointments include New Jersey, where the nod went to Craig Carpenito, who represented Gov. Chris Christie during the Bridgegate scandal.
The others are Rhode Island, Hawaii, the Virgin Islands, Guam, the Northern District of New York, the Eastern District and Western District of Louisiana, Minnesota, the Western District of Missouri, the Central District of California, the Eastern District of Washington, the Middle District of Florida, and the Eastern District of Michigan.
The Justice Department supplied statements from two former attorneys general saying Sessions' move is not unprecedented.
"Americans deserve a justice system that has clear lines of authority in accordance with the Executive Branch's responsibility under the Constitution," former AG John Ashcroft said in one of the statements. "Attorney General Sessions' appointment of 17 interim United States Attorneys is an important step to ensure executive leadership in vital national security roles."
"Congress has vested the Attorney General with this authority and duty. For decades, Attorneys General of multiple Administrations have used this executive authority to address critical vacancies and manage the U.S. Attorneys' Offices."