Two teenagers missing overnight in a Maine forest during below-zero temperatures survived after using gas in a golf cart they found to start a fire and keep warm, wildlife officials said.
Ty Howard-Gotto and Jonah May, both from Rhode Island, got lost while snowmobiling at about 7:30 p.m. Monday night, officials said. The 15-year-olds were traveling from the Maine town of Mexico to Howard-Grotto's grandfather's home in Andover, approximately 15 miles away.
Their 2007 Arctic Cat Firecat snowmobile became stuck in deep snow while riding off the main trail, according to the Maine Warden Service. They discovered a golf cart in a nearby shed and used the gasoline to start a fire, NBC station WCSH reported. The two ended up sleeping inside of the cart and using the shed as shelter.
Temperatures in Maine dropped below zero while the pair were missing, according to the National Weather Service.
The teens told WCSH that they helped each other through the ordeal. "I was a little scared, started thinking about my mother and that stuff, but Ty kept me in line told me we gotta make a fire and push through this," May said.
Game wardens began searching for the pair early Tuesday after receiving concerned calls from Howard-Grotto's family. The search was called off about 10 a.m. when the wardens received word that a passerby had found the boys and taken them to Howard-Grotto's grandfather's house.
The boys were in good health and have been reunited with their parents. Howard-Grotto attributes their safe return to his survival skills. "Anyone else in those woods that didn't have the set of mind and the skill set, they wouldn't have made it out there," he told WCSH.
Ty's mother, Tracy Howard, told the station: "Thank God he found that hut, you know, a place to survive in…I'm quite impressed with those two kids."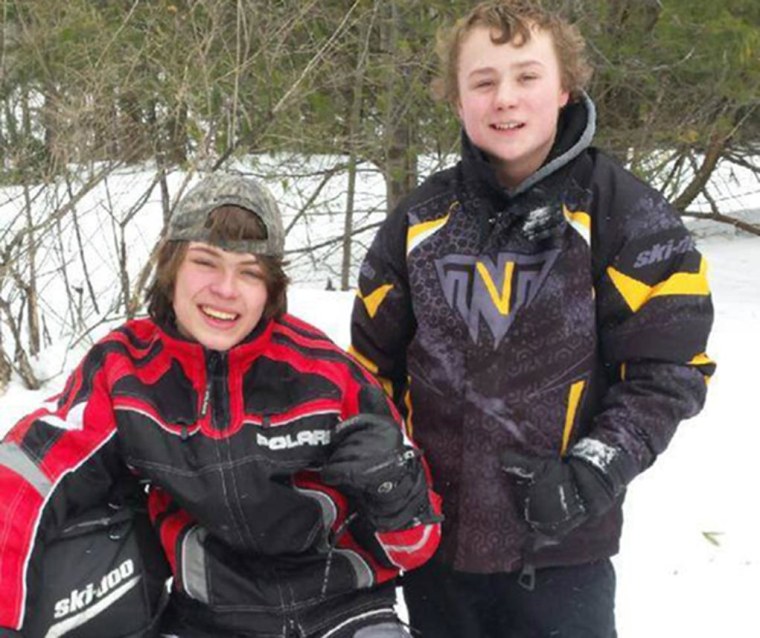 - Shamar Walters