About 54,000 utility customers in Maine are currently without power, according to Poweroutage.us, after post-tropical cyclone Lee made landfall in Nova Scotia in eastern Canada.
Lee made landfall on Long Island in Digby County, Nova Scotia at around 4 p.m. Saturday with maximum sustained winds of 70 mph, just under hurricane-strength, according to the National Hurricane Center.
The storm was moving across eastern Canada on Saturday night, and flooding was taking place along the country's Atlantic coast, U.S. forecasters said late Saturday.
A vessel used for whale watching broke free of its mooring and crashed ashore near the College of the Atlantic in Bar Harbor, Maine, NBC affiliate WCSH of Portland, Maine reported.
No injuries were reported, but the Maine Department and Environmental Protection and the U.S. Coast Guard were planning to offload 1,800 gallons of diesel fuel to prevent it from entering local waters, the station said.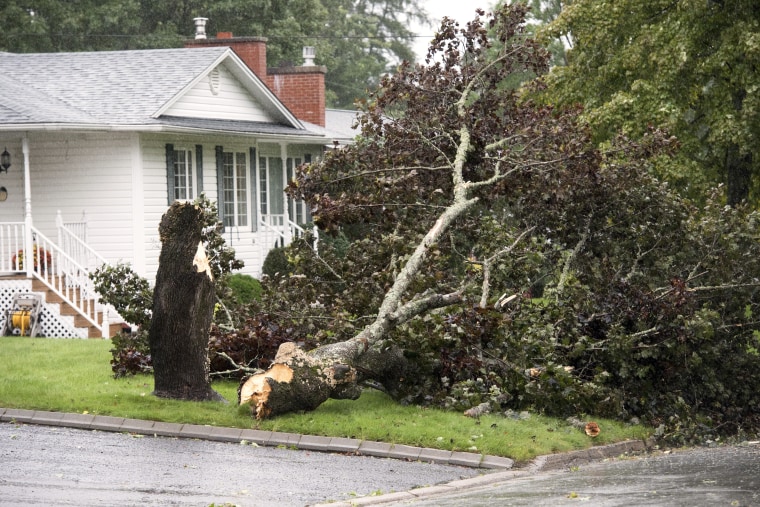 Formerly a hurricane, Lee became a post-tropical cyclone Saturday because it no longer possesses the characteristics to be considered tropical.
Lee was producing winds of 65 mph on Saturday night and was expected to continue to weaken, according to the National Hurricane Center.
Lee was bringing heavy rain, strong winds and coastal flooding to parts of New England and Canada, leading to downed trees and power outages.
The storm, which was about 105 miles west-northwest of Halifax, Nova Scotia, late Saturday was expected to bring an additional 1 to 2 inches over parts of western Maine and New Brunswick, the Hurricane Center said.
A "dangerous storm surge" was also expected to bring coastal flooding to Atlantic Canada and will be accompanied by "large and destructive waves" near the coast.
A high surf advisory was in effect for much of Maine's coast through Sunday morning, with waves near Portland forecast to reach 5 to 7 feet.
A tropical storm warning is in effect for all of Nova Scotia, Prince Edward Island, Magdalen Islands and across northern New Brunswick. In the United States, a tropical storm warning was in effect for the stretch of Atlantic coast from Portsmouth, New Hampshire, to the eastern end of Maine.