An ill-timed snowstorm grounded hundreds of flights in and out of Denver on Tuesday as travelers around the country also braced for bad weather that could interfere with Thanksgiving plans, officials said.
"Two powerful storm systems will move through the Lower 48 states this week," the National Weather Service said Monday night.
"Storm 1 will bring heavy snow from the Rockies to the Upper Midwest Tuesday and Wednesday with strong winds south of its track. Storm 2 arrives Tuesday into the West Coast with heavy mountain snow."
Many areas of Colorado got 20 inches or more of snow, including Boulder, just 25 miles northwest of Denver, where the 20.7 inches was a record for Nov. 26 and the third-snowiest day ever.
The city of Denver recorded 11 inches of snow by midday Tuesday. More than 480 arrivals and departures, about a quarter of all scheduled traffic, were canceled at Denver International Airport, where about 9½ inches of snow had fallen by 1 p.m.
"It's supposed to clear up tomorrow, so cross your fingers" that a full slate of flights can take off and land on Wednesday, Alex Renteria, a spokeswoman for the airport, said Tuesday.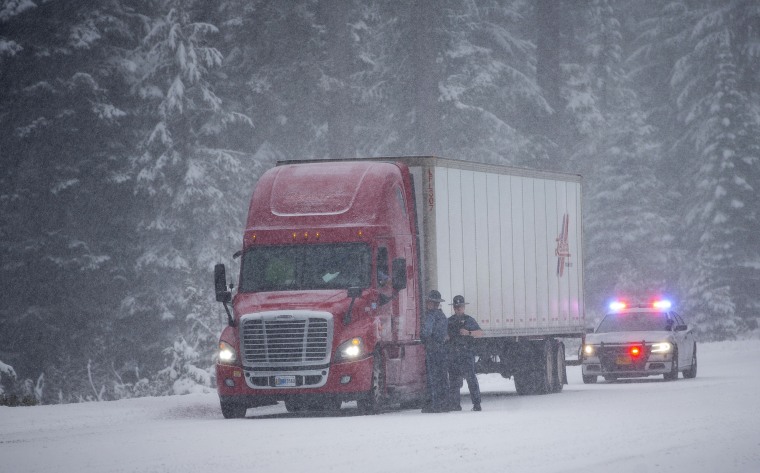 Heavy snow was also expected to fall on Minnesota starting Tuesday night and continue through Wednesday afternoon. Five to 10 inches of snow was forecast for the Twin Cities, NBC affiliate KARE of Minneapolis reported.
But if the bulk of the snow falls in the late night and early morning — when few flights are scheduled at Minneapolis-St. Paul International Airport — plows might be able to clear runways and keep cancellations and delays to a minimum.
"It's much better than snow falling in the middle of the day," John Welbes, a spokesman for the airport, said Tuesday. "So far, our boards haven't lit up" with cancellations.
Chicago was expected to live up to its Windy City nickname, with powerful gusts blowing all day on Wednesday, Thanksgiving Eve. Winds could reach 50 mph in the late morning and remain powerful throughout the day.
"So if you're driving a high-profile vehicle or a van or just on the interstates tomorrow, please be advised you're going to need both hands on the steering wheel, because the winds won't relax until Wednesday evening," said Paul Deanno, a meteorologist for NBC Chicago.
Meanwhile, in central and southern Oregon, travelers may have to adjust their plans as heavy rain and snow are forecast Tuesday afternoon and night.
Download the NBC News app for breaking news and weather
With up to 12 inches of snow expected to fall in the area's highest elevations, some travelers decided to get a jump on travel Monday.
"Oh, yeah, we don't want to be on the roads when the weather hits," driver Julie Eagen told NBC affiliate KGW of Portland. "It can be scary."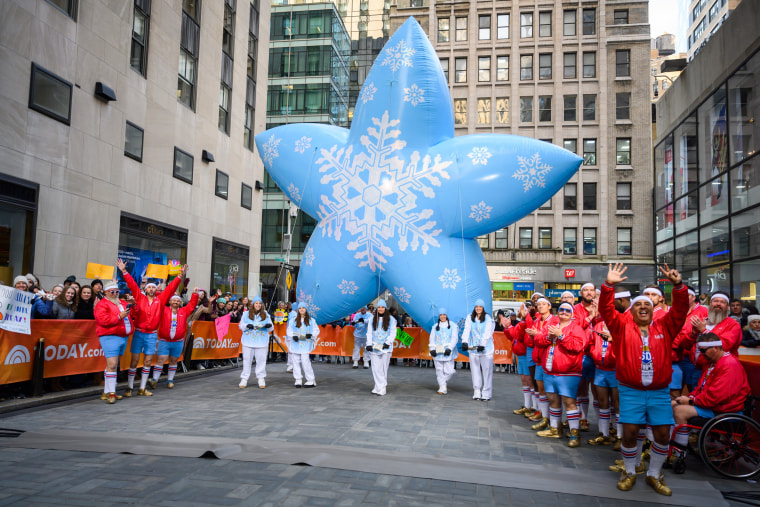 Even balloons at the iconic Macy's Thanksgiving Day Parade could be grounded by winds forecast for New York later this week.
Forecasters said wind gusts could top 40 mph in New York City on Thursday morning. Sustained winds of at least 23 mph and gusts of 34 mph would ground balloons, said Susan Tercero, the executive producer of the parade, which will be televised by NBC.
"We refer to it as a game-day decision," Tercero said. "We get there right before the parade begins."
"We kind of assess based on all our anemometers along the route," she said, referring to devices that measure wind speed and direction. "Then, we'll make that determination about how high the balloons will fly and if they'll fly."