Adult film star Stormy Daniels is offering to give back the $130,000 she was paid for her silence so she can speak freely about President Donald Trump and release any text messages, photos and videos she might have.
The actress, whose real name is Stephanie Clifford, made the offer Monday in a letter to Trump's private attorney Michael Cohen, who brokered a nondisclosure agreement with her shortly before the 2016 presidential election.
The letter is also being sent to Lawrence Rosen, an attorney who has identified himself as representing Cohen, and to EC LLC, a company Cohen formed in connection to the agreement and the payment made to Clifford in October 2016.
The letter, which was first reported by the New York Times, says the money would be wired to an account designated by Trump by Friday. In return, Clifford would be allowed to "speak openly and freely about her prior relationship with the president and the attempts to silence her and use and publish and text messages, photos and videos relating to the president that she may have in her possession, all without fear of retribution or legal liability," the letter says.
"This has never been about the money," Clifford's lawyer, Michael Avenatti, told NBC News on Monday. "It has always been about Ms. Clifford being allowed to tell the truth. The American people should be permitted to judge for themselves who is shooting straight with them and who is misleading them. Our offer seeks to allow this to happen."
On Twitter, Clifford joked that she was toying with "delivering it gangsta style via private jet and cash in a gold suitcase. Alas I don't have a jet or gold suitcase."
In a lawsuit filed last week, Clifford said she had an "intimate" relationship with Trump in 2006 and 2007 and struck a deal a decade later to keep quiet about it. However, she contends, the pact is void because Trump never signed the agreement.
The White House denies Trump had an affair with Clifford. Cohen and Rosen did not immediately respond to a request for comment on Clifford's letter. The White House declined to comment.
Related: Lawyer used Trump company email for Stormy Daniels arrangements
Although Cohen says he paid the money to Clifford and was not reimbursed by Trump's company or campaign, Avenatti said she is offering to pay Trump "because we do not believe there is any doubt as to where the money came from originally, in reality."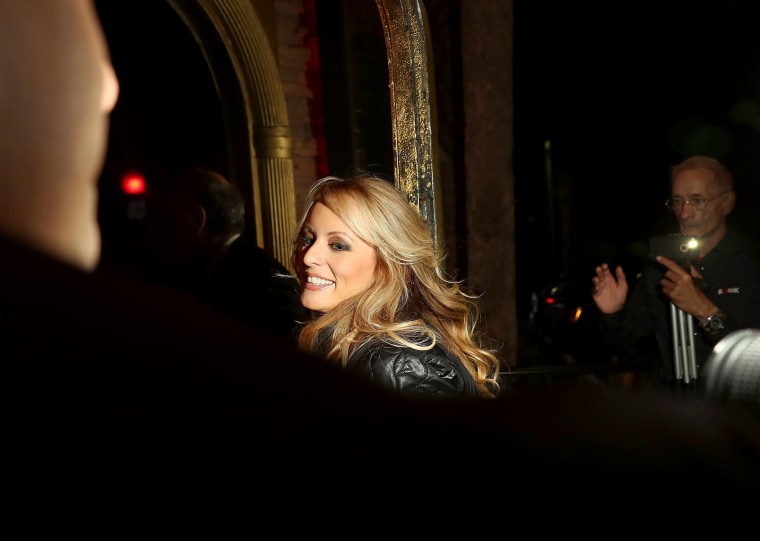 Cohen, meanwhile, has obtained a temporary restraining order from a private arbitrator barring Clifford from disclosing "confidential information" related to the agreement.
"I believe Mr. Avenatti's actions and behavior has been both reckless and imprudent as it opens Ms. Clifford to substantial monetary liability, which I intend to pursue," Cohen told The Washington Post last week.
He is also mulling legal action to stop the CBS program "60 Minutes" from broadcasting an interview with Clifford taped last week, BuzzFeed reported over the weekend, quoting unnamed sources. Asked whether he had been contacted by Trump's team over the weekend, Avenatti said, "Not directly."
Clifford's letter says the offer will remain open until noon Tuesday. Avenatti said the offer is genuine and not a publicity stunt.
"I certainly hope they accept it," he said. "It is more than fair."