Supreme Court Justice Antonin Scalia was not one to hold his tongue.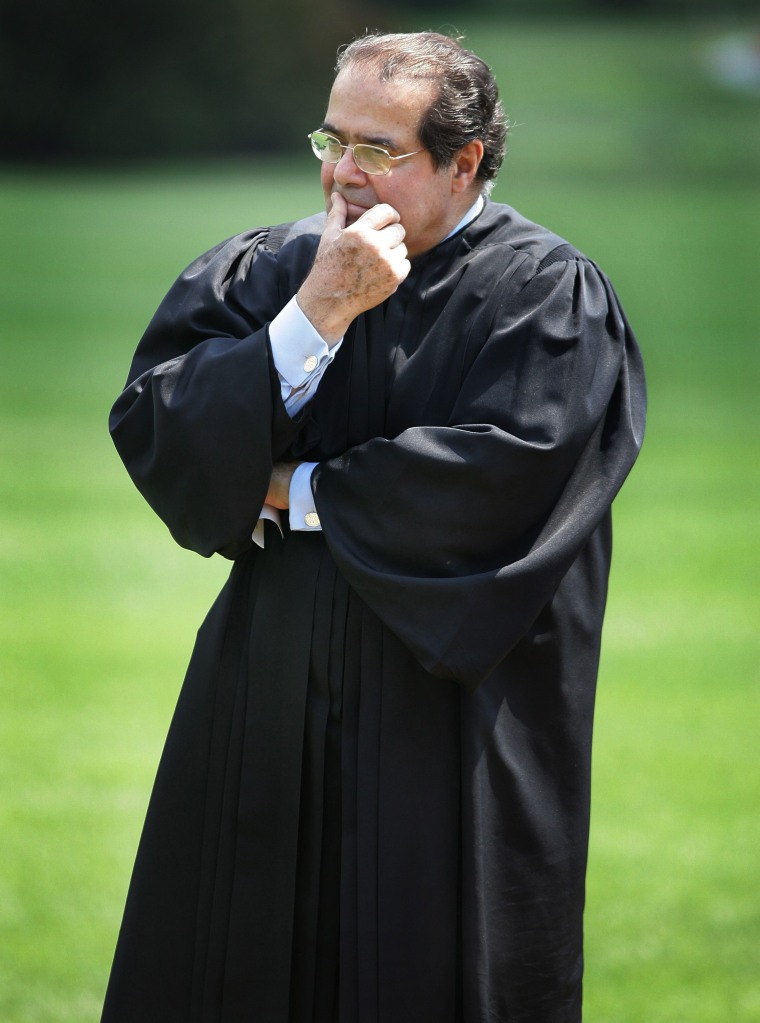 The conservative was well known for his piercing and often controversial words, both in curated written decisions and off-the-cuff remarks.
The judge, whose death at the age of 79 was announced Saturday, had said that he relished in writing dissents because that was when he could simply convey his opinion without having to worry about swaying votes, according to The Associated Press.
And convey his opinion he did — often with prose that was somehow as direct as it was flowery, and usually guaranteed to spark controversy. Even those who were most likely to disagree with him could appreciate his art.
"He can make even the most sober judge laugh," his unlikely close friend, Justice Ruth Bader Ginsburg once said.
Related: Antonin Scalia: The Supreme Court Justice's Life in Pictures
Funny or not, here are some of Scalia's most controversial opinions and most outrageous quotes:
On Gay Rights:
From the point that the Supreme Court first ruled in favor of gay rights in 1996, when the majority ruled that states could ban discriminatory acts against gay people, Scalia's opinion on the subject had some cringing.
"Of course, it is our moral heritage that one should not hate any human being or class of human beings. But I had thought that one could consider certain conduct reprehensible — murder, for example, or polygamy, or cruelty to animals — and could exhibit even 'animus' toward such conduct," Scalia wrote in his dissent.
While speaking at Princeton in 2012, Scalia was asked by a student why he would compare laws banning homosexuality with laws against murder.
"It's a form of argument that I thought you would have known, which is called the 'reduction to the absurd,'" Scalia answered. "If we cannot have moral feelings against homosexuality, can we have it against murder? Can we have it against other things?"
"I'm surprised you aren't persuaded," Scalia told the student, who identifies as gay.
Also in 2012, Scalia said homosexuality should be illegal because it had been a crime for so long. "Homosexual sodomy? Come on. For 200 years, it was criminal in every state," he said.
In June, nearly two decades after Scalia wrote his first dissent on gay rights, the Supreme Court legalized gay marriage nationwide.
Scalia famouslysuggested in his dissent to "ask the nearest hippie," while arguing that "Freedom of Intimacy is abridged rather than expanded by marriage."
On Health Care:
When the Supreme Court upheld the Affordable Care Act in June 2015, Scalia was none-too-happy with the 6-3 decision, and used some interesting language in his dissent to indicate his displeasure.
He called the majority's ruling "pure applesauce" and "interpretive jiggery-pokery."
More specifically, Scalia argued that "saying that an exchange established by the Federal Government is 'established by the State' goes beyond giving words bizarre meanings; it leaves the limiting phrase 'by the State' with no operative effect at all."
On Affirmative Action:
In December 2015, when the Supreme Court heard arguments in a case about race-based admissions, Scalia suggested African-American students might fare better in a "slower-track school" rather than more competitive colleges.
"There are those who contend that it does not benefit African Americans to get them into the University of Texas where they do not do well, as opposed to having them go to a less-advanced school, a slower-track school where they do well," Scalia said
The comments were called "racist," "disgusting" and "insulting."
On Immigration:
In 2012, the Supreme Court struck down some provisions of a controversial Arizona immigration law.
Scalia argued in his dissent that states, in the 18th century, were able to decide what to do with "unwanted immigrants," including freed slaves.
"In the first 100 years of the Republic, the States enacted numerous laws restricting the immigration of certain classes of aliens, including convicted criminals, indigents, persons with contagious diseases, and (in Southern States) freed blacks," Scalia wrote.
"State laws not only provided for the removal of unwanted immigrants but also imposed penalties on unlawfully present aliens and those who aided their immigration," Scalia argued.
On Gun Control:
Shortly after 12 people were killed in the 2012 Aurora, Colorado, movie theater shooting, Scalia was asked on Fox News whether the Second Amendment allows for any sort of restrictions on gun rights.
"Obviously, the amendment does not apply to arms that cannot be hand-carried. It's to keep and bear. So, it doesn't apply to cannons," Scalia said.
"But I suppose there are handheld rocket launchers that can bring down airplanes," he said, adding that whether or not Americans could carry such weapons was open to interpretation. "That will have to be — it will have to be decided," he said.
On Gender Discrimination:
While speaking at the University of California's Hastings College of the Law in 2010, Scalia said the Constitution didn't specifically prohibit discrimination on the basis of gender or sexual orientation.
"If the current society wants to outlaw discrimination by sex, you have legislatures," he said.
On the Death Penalty:
In a dissent to a case when the Supreme Court decided that killers who committed their crimes when they were 16 or 17 years of age could not be executed, Scalia wrote in his dissent: "The Court thus proclaims itself sole arbiter of our Nation's moral standards — and in the course of discharging that awesome responsibility purports to take guidance from the views of foreign courts and legislatures."
On Abortion:
While speaking in 2012, Scalia said that decisions on some of the most divisive issues in the country, including abortion, were actually the simplest for him.
"The death penalty? Give me a break. It's easy. Abortion? Absolutely easy. Nobody ever thought the Constitution prevented restrictions on abortion," he said, according to The Associated Press.
Scalia applied the same logic when the Supreme Court in 1992 upheld regulations applied to Roe v. Wade.
"The issue is whether [abortion] is a liberty protected by the Constitution of the United States. I am sure that it is not," he said. "The longstanding traditions of American society have permitted it to be legally proscribed."
Of Freedom of Expression:
When a couple of Indiana establishments argued that stopping them from using nude dancers was a violation of the First Amendment, the Supreme Court decided that nude dancing was not expressive conduct and therefore, not protected.
Scalia was in the majority, and provided vivid imagery in his decision.
"The purpose of Indiana's nudity law would be violated, I think, if 60,000 fully consenting adults crowded into the Hoosierdome to display their genitals to one another, even if there were not an offended innocent in the crowd," he wrote.