The U.S. Supreme Court late Monday rejected an appeal from a county clerk in Kentucky who said she could not issue marriage licenses to same-sex couples because of her religious objections.
Kim Davis, the clerk in Rowan County, Kentucky, "holds an undisputed sincerely held religious belief that marriage is a union between a man and a woman, only," her lawyers said in asking the court to block a lower court order directing her to issue the licenses.
But the Supreme Court denied her request without explanation in a brief one-line order. No dissents were noted, and the court acted without seeking a response from the state.
It was the first legal skirmish to reach the Supreme Court since it declared on June 26th that the Constitution guarantees gay couples the right to get married.
Immediately after that ruling, Kentucky's governor, Steve Beshear, ordered all the state's county clerks to comply with the decision and issue marriage licenses to same-sex couples.
Saying she did not want to discriminate, Davis stopped issuing all marriage licenses — to both same-sex and opposite sex couples — in the days after the landmark decision. Two gay couples and two straight couples sued her, arguing that her duties as an elected official required her to act, despite her personal religious beliefs.
A federal judge ordered her to issue the licenses, and last week the Sixth Circuit Court of Appeals agreed.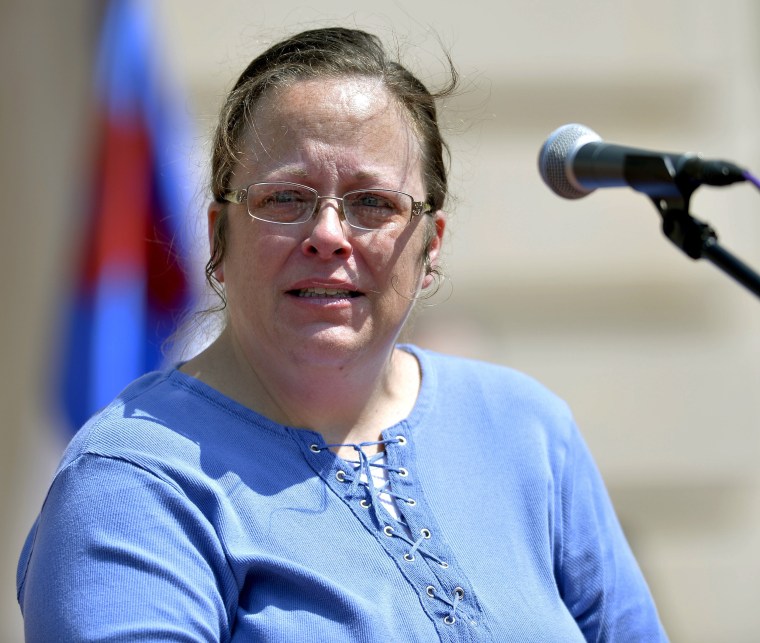 "It cannot be defensibly argued that the holder of the Rowan County Clerk's office, apart from who personally occupies that office, may decline to act in conformity with the United States Constitution as interpreted by a dispositive holding of the United States Supreme Court," the appeals court said.
Davis' emergency request was directed to Justice Elena Kagan, who referred it to the full court for action.
"She's going to have to think and pray about her decision overnight. She certainly understands the consequences either way," Mat Staver, founder of the law firm representing Davis, told the Associated Press Monday, hours before a court-ordered delay in the case expired. "She'll report to work tomorrow, and face whatever she has to face."