Samaria Rice, the mother of Tamir Rice, has joined the chorus of people putting pressure on Cleveland Cavaliers star LeBron James to take a stand on the police shooting of her 12-year-old son.
On Nov. 22, 2014, Tamir Rice was shot and killed by officers who mistook his toy pellet gun for an actual weapon. A grand jury chose not to indict the shooters on Dec. 28, 2015, leading to an outcry from activists.
Eventually, some social media users began encouraging LeBron James to start sitting out NBA games to show solidarity with protesters. The #NoJusticeNoLeBron hashtag gained enough traction to provoke a response from the two-time NBA champ, but he stopped short of directly addressing Rice's death.
RELATED: Grand Jury Decides No Charges in Tamir Rice Shooting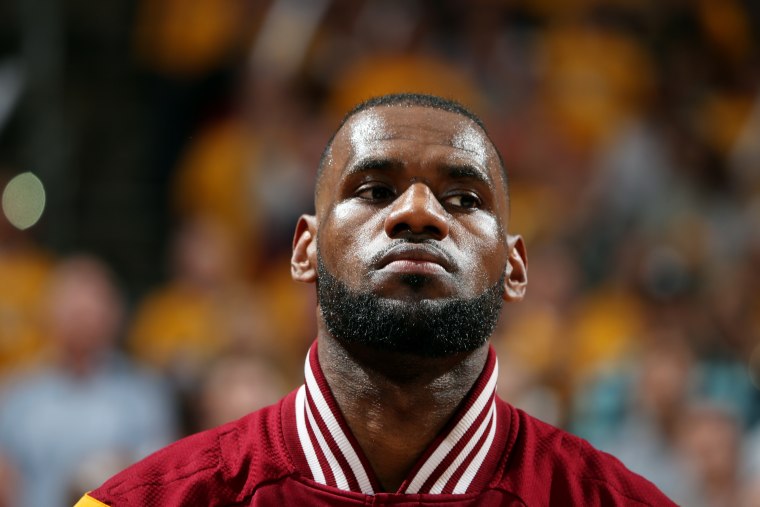 "For me, I've always been a guy who's took pride in knowledge of every situation that I've ever spoke on," James said last month, according to ESPN. "And to be honest, I haven't really been on top of this issue. So it's hard for me to comment. I understand that any lives that [are] lost, what we want more than anything is prayer and the best for the family, for anyone. But for me to comment on the situation, I don't have enough knowledge about it." He did not address whether he would participate in any kind of protest or boycott games.
Still, he added: "I think the most important thing that we all need to understand, the most important thing, this issue is bigger than LeBron. This issue is bigger than me; it's about everyone. And gun violence and tragedies and kids losing lives at a young age, some way, somehow we need to understand that that matters more than just an individual."
RELATED: Tamir Rice Protesters March to Prosecutor's Home
In an exclusive interview with News One published Wednesday, Samaria Rice said James' remarks were insufficient. "I think it's quite sad that LeBron hasn't spoken out about my son," Rice said. "I'm not asking him to sit out a game. I know his kids got to eat too, but you can at least put on a shirt or something. Some of the other athletes, some of them have said something, some of them haven't. I think they should just make a statement. I'm not asking nobody to quit their job or anything, but make a statement for us black people out here."
James has shown a willingness to be identified with alleged victim of police brutality and gun violence in the past. He was one of several NBA players to don "I Can't Breathe" T-shirts in a nod to the apparent chokehold death of New Yorker Eric Garner in 2014.
And in 2012 he posed for a powerful photo alongside his former Miami Heat teammates where they all sported hoodies in an homage to the late Trayvon Martin, who was wearing one when he was shot and killed by George Zimmerman.Still, on Rice case, which has captivated the city of Cleveland for months, he has been oddly silent.
James is by far the most influential athlete in the city right now, and perhaps ever. He is a considerable engine for the city's economy and should he lend his name to the cause of Black Lives Matter activists, for instance, it could certainly galvanize more media coverage and national attention to the issue of gun violence in urban communities.
One local star athlete has closely associated himself with the Rice case, Cleveland Browns wide receiver Andrew Hawkins. In 2014, he wore a shirt as he entered the field for a game which read:"Justice for Tamir Rice and John Crawford." Crawford was another young unarmed black man shot and killed by police at an Ohio Wal-Mart when a toy gun he was holding was also mistaken for a real weapon.
"I have a 2-year-old little boy, that same 2-year-old little boy everyone says was cute when I jokingly threw him out of the house earlier this year," Hawkins said to reporters at the time. "That little boy is my entire world and the No. 1 reason for me wearing the T-shirt was the thought of what happened to Tamir Rice happening to my little Austin scares the living hell out of me."