On Tax Day, demonstrators across the country and abroad have set their own filing deadline for President Trump: Provide your tax returns now.
Demonstrators took to the streets in more than 150 cities around the world to demand transparency and insist that lawmakers put their needs ahead of corporations and the wealthy.
Organizers had hoped the marches would be among the largest political gatherings in the country since the January Women's March on Washington.
In New York, thousands brandished signs, with some that read "You got the birth certificate, show us your taxes" and "No Hidden Figures!" Groups chanted slogans like "You can't build a wall, your hands are too small" and "This is what democracy looks like" as they marched up Sixth Avenue to Trump Tower.
In Washington, D.C., more than a thousand demonstators stood in the shadow of the Capitol to insist that the president defend his American-first agenda by proving that he is not financially entangled with foreign governments.
Congressman Jamie Raskin (D-MD) reminded demonstrators that the country was founded by tax protesters who refused to pay the British government because it didn't represent their interests.
Later, Rep. Maxine Waters (D-CA) insisted that the president is breaking a precedent — Trump is the only president since Richard Nixon to refuse to release his tax returns — because he believes he is above the law.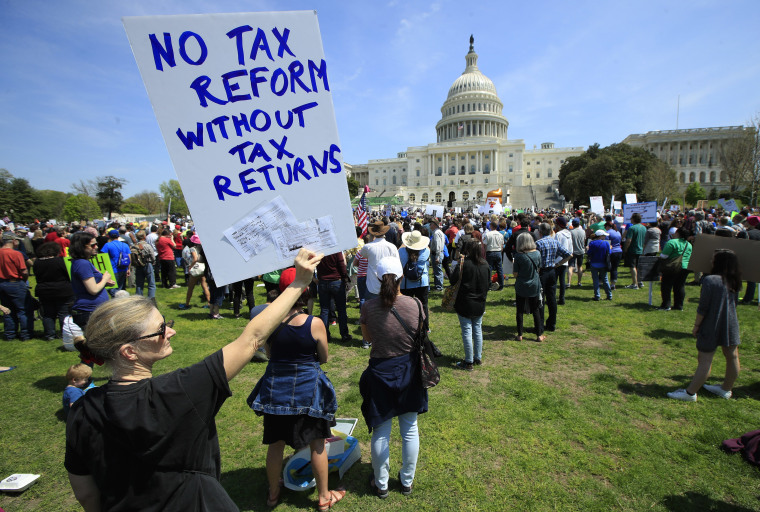 "If he thinks he can get away with playing king, he's got another thought coming," Waters said. "He does not believe that he has to be accountable to the people, but we will pressure him!"
In Berkeley, California, police said 21 people were arrested after participants at a "Patriot's Day" rally clashed with demonstrators from an anti-fascist counter protest. Police in riot gear were on-hand to subdue violent protesters and fireworks were reportedly lobbed into crowds.
Related: Tax Day Protests to Demand Trump's Returns
In Chicago, Rev. Jesse Jackson led demonstrators in a call and response, chanting "Keep hope alive" and "Pay your taxes."
"If taxation without representation is tyranny, then representation without taxation is authoritarianism," Jackson said.
Chicago demonstrators also enjoyed a moment of levity when a brass band took the stage flanked by a giant inflatable Trump rooster and began playing the tune known as "The Chicken Dance."
The president's closest neighbors were also among his most vocal critics.
In West Palm Beach, Florida, where the president is spending Easter weekend, demonstrators gathered across the bay from his Mar-a-Lago estate to demand accountability and transparency.
The president's frequent trips to the golf club — seven out of 14 weekends of his presidency — have hit local Palm Beach taxpayers hard. Palm Beach County Sheriff Ric Bradshaw estimated that each day the president spends in Mar-a-Lago costs his department $60,000. Local officials hope the federal government will help offset the bill, he told NBC News.
Palm Beach resident Dan Baker said Saturday's march was the first rally that he's ever attended.
"I just think that somebody has got to start holding this man accountable," Baker said. "And it's time for him to see how the majority feels."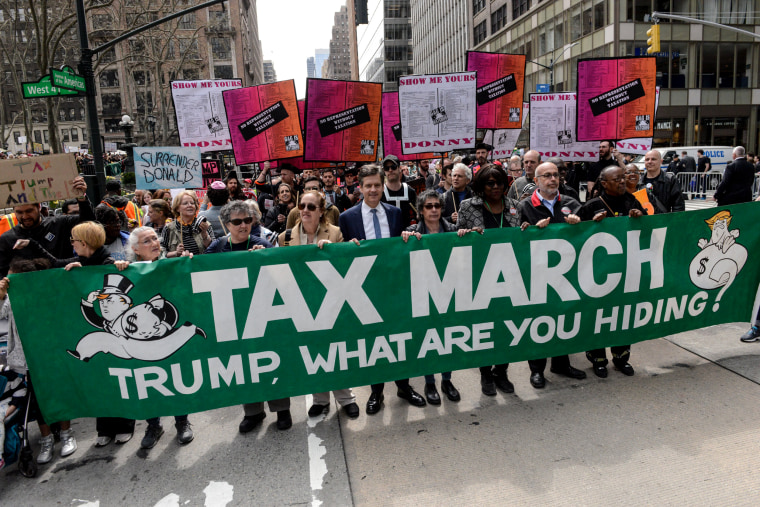 The White House has frequently dismissed calls for Trump to release his taxes, with advisers claiming that the issue is of more interest to the media than the American people.
But a Pew Research Center poll from January found that more than two-thirds of American believe the president has an obligation to release his tax return.
But for many demonstrators, Saturday's rallies were about more than just producing paperwork.
With the White House and Congress vowing to take up tax reform after healthcare stalled in Congress, organizers said they wanted to make sure lawmakers were serving the best interests of the American people and not corporations and Wall Street.