A Tennessee school counselor is being hailed as a hero after talking a middle school student out of opening fire on his teachers.
The 14-year-old walked into Sycamore Middle School in Pleasant View on Wednesday with a semi-automatic handgun around his waist and two magazines of ammunition, Cheatham County Sheriff Mike Breedlove said. The student then went directly to counselor Molly Hudgens' office and told her he was having issues with his teachers.
"He advised Ms. Hudgens he was going to kill some teachers and a police officer, and not students. He came to her because he indicated she would be the only one to talk him out of it," Breedlove told reporters.
For 45 minutes, Hudgens talked with him about the problems he was having, while trying to send texts to the school resource officer for help.
"She was trying to do it also in a discreet manner without alarming him, without having him panic," Breedlove said.
But the texts didn't go through due to poor service, Cheatham County Chief Deputy Tim Binkley told NBC News.
"She was inside the school that has, apparently, a metal roof," Binkley said. "He was in the building with her, but the texts wouldn't go through because of the service."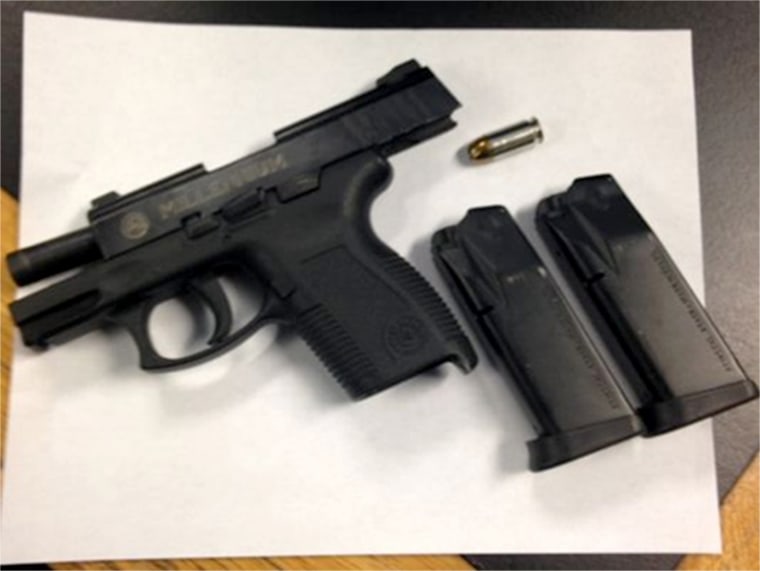 Officials said the student finally gave up the gun and was arrested without any shots fired. He was charged with carrying and possessing a weapon on school property and communicating a threat concerning a school employee. He is still in custody, undergoing psychological evaluations, Binkley said.
In a video message released Thursday by the school district, Hudgens said, "The safety of our school is a responsibility that I take very seriously as a school counselor. Yesterday my previous training and experience granted me the opportunity to help a student in need while protecting our school family as well."
The student didn't name any specific targets she added in the video, and assured students and teachers they were safe.
Hudgens has worked at Sycamore Middle School since 1999. She did not immediately return a phone call from NBC News.
In a bio on the school website, she says, "Sycamore Middle School is my second home and its staff and students are my second family. I am so proud to be a part of our school and this community."
The sheriff praised her for staying calm during her conversation with the student.
"Mrs. Hudgens single handedly saved the lives of many people and should be recognized as a hero in our community," Breedlove said.