After encouragement from the likes of President Barack Obama and Facebook founder Mark Zuckerberg, a Muslim high school student in Texas who was arrested after he brought in a homemade clock said Wednesday he wants to transfer to another school.
"I guess everyone knows: I'm the person who built a clock and got in a lot of trouble for it," said 14-year-old Ahmed Mohamed at a news conference outside his home on Wednesday.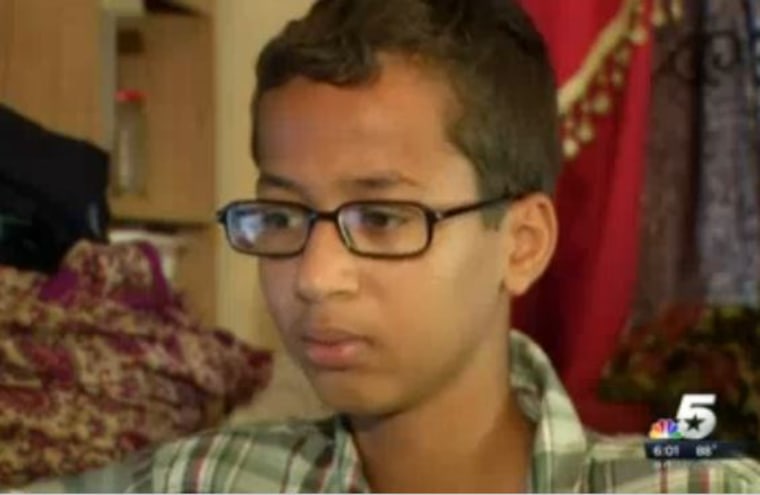 On Monday, Mohamed built a clock and brought it into MacArthur High School in Irving, but ended up in handcuffs after teachers thought the device looked suspicious. Police said Wednesday he will not be charged.
"When I showed it to her, she thought it was a threat to her," Mohamed said. "It was really sad she took a wrong impression of it."
After the clock beeped during class, Mohamed was searched, and a school resource officer believed it could be "the infrastructure for a bomb," Irving Police Chief Larry Boyd said. Police denied that his Muslim faith or background played any role in the actions officers took.
The arrest sparked a wave of support on social media. Obama said on Twitter, "cool clock, Ahmed. Want to bring it to the White House?" Facebook's Zuckerberg invited him for a visit, Twitter offered him an internship, and the corporation 3M voiced its support.
Mohamed's father, Mohamed Elhassan Mohamed, told reporters he is proud of his son, and proud to live in America. The family has lived in Irvine for 30 years, he said.
"What is happening is touching the heart, for everybody has children, and that is America," he said. "When there is something wrong, they stand and rise up, and we're grateful and thankful to them."
"What happened to our son, it is a sign to go forward," he said.
Mohamed said he wants to attend the Massachusetts Institute of Technology, and that, "I'm thinking about transferring from McArthur to any different school."
Mohamed is still suspended until Thursday. He thanked all of his supporters, and had a message for other talented students.
"Go for it! Don't let people change who you are," he said. "Even if you get a consequence for it I'd suggest you still show it to people because you're showing your talent."