BOSTON — Tens of thousands of counter-protesters flooded the streets of Boston on Saturday, eclipsing a competing right-wing "free speech" rally in a display of solidarity after the deadly white nationalist rally in Charlottesville, Virginia, last weekend.
There was virtually no violence as the two groups confronted each other on Boston's streets.
Counter-protesters gathered near Boston's Malcolm X Boulevard, chanting "Whose streets? Our streets!" and "No Trump, No KKK, No Fascist USA." They also held signs that read: "Resist," "Black Lives Matter," and "Get the hell off my lawn, you bigots."
The massive group of diverse demonstrators dwarfed the "Boston Free Speech Rally" in Boston Common, a downtown city park, where approximately 100 people attended.
It is estimated 40,000 people total were out for the demonstrations, officials said.
The dueling protests, on a hot and humid day, quickly evaporated after the free speech rally, which was scheduled to begin around 10 a.m. and ended at 1:30 p.m., according to the Boston Police Department.
Counter-protest attendees told NBC News they viewed the free speech rally, taking place at the same time, as code for hate speech.
"I think as a country you have a right to free speech," said Boston resident Beth Chandler, "but there's a difference to me with hateful speech and free speech. And a lot of what the separatists are saying is hateful speech and there's not a place for that in our country."
"I think there are many groups that are marginalized in our community… and I think we need to stand together and say that is not OK," she added.
The free speech rally was organized by a coalition of self-described libertarian and conservative groups, some of whom identify with the so-called alt-right — a political grouping mixing racism, white nationalism, anti-Semitism and populism.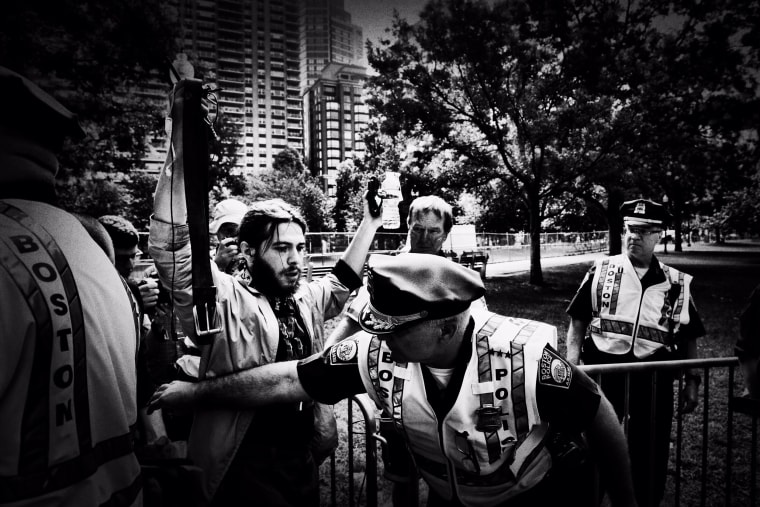 Skirmishes between the competing groups, however, did break out before the free speech rally attendees left. Some with the counter-protesters were seen antagonizing a man draped in the American flag and a free speech attendee tried to rile up the counter-protesters.
After the rally, a counter-protester set fire to a large Confederate flag, prompting a few hundred people nearby to break out into cheers.
The Boston Police Department tweeted that rocks were being thrown at officers about a mile from the Boston Common. Superintendent-in-Chief William Gross said five to six officers were hurt during the protests and a police spokesperson added that all the injuries were believed to be non-life threatening.
Aside from a handful of arrests, however, the protests remained largely peaceful.
Boston Police Commissioner Williams Evans said at an afternoon press conference that the police arrested 27 people, mostly for disorderly conduct and hurling objects at police officers. There were no reported injuries, he said. Police later said a total of 33 people were arrested.
Evans added that "99.9 percent of the people here were here for the right reason and that was to fight bigotry and hate." He called it a "great day for the city."
"No one got hurt and no one got killed and we have no significant — at all — property damage to the city."
President Donald Trump, however, prematurely labeled protesters as "anti-police agitators" in a tweet and thanked the police for looking "tough and smart." He also said Boston Mayor Marty Walsh, a Democrat, was doing a great job.
He later called for unity and for the nation to "heel."
"Our great country has been divided for decade, but it will come together again. Sometimes protest is needed in order to heel [sic], and heel [sic] we will!" the president said, before deleting the tweet and correcting it in a later tweet.
Walsh, however, thanked the people who protested against white supremacists.
"I want to thank all the people who came out today to share that message of love — not hate — to fight back against racism, to fight back on anti-Semitism, to fight back on the white supremacists… the Nazis who were coming to our city," he said.
The president in another tweet appeared to walk back his earlier tweet, also applauded protesters for "speaking out against bigotry and hate."
Dozens of police, called the public order platoon, were also wearing protective gear as a precautionary measure, Evans said.
"We had people who came here to cause problems," Evans said. "Sometimes it doesn't look pretty but that's what they're trained for."
Evans said local law enforcement had a plan in place to quell any potential unrest. There were barricades that kept the dueling protests about 40 yards apart and they implemented an exit plan for the free speech rally attendees.
"We got the First Amendment people in and we got them out," Evans said.
The counter-protest also included some members of Antifa — shorthand for anti-fascists — a mix of far-left leaning militant groups that resist neo-Nazis and white supremacists at demonstrations and other events, often donning all-black attire.
There was noticeable police presence walking in tow with the protesters and at the park. Officials said earlier that 500 police officers, including some undercover and with cameras, would be on patrol.
"I never ever in a million years thought that I'd be waking up to protest Nazis, but I'm here and I'm doing it."
Counter-protesters Jeff and Amelia, a couple from Somerville, Massachusetts, who did not give their last names, were seen wearing the yellow Star of David, also known as a Jewish badge. Jewish people were forced to wear the badge by German Nazis, which was used to humiliate and segregate Jewish people.
"This is what our ancestors had to wear," Amelia said. "We're saying 'No ,we're not going to let it go to that point again.'"
"I never ever in a million years thought that I'd be waking up to protest Nazis, but I'm here and I'm doing it," she added.
Jeff said the couple wanted to reimagine the offensive symbol after the events in Charlottesville.
John Medlar, one of the organizers of the free speech rally, previously told multiple media organizations the rally is not intended for white supremacists, neo-Nazis or members of the Ku Klux Klan. He also said the rally is not for those who attended the violence in Charlottesville.
The Boston Free Speech Coalition said on its Facebook page that the group is "strictly about free speech. We denounce the politics of supremacy and violence."
Other rallies, organized by various political factions, have been planned Saturday in New York, Los Angeles and Venice, California, Dallas and Hot Springs, Arkansas.
The Boston rally has been planned since late July, but gained immense interest after unrest in Charlottesville, Virginia, on Aug. 12, which left 19 injured and one dead.
The Virginia college town devolved into chaos when counter-protesters violently clashed with white supremacists, who were protesting the proposed removal of a statue of Confederate Gen. Robert E. Lee.
The violence escalated when a car plowed into counter-protesters, killing a 32-year-old woman and injuring 19 others, authorities and witnesses said.
Trump defended the torch-wielding white nationalists, saying it was unfair to suggest all the marchers were neo-Nazis or white supremacists. He also blamed "both sides" for the violence. The president's remarks drew swift bipartisan rebuke.
Ahead of the planned Dallas protests, Mayor Mike Rawlings said in a statement on Facebook that a statue of Lee, the Confederate general, was vandalized.
"City staff acted quickly to clean it and Dallas police will be monitoring the park going forward. We will not tolerate unlawful behavior, including acts of vandalism or violence, regardless of one's beliefs," the mayor said.
At least 2,300 people showed up to a peaceful rally outside city hall in Dallas, police said.
In Hot Springs, dozens of members of The Highway Men, a group of pro-Confederate men who hold demonstrations, gathered in support of preserving Confederate symbols at Hot Springs National Park.
Organizer James Del Brock said his group is not linked with the white supremacist rally in Charlottesville and his members are advocating "saving our heritage and constitutional rights."
"We were in Charlottesville, we had nothing to do with that 'Unite the Right' rally, we were there to support the monument… and support the freedom of speech of both sides," he said.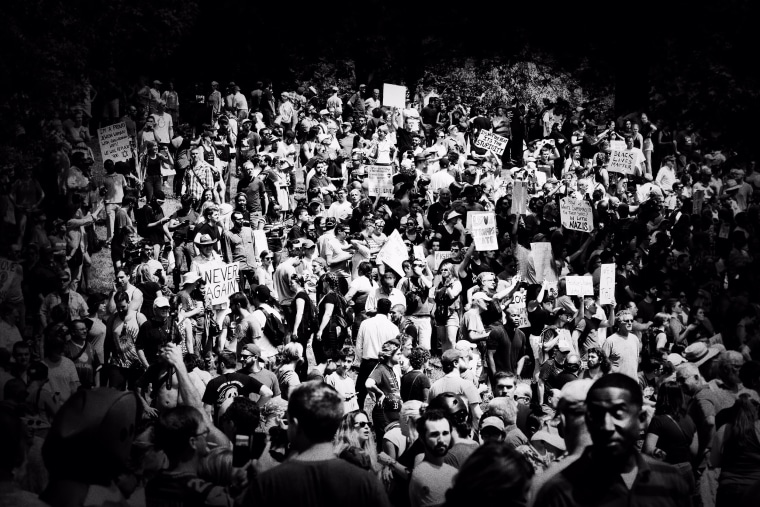 The rally, which also drew opposition, was held in downtown Hot Springs near Confederate Memorial Park, where a statue of a Confederate soldier was dedicated in 1934. It was also the site of two alleged lynchings, according to The Arkansas Times.
"Taking them down isn't going to change the hate in someone's heart. It's not going to change the way they think about anything," Del Brock added, referring to the nationwide efforts to remove Confederate statues.
The pro-Confederate members were briefly accosted by counter-protesters. Two people, a man and women dressed in all black, were arrested after blocking the permitted march to the Confederate monument.
Police arrested a third counter-protester for lighting a bandana with Confederate imagery on fire.
"It was too soaked in sweat and wouldn't burn," said Tim Looper, who claimed he was the cousin of the man arrested. "No flames and just a bit of smoke — no more than a cigarette lit on the street."
Josie Fernandez, park superintendent for Hot Springs National Park, confirmed the individual was cited for disorderly conduct, vandalism and other charges — including damaging natural resources.
Local clergymen and the town's sole rabbi also attended the rally, opposing the racism they said has been openly expressed since last week's unrest in Virginia.
"My perspective is, what is the purpose of trying to conserve a statue?" asked Gregory Nettles, pastor of Visitors Chapel African Methodist Episcopal Church. "What does brick and mortar do when there's no change in the heart?"
Garrett Haake and Aaron Franco reported from Boston and Dartunorro Clark reported from New York. Jacob Rosenberg reported from Hot Springs, Arkansas.