One person was killed and several others were missing as a band of severe thunderstorms put millions of Americans in the path of damaging winds and heavy rain, forecasters said Tuesday.
At least one tornado touched down late Monday in Hutchinson, Kansas, while baseball-sized hail was reported near Chicago and heavy rain triggered flash floods in Kentucky. A derecho swept across several states, according to The Weather Channel.
The storms were moving toward the Southeast on Tuesday, with an area from the Ohio Valley, Kentucky and Tennessee down to northern Alabama most at risk, according to the National Weather Service.
Up to 67 million people were at risk from high winds, with a flash flooding a growing concern — especially in Kentucky, which was already battered by devastating flooding on Monday.
A man died and others were missing after floods in Johnson County, Kentucky, officials said.
A total of seven people in the county were unaccounted for after the floods, said Kentucky State Police Trooper Steven Mounts, warning that the number was "a rough estimate" because "the floodwaters wiped out all means of communication."
The people listed missing as of 10 a.m. ET Tuesday ranged in age from 22 to 74, Mounts said during a news conference. "This list is an ever-changing list," he said.
Mounts said about 50 people had been rescued since Monday, and "several" homes had been washed away.
Falling trees and high winds caused "significant damage" to power lines, according to Kentucky Power. About 22,000 customers were still without electricity at 10 p.m. local time (11 p.m. ET) Monday, it said.
"We had four inches of rain and we had flooding from the creeks and there's another round of storms passing through this morning," Jeannie Kennard, deputy director at Kentucky Emergency Management Agency told NBC News. Most of the state would remain under flash flood watches and warnings through Tuesday evening, according to the National Weather Service.
Kentucky State Police Capt. Sean Welch said that search and rescue teams would have to "operate around" the incoming weather. "We don't want to create more victims or more rescues that have to be conducted," he said.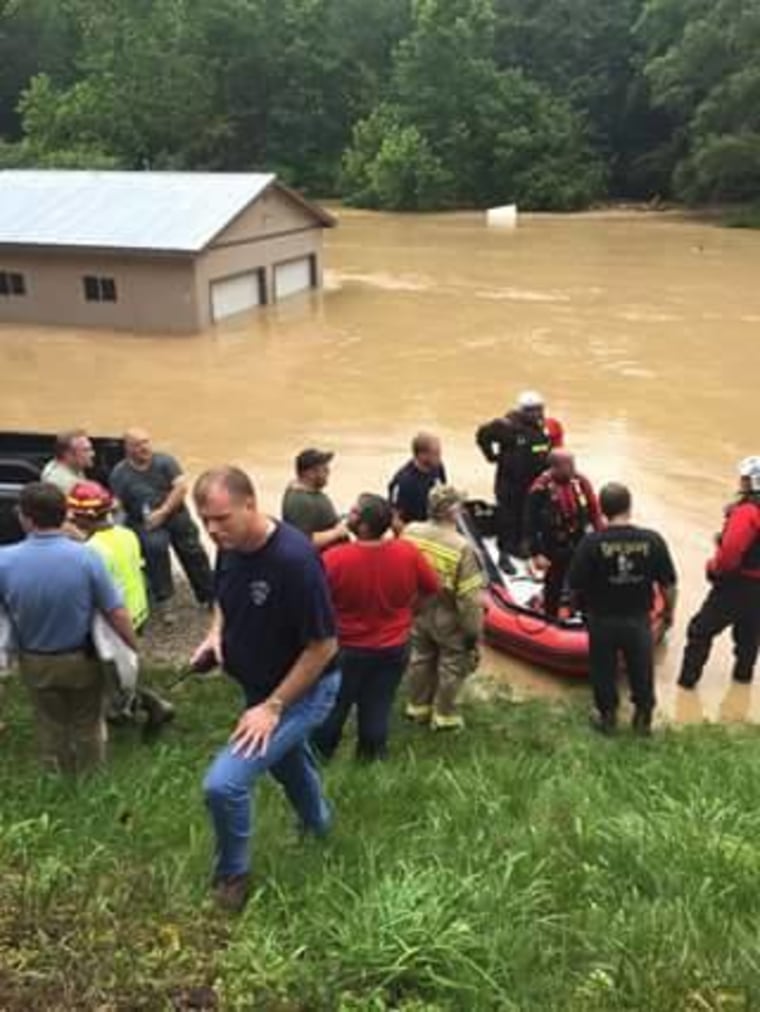 "The primary threat from these thunderstorms and wind and flash flooding but we can't rule out some hail and maybe an isolated tornado," Weather Channel lead forecaster Kevin Roth said.
The Carolinas and Georgia will be in the path of the severe storms by Wednesday, he added.