Brian Sprowel has seen a lot in his nearly 40 years as a professional truck driver. He's been to every state except Hawaii and has logged nearly 4 million miles across America's highways.
But from his seat behind the wheel, he sometimes sees a much darker side of the country.
A few months ago, Sprowel said, he got a late-night knock on his door while he was resting at a truck stop in Quartzsite, Arizona. A sickly looking young woman came up to his truck window and asked whether he wanted any company. He said he pointed to the National Human Trafficking Hotline number on his truck and asked her: "Ma'am, is there something I can help you with? You see this number on the side of my truck? Do you need help?" She ended up running away, Sprowel said, but the red flags were enough for him to alert the authorities.
"I figured, 'Well, this ain't right. There's something going on here,'" Sprowel, 59, told NBC News.
Other truck drivers sometimes call him an everyday hero, in part because he drives a Kenworth rig known as the "Everyday Heroes" T680, but also because of his involvement with Truckers Against Trafficking, or TAT.
The Colorado-based nonprofit trains truck drivers and various other members of the transportation industry to recognize human trafficking and alert authorities to potential victims. TAT says that since it was created in 2009, it has trained about 845,000 people in the transportation industry, over 700,000 of whom are truck drivers. That's out of the total 3.5 million truck drivers who are employed in the U.S., according to the American Trucking Association.
"My heart goes out to these people," Sprowel said. "If I see somebody in trouble, and it [doesn't] look like they're able to get out of the situation, I'm picking up the phone and making a phone call for them."
Making the call is as simple as dialing 911 or the National Human Trafficking Hotline number, but it makes a huge difference in the fight against human trafficking.
'They're taking a second look'
Polaris, a nonprofit organization combating modern slavery, estimates that in 2018 alone, more than 10,000 cases were reported to its National Human Trafficking hotline, a majority of those being sex trafficking cases. More than 23,000 survivors, most of them female, were identified. The Justice Department said it secured more than 500 human trafficking convictions in fiscal year 2018, an increase from the year before.
Advocates, however, say those numbers alone don't tell the whole story, because the issue is largely underreported across America.
Because traffickers often exploit the transportation system to move their victims across the country, truckers are at an advantage in spotting signs and making reports. They're moving in and out of various industries, including rest stops, hotels, motels and restaurants, and, at any given time, there are more professional truckers on the road than law enforcement, according to TAT.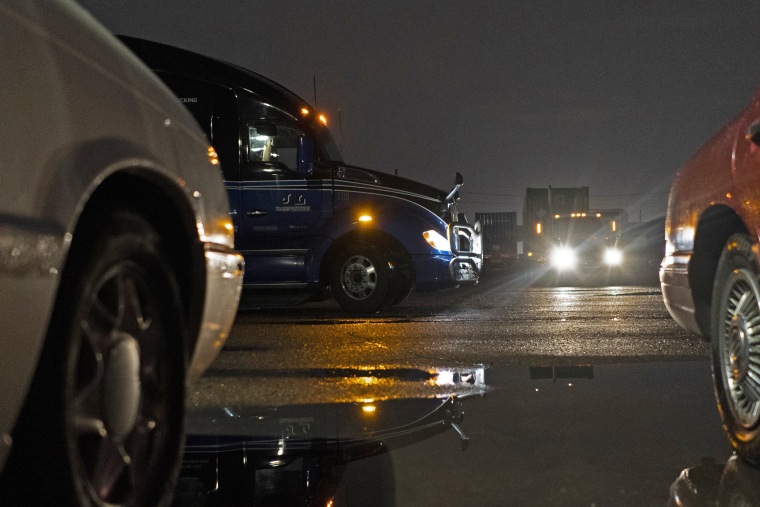 The FBI said in a statement that it "conducts extensive community outreach in the human trafficking space and encourages anyone who suspects human trafficking to report it."
In some cases, the truckers are doing just that.
"They are making the calls that are actually saving lives," said Kendis Paris, the group's executive director. She co-founded TAT with her mother and sisters in 2009 with hopes of ending modern-day slavery and seeking justice for the vulnerable and exploited.
"They're taking a second look," Paris, 44, said of TAT-trained truck drivers. She was recognized by the White House this year, receiving the Presidential Award for Extraordinary Efforts to Combat Trafficking in Persons. "Sometimes they get that knock at 2 a.m. or 3 a.m. — [even though] this is their office, their truck is their office. These guys need sleep. They need to eat. That's why they're at the truck stop. They've got to get back on the road. But they're taking time out of that to actually care, to actually make a call that can save a life."
She points out such drivers as Arian Taylor, who helped a 19-year-old woman escape a sex trafficking attempt, and Kevin Kimmel, who helped save a 20-year-old who had been kidnapped and forced into prostitution. NBC News has not independently confirmed Taylor's or Kimmel's accounts.
And while TAT is helping to save lives, it's also sparking systematic change, according to Paris. Since the organization was created, 12 states have either changed rules or passed legislation to include anti-trafficking training in commercial driver's license school curricula. TAT regularly hosts "coalition builds" to conduct training with law enforcement agencies. It has partnerships with hundreds of companies, including UPS, FedEx, Amazon and TravelCenters of America, to implement anti-trafficking education among its drivers.
TravelCenters of America, which owns truck stops and travel centers nationwide, has been supporting the organization's mission since 2011, and it trains all of its new employees in human trafficking awareness. It even sold TAT merchandise this month, with part of the proceeds going to TAT. And on Thursday, UPS announced a new commitment to train every driver in the U.S., which could lead to more than 130,000 additional TAT-trained drivers.
"We cannot stand by while human trafficking robs people of their freedom, their dignity and their livelihood," said George Willis, UPS' president of U.S. operations.
And with a free online training video, TAT shows drivers what to look for when they're out on the road — a vehicle pulling up with multiple girls and one man behind the wheel, hearing citizens band radio chatter about commercial "company," seeing branding like tattoos that might indicate ownership.
"What should you do in these situations? First and foremost, make the call," Paris says in the video. "We need you, we need the person who has identified the tip to first make the call."
Not looking the other way
It's a call to action that seems to be working. "That curriculum is critical in advancing the anti-trafficking movement," said Caroline Diemar, director of the National Human Trafficking Hotline.
TAT said that, in the past decade, truckers have made more than 2,000 calls to the hotline, helping to generate more than 600 likely cases and potentially identify more than 1,000 victims. Most of the truckers who called were trained by TAT, according to Diemar.
"We're greatly appreciative of their vigilance and the eyes and ears that they are keeping out on the roadways and at rest stops and at truck stops and helping protect the incredible, vulnerable individuals who are being recruited by traffickers and exploited by traffickers," Diemar said.
Once a call is made, Diemar's team in Washington, D.C., assesses the situation and connects the caller with the appropriate resource, which could include a legal service, a mental health provider or a shelter. In situations involving imminent harm or minors, they will report the cases to law enforcement.
It's the type of bystander vigilance that didn't exist when Bekah Charleston was trafficked 10 years ago, she says. Despite being moved all over the country for a decade — through Las Vegas, California, Florida, New York City, North Carolina — and encountering many bystanders, including truck drivers, she says no one said anything or tried to help her, even when she was getting beat up in public or renting motel rooms as a 17-year-old.
"People just choose to look the other way," she said.
That's why a program like TAT is crucial in ending human trafficking, she says — not only because it educates truckers, who are on the road all the time, but also because their calls and reports can help build a wealth of evidence and allow victims to seek justice.
"If I could go back and there had been reports made about me across the country, then it would have been so much easier to prove interstate travel and things like that," said Charleston, 38. She eventually escaped trafficking thanks to a neighbor in an upper-middle-class neighborhood in Denton, Texas, who called authorities about suspicious activity. She celebrated her 10th year of freedom over the summer.
"They saw something, and they said something," she said. "So I can just speak from personal experience that it's so important for people to make these reports. You may never know what happens, but just like in my case, that's how I was able to get out. That neighbor literally saved my life."
'They really care'
The concept of "See something, say something" is familiar to truckers, according to Mike Jimenez, who owns J&L Transportation. After the terrorist attacks of Sept. 11, 2001, for example, the nation called upon truckers to report suspicious activity related to terrorism, he says. Even today, truckers often see everyday violations like speeding or texting while driving.
But when it came to human trafficking, many truckers didn't know what signs to look for or even that the issue existed in the United States. That changed once TAT came on the scene.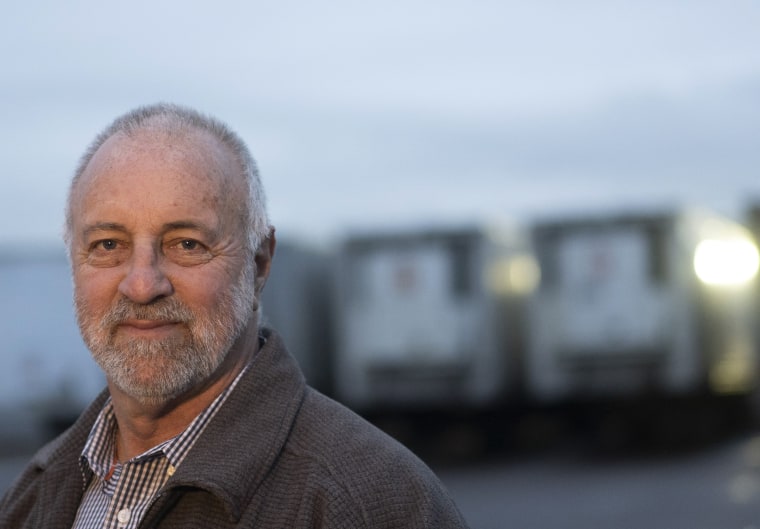 "The awareness factor for my drivers has gone up tremendously," said Jimenez, who encouraged all his drivers to get TAT-trained. "They, like I, were not aware that a lot of this was going on. So they want to try to help."
Sprowel, who is one of his drivers, became especially invested in the issue once Jimenez brought the TAT training to his company. In addition to looking out for signs of trafficking and making calls when needed, Sprowel puts out stickers with the hotline number for victims to text, which is becoming a preferred method of communication for survivors, according to Diemar.
"It is more discreet," Diemar said. "It allows for more flexibility and maybe even a little more anonymity than a phone call does."
Sprowell will even bring up the issue when he wants to make small talk with other drivers at truck stops. "Nice truck," sometimes they'll say. And if they don't know much about human trafficking, he passes out literature or tells them to go to TAT's website.
"Some of them do call me an everyday hero, but I don't consider myself an everyday hero," Sprowel said. "I'm still doing a regular job out here."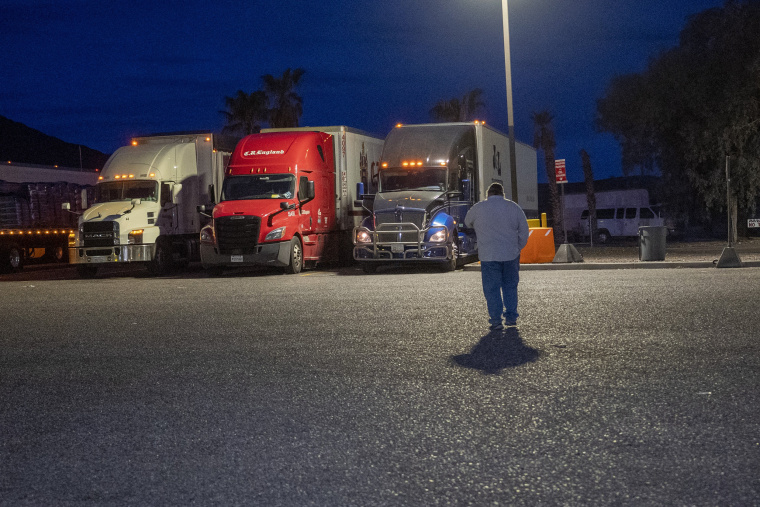 Sprowel said he used to see and hear many of the signs mentioned in TAT's video, but he used to think it was just prostitution, not realizing that the women might, in fact, be victims, answering to a trafficker.
"I didn't realize back at the time that a lot of these girls ... had a pimp behind them saying, 'You just do this, [or] ... 'I'll beat you up, or I'll hurt your mom or your dad,'" Sprowel said. He also said he sees far fewer incidents compared to his early driving career. "If we knew about this 30 to 35 years ago, there would have been so many people saved and so many people going to jail," he said.
Paris calls it a heart and mind change when truckers who have decades of experience on the road now see the same things with a new, more informed perspective.
"They've seen prostitution for years and years," Paris said. "But when they find out what's really going on, the Number 1 response we always get is 'I've got daughters, I've got granddaughters, how can I be a trucker against trafficking?'"
"They really care," she added. "And once they understand that they can play a role in somebody's recovery process, they want to do it."
She's trying to take that awareness to all of America's roads and highways with other initiatives like Busing on the Lookout, which focuses on trafficking at bus terminals, and Empower Freedom, to train drivers who work with the oil and gas industry. Her hope is for everyone on the road to be vigilant about stopping human trafficking.
"It makes me feel good knowing that I do this," Sprowel said. "I'm hoping that there's victims out there, they see my truck, even if they're just traveling down the road, I'm hoping they know people care about them and people [are] trying to get them out of the situation."
If you are a victim of trafficking or know someone who is being trafficked, text or call the National Human Trafficking toll-free 24-hour hotline at 1-888-373-7888. If you suspect trafficking, contact your local police.