A nationwide manhunt is underway for two Georgia inmates who allegedly shot and killed two correctional officers before escaping in a Honda Civic early Tuesday, according to police.
Donnie Russell Rowe, 43, and Ricky Dubose, 24, allegedly overpowered two state correctional officers who were driving a bus transporting inmates, officials said during a press conference. Police said the fugitives then allegedly carjacked a "grass green" four-door Honda Civic and fled the scene.
The bus was on Georgia Highway 16 between Eatonton and Sparta, about 75 miles south of Atlanta.
The Georgia Department of Corrections later identified officers Christopher Monica, 42, and Curtis Billue, 58, as the two officers who were shot and killed. Monica had been with the force for more than seven years and Billue had served for nearly a decade, according to police.
According to a Facebook post from Georgia's Oconee County Sheriff's Office, the inmates allegedly broke into a residence in Madison, Georgia, on Tuesday afternoon.
"The inmates broke into a residence there and got clothes, left their prison whites [uniforms], and made their escape from there," the sheriff's office wrote. "The inmates and their vehicle have not been recovered."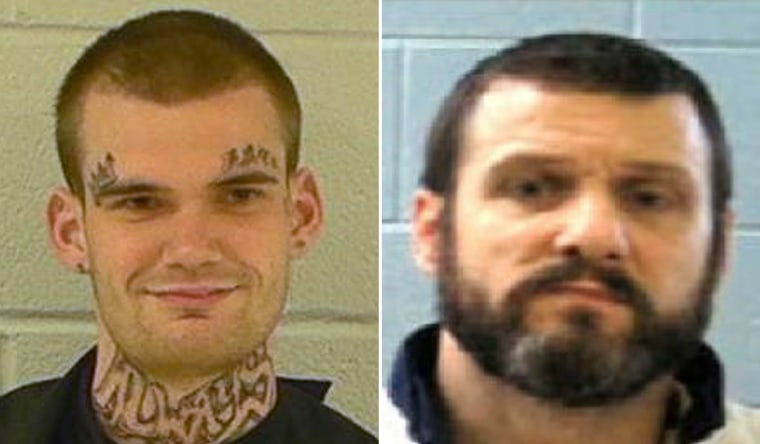 Madison police later confirmed to NBC affiliate WXIA that the inmates were spotted inside a nearby Family Dollar store.
Madison police have searched the business and are now going door-to-door and searching a nearby wooded area, WXIA reported.
The Georgia Bureau of Investigations have offered a $60,000 reward for the arrests of Rowe and Dubose.
Putnam County Sheriff Howard Sills issued a sharp warning to the inmates during the press conference.
"They need to surrender before we find them," he said.
Sills said at approximately 6:45 a.m. Tuesday the inmates allegedly broke into the locked area of the bus separating the guards from the prisoners, shot and killed both officers, took their 9 mm handguns, and then carjacked the first vehicle to approach the scene.
"We are desperately looking for these two individuals," Still said, later adding, "They just murdered two corrections officers; my biggest worry is that they're going to kill somebody else."
The sheriff described what he witnessed at the crime scene in terse terms.
"I saw two brutally murdered corrections officers," he said. "I had their blood on my shoes."
Sills said the prisoners were being transported from a nearby state prison to another facility at the time of the incident. He said that more than 30 other inmates were still locked in the caged area of the bus when police arrived on the scene.
Those inmates are said to be cooperating with police. Authorities are now reviewing video from the bus to determine how the prisoners managed to escape.
Residents are warned not to approach the inmates as both are believed to be armed and dangerous.
Georgia Governor Nathan Deal mourned the loss of officers Monica and Billue and urged residents to remain vigilant while the prisoners are at large.
"Our heartbreak is matched only in our resolve to bring their murderers to justice," Deal said in a statement. "No effort will be spared in pursuit of the killers, and no state resources required in this endeavor will be spared.
Deal said that the U.S. Marshals Southeast Regional Fugitive Task Force, the Georgia Bureau of Investigation, the Federal Bureau of Investigation, and the Bureau of Alcohol, Tobacco and Firearms are all involved in locating the fugitives.
Rowe is serving a life sentence with no parole for armed robbery and Dubose was behind bars for 20 years for armed robbery. Both inmates were housed at Baldwin State Prison, the state Department of Corrections said.