The ranking officer of a Minneapolis police precinct was removed from his post Monday after an image of what appears to be a Christmas tree decorated with racist ornaments circulated on social media, authorities said.
The removal came three days after two officers who were allegedly involved in decorating the tree were placed on paid leave.
Minneapolis Police Department spokesman John Elder confirmed that Inspector Aaron Biard was removed from the top position at the north side precinct station where the tree was apparently photographed.
"After very thoughtful review and consideration I have made the decision that effective immediately Assistant Chief [Mike] Kjos will be responsible for the day to day operations of the 4th Precinct," Police Chief Medaria Arradondo said in a statement.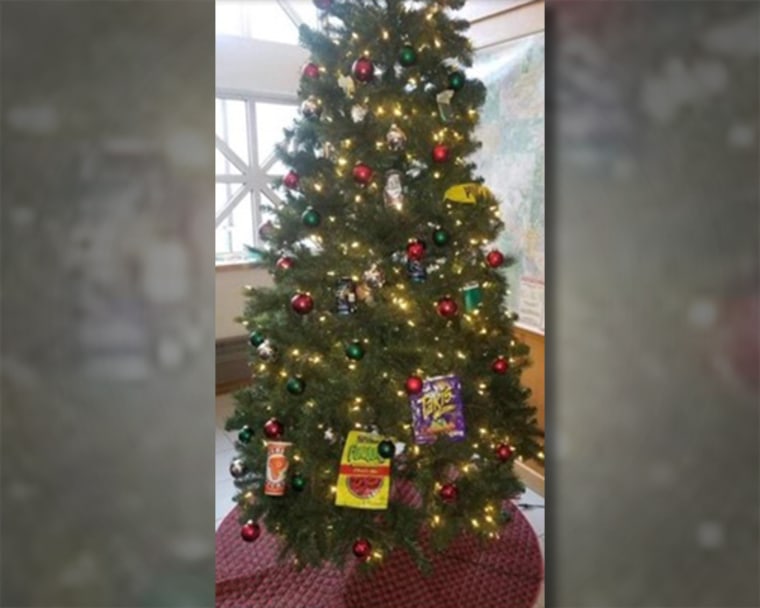 Pictures of the tree — ornamented with Flamin' Hot Funyuns, a pack of Newport cigarettes, a Popeyes Louisiana Kitchen drink cup, alcoholic beverage cans and police tape — started circulating Friday. NBC affiliate KARE compared the photo with another from inside the 4th precinct station, and the background visible in the photos matched.
Minneapolis Mayor Jacob Frey said in a statement that he supported Chief Arradondo's decision to replace Biard, "and it reflects his resolve to make meaningful change."
Frey, on Friday, had condemned the ornamentation.
"This behavior is racist, despicable, and is well beneath the standards of any person who serves the city of Minneapolis," Frey said.
"Shifting the culture of the police department requires swift and decisive action," Frey said, calling for the officer responsible to be fired immediately. The mayor's spokesman later said he recognizes that there is a process for disciplining officers.
The two officers are on paid leave while the department's internal affairs division investigates the incident, Frey's spokesman, Mychal Vlatkovich, told NBC News on Monday.
Minnesota-based civil rights activist Ron Edwards referred to the tree decorations as a "wink wink" to racist stereotypes, the Minneapolis Star Tribune reported.
"It's a modern-day version of a dog whistle, tainted with racism, specifically against the African-American community," Edwards said.
"When we see something like what we saw with the Christmas tree at the 4th Precinct, it is so much more than a racist prank by a single officer. What we see is the ugly racist culture that has been brewing in Minneapolis Police Department throughout its 150-year history," Fourth Ward City Councilman Phillipe Cunningham wrote on Facebook.
"Reminders like this continue to infuriate me and so many in my community. They hurt EVERY gain made in improving community-police relations," he continued.
Minneapolis Police Chief Medaria Arradondo said in a statement that the decorations were taken down "as soon as it was realized what the display was."
"The culture of the Minneapolis Police Department has undergone positive change, however as this recent incident shows we still have much work ahead," he said.
The 4th precinct on Minneapolis' north side has had a particularly difficult relationship with the community. In 2015, a 24-year-old black man, Jamar Clark, was fatally shot in a confrontation with two white police officers. The shooting set off weeks of protests. Neither officer was charged or faced discipline.
"Biased behavior by any member of the MPD in any form through words or actions will NEVER be tolerated by me as your Chief. I will NOT defend the indefensible," Arradondo wrote in a letter to staff Friday. "One singular action that erodes trust with those we serve is a direct reflection on all of us."