A school district has been left reeling after two of its students and a graduate were identified as victims of a shooting at a 16th birthday party in Alabama on Saturday night.
The two current students, Philstavious Dowdell, 18, and Shaunkivia Smith, 17, were set to graduate from Dadeville High School this summer.
Dowdell was a member of the track team and a running back for the football team, Tallapoosa County School Superintendent Raymond Porter said. Dowdell had recently received a scholarship from Jacksonville State University, where he was going to play football.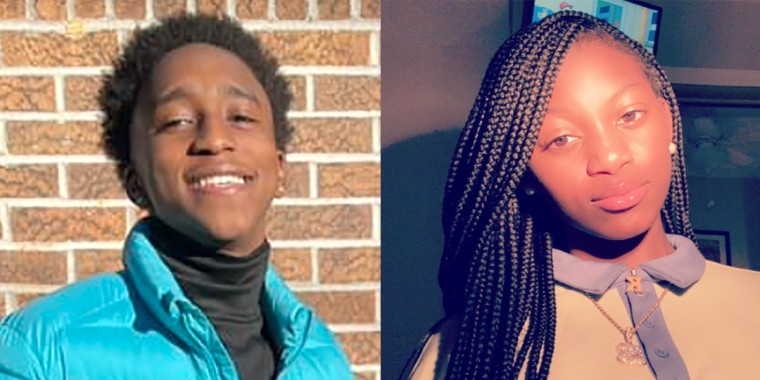 "He was an athlete, but he was much more than an athlete," Porter said. "He had a good personality, a broad group of friends. He was easy to work with from a school standpoint."
Porter said Dowdell's younger sister, Alexis Dowdell, is also a student at the high school. The shooting took place at a birthday party celebrating her, Porter said.
Michael Taylor, an assistant football coach at Dadeville High School, had trained Dowdell since he was 9 years old. Taylor said Dowdell was the oldest of three siblings and best friends with Taylor's son.
"First thing about Phil, he got his huge smile, he got a heart, he humble," Taylor said. "He's a grandmother's boy. His grandmother always give him a scripture before he go to school every day early in the morning."
Smith, who was nicknamed "Keke," was a timekeeper for the school's basketball team.
Amy Jackson, Smith's cousin, said Smith played volleyball and softball and was looking forward to attending the University of Alabama this fall.
She was an "amazing daughter and big sister," Jackson said. "Her smile was infectious, and we will miss her dearly."
Porter described Dowdell and Smith as great students and "good ambassadors for their school system and community."
Porter, who said he is in touch with the families of the two victims, described Monday as a quiet day at the high school.
"It has been a quiet, somewhat somber day," Porter said. "We've allowed clergy to come in and meet with those who requested, and counseling has been provided for those who requested."
Corbin Holston, 23, graduated from Dadeville in 2018, Porter said.
Porter wants all the victims to be remembered not for their untimely deaths but for how they lived.
"Their deaths will not be how they're remembered, but their life will be how they're remembered," Porter said. "I want them to be remembered for the life that they led."
A fourth victim, identified as Marsiah Collins, 19, was from Opelika, Alabama, just about 30 minutes from Dadeville.
The incident occurred at 10:34 p.m. Saturday during a birthday party on the 200 block of Broadnax Street in Dadeville, officials said.
The DJ, Keenan Cooper, said the party was for a 16-year-old girl and added that her mother was struck in the shooting, which he said sounded like an attack with multiple shooters.
"It's very horrific for the children," Cooper said.
He said the party paused when someone with a gun was turned away. An hour later, Cooper said, gunfire rang out and he grabbed as many teenagers as he could, about five, and had them hit the ground.
Police had not identified a suspect or a motive Monday afternoon.