A man who 'viciously attacked' three homeless men with a baseball bat in Los Angeles is being sought by cops.
On Sunday, the unidentified man allegedly beat three homeless men with a baseball bat in two separate incidents, according to Los Angeles Police Department Capt. William Hayes.
All three victims suffered severe head trauma and were taken to nearby hospitals in critical condition. Hayes said none of the men have regained consciousness.
"The assailant viciously attacked the victims while they were sleeping, striking them repeatedly with a baseball bat about the head and shoulders," Hayes said during a press conference, adding that the victims were all asleep in stairwells and alcoves of two different buildings.
Hayes said the first victim, a 59-year-old black man, was beaten at approximately 4 a.m. on Sunday while he was sleeping. The second and third victim, a 23-year-old man and 24-year-old man were sleeping near one another when they were attacked.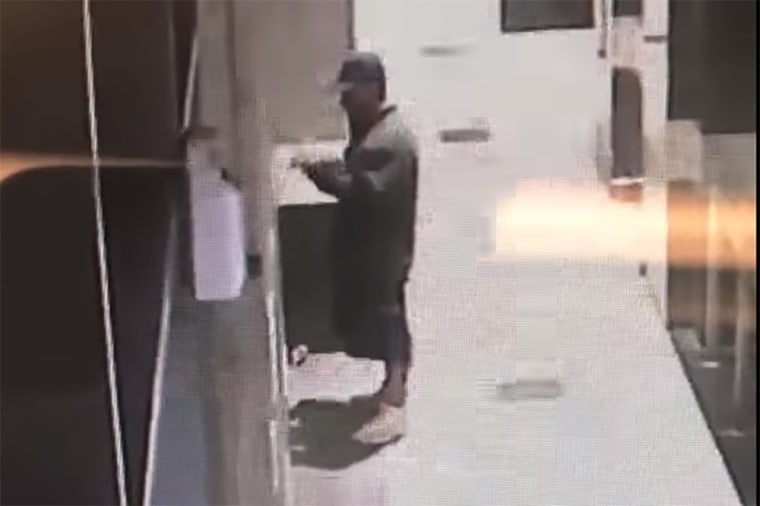 The suspect then went through the victims' pockets, according to police.
All three victims were discovered after security guards in the respective areas did a perimeter checks, and police responded to the scene at approximately 7 a.m. and the men were taken to the hospital.
Hayes described the man, identified by surveillance footage, as a white or Hispanic man in his 30s or 40s. He is is also believed to be homeless, police said.
"This is a violent predator. He's walked up, and without engaging the individual at all, he savagely attacks them with a baseball bat," Hayes said.
Los Angeles Police did not immediately respond to a request for comment by NBC News.