As befits the close aide of Hillary Clinton, the world's most scrutinized woman, everything about Huma Abedin projects privacy and discretion.
(Save the occasional Vogue sitting — since Abedin famously loves fashion.)
"I prefer to be behind the scenes and stay behind the scenes," she told the podcast Call Your Girlfriend earlier this year, in what she herself described as a rare occasion: "I could count on one hand how many actual interviews that I've done."
Abedin is the woman behind the woman. By contrast, her estranged husband, former congressman Anthony Weiner, is the man who has perpetually yelped for attention, including via the sexually-suggestive Twitter direct messages and photographs published by the New York Post Sunday. On Monday, Abedin announced the two would separate.
Even the recent critically-acclaimed documentary Weiner, showcasing Abedin's husband's failed New York City mayoral run, is clouded by this paradox. Weiner told the New York Times his wife never agreed to be in the intensely personal film, which a spokeswoman for the movie disputed.
Her husband's antics aside, Abedin's 20-year proximity to Clinton, which now includes serving as vice-chair of Clinton's presidential campaign, has intensified the political attention on her.
It is, apparently, what justified the Trump campaign putting out an official statement on the dissolution of Abedin's marriage, only the latest Trump pronouncement on the couple.
The Republican candidate said he approved of Abedin's decision to end the marriage but claimed that the entire episode was "just another example of Hillary Clinton's bad judgment," and because of Weiner's alleged "close proximity to highly classified information. Who knows what he learned and who he told?"
So far, the screenshots of Weiner's sexts, published by news outlets over the years, have not included any classified information.
Related: Huma Abedin Announces Separation From Husband Anthony Weiner
Often described as being like a daughter to the Clintons, Abedin is nearly always at Clinton's side, in a nebulous but omnipresent role that began two decades ago when she interned in the then-first lady's office.
"There are people who are terrific at running scheduling operations or at being the rolling chief of staff or at keeping the political connections going. What's interesting about Huma is that she does all of that," the Clinton campaign's chair, John Podesta, told Vogue. He praised "her poise, her unflappability, her ability to problem-solve."
Now, Weiner's behavior has put another strain on that unflappability and added another problem to solve. A person close to Abedin told NBC News Monday the couple had been unofficially separated months ago but technically living together while Abedin was on the road with Clinton for the sake of their young son.
The scrutiny on Abedin has also been professional — and at times conspiratorial, focusing on her religion and heritage.
In October, Abedin met with the House committee investigating Benghazi for more than six hours. An 800-page report ultimately found no wrongdoing on Clinton's part.
Abedin also features prominently in the ongoing saga of Clinton's emails, serving as the referee as various figures, including foundation donors, sought access to Clinton.
Abedin enjoyed an unusual arrangement at the State Department under Clinton, designated as an official "special government employee" that allowed her to have multiple roles in government and act as a consultant to the Clinton family foundation and Teneo, a consulting firm run by a close Clinton associate.
Abedin was born in Kalamazoo, Michigan, in the month of the country's bicentennial and went to George Washington University in D.C. That should make her all-American but the fact that she was raised in Saudi Arabia by Muslim parents, academics born in India and Pakistan, has been an obsession of some on the right.
The suspicions first came to a head in 2012, when five Republican members of Congress, including former presidential candidate Michele Bachmann, named her as a possible Muslim infiltrator of the U.S. government. "Huma Abedin has three family members — her late father, her mother and her brother — connected to Muslim Brotherhood operatives and/or organizations," their letter claimed.
But Republican Sen. John McCain gave a furious floor speech in Abedin's defense. "Huma represents what is best about America: the daughter of immigrants, who has risen to the highest levels of our government on the basis of her substantial personal merit and her abiding commitment to the American ideals that she embodies so fully," he said.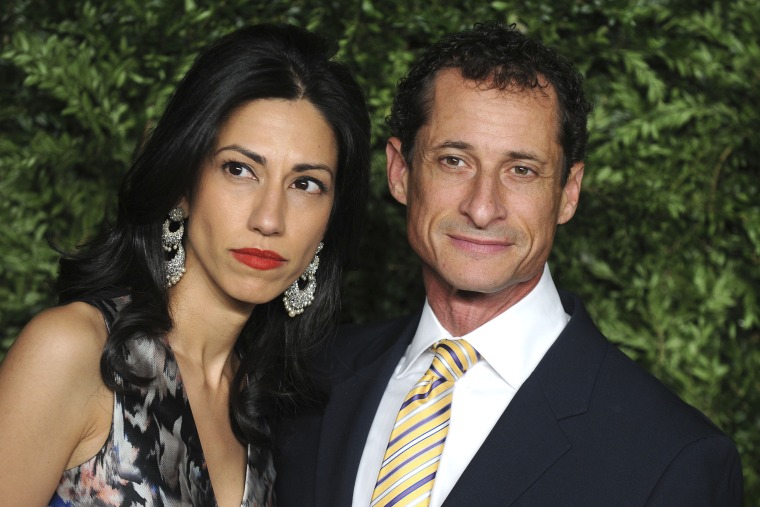 With this being her husband's third turn in the news for his sexting, Abedin has already had to publicly address the issue.
"I think everybody craves their own privacy, and so I think your private life is displayed to the world in a way that you otherwise wouldn't have to deal with if one spouse is a private person and the other person's in politics, as was the case certainly in my marriage," she told the Call Your Girlfriend podcast this March. "But I think it works if you fully support each other in what you're doing."
Asked by co-host Aminatou Sow if she would consider running for elected office herself someday, Abedin laughed.
"No," she said bluntly. Then adding, "Is that the wrong answer? No, I don't think so. I don't think so."