A woman says she was severely injured on a waterslide at a Disney park during her 30th birthday celebration.
She had severe vaginal lacerations and internal organ damage from the ride in Walt Disney World, she said in a lawsuit filed Wednesday in Orange County, Florida.
The woman is seeking more than $50,000 in the lawsuit, which was filed by attorney Alan Wagner of Tampa, after her 2019 trip to Disney's Typhoon Lagoon, where, the lawsuit said, the Humunga Kowabunga slide puts riders at risk of a painful "wedgie."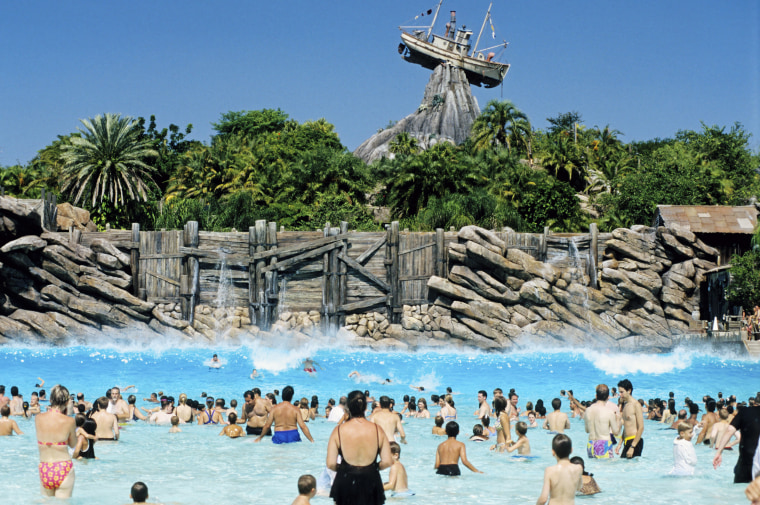 Disney did not respond to a request for comment.
The woman went down the ride, which features three side-by-side enclosed slides, with her mother and her daughter.
"The slide caused [her] clothing to be painfully forced between her legs and for water to be violently forced inside her," the lawsuit says. "She experienced immediate and severe pain internally and, as she stood up, blood began rushing from between her legs."
She was wearing a one-piece swimsuit, according to the suit.
The woman was taken to a local hospital by ambulance, and she was later moved to another hospital to repair her gynecologic injuries, the suit says.
She "suffered severe and permanent bodily injury including severe vaginal lacerations, a full thickness laceration causing Plaintiff's bowel to protrude through her abdominal wall, and damage to her internal organs," it says.
Typhoon Lagoon — which opened in Orange County in 1989 — is home to a large outdoor wave pool and other water-themed rides. Humunga Kowabunga, the park's fastest, steepest waterslide, sends riders down a five-story drop at nearly 40 mph, according to Disney's website.
At the top of the slide, riders are instructed to cross their legs at the ankles, according to the complaint. The woman alleges in her suit that she was put at risk for injury when she became airborne and was slammed against the slide, increasing the likelihood of her legs' becoming uncrossed.
"The risk of injury as a consequence of water being forced inside a woman's body is far greater than it is for a man," the lawsuit says.