A wind-whipped winter storm that dumped a foot of snow through Wednesday morning in parts of the Northeast has left a trail of bitter cold that will linger through the weekend.
Anyone living east of the Rockies can expect "reinforcing shots of cold air," said Bob Oravec, a National Weather Service forecaster.
"We're in a pretty persistent cold pattern right now, and the biggest break we're going to get is on Saturday – but that's before the next cold front comes through Monday," Oravec said.
Expect below zero temperatures in some parts, he warned.
A rapid moving "clipper" system was expected to bring more snow to the Midwest and Great Lakes Wednesday night and then to portions of the Northeast on Thursday, the Weather Service said.
That system will also propel frigid air now hanging over the Midwest and Northeast into the southern Plains and ultimately the Gulf Coast.
Temps remained below average Wednesday, forcing folks to bundle up tight while shoveling snow. Commuters had to slog through messy roads, while flights and schools were canceled.
The snowfall ended south of Boston by 4 a.m. Wednesday, according to The Weather Channel. But in New York City, Philadelphia, and Washington, D.C, where the weather had caused havoc on the Tuesday evening commute, wind chills had plummeted well below zero.
The temperature in all three cities was between 9 and 12 degrees – with wind chills as low as minus-7 in Washington, D.C. Wind gusts across the region will get up to 33 mph, the National Weather Service reported.
That was hardly the worst of the cold. Fargo, N.D., was enduring wind chills of minus-38 on early Wednesday, and the air temperature in northern New England was -12 at mid-morning.
As for snow, residents of the Northeast faced the prospect of digging themselves out of some heavy snowfall, the heaviest fell in Manalapan, N.J., which got 15.5 inches. A foot fell in New York City and 13.5 inches in Philadelphia on Tuesday.
Schools across the Northeast were closed on Wednesday, although New York City had a regular school day for its 1.1 million students.
Some New Yorkers complained about schools staying open in the midst of transportation snarls, while others criticized the city for a lag in snow removal in Manhattan's posh Upper East Side.
Mayor Bill de Blasio, who campaigned on closing the gap between rich and poor residents, at first brushed off complaints, saying "no one was treated differently."
Later Wednesday he backtracked, saying "more could have been done to serve the Upper East Side."
The cold weather led to some tense moments for New York dog owner Mary Ann Nesdill. Her black Lab-border collie mix "Teddy" broke through the ice on a pond at a Long Island park and had to be rescued by a firefighter.
It was not only people on the ground subjected to winter misery: More than 1,500 flights coming into or out of the U.S. on Wednesday had been canceled by 3 p.m. ET.
According to FlightAware, most of these came at New York's LaGuardia and John F Kennedy International airports, Newark Liberty International, Boston Logan, and Philadelphia International. There were some 2,200 delays nationwide.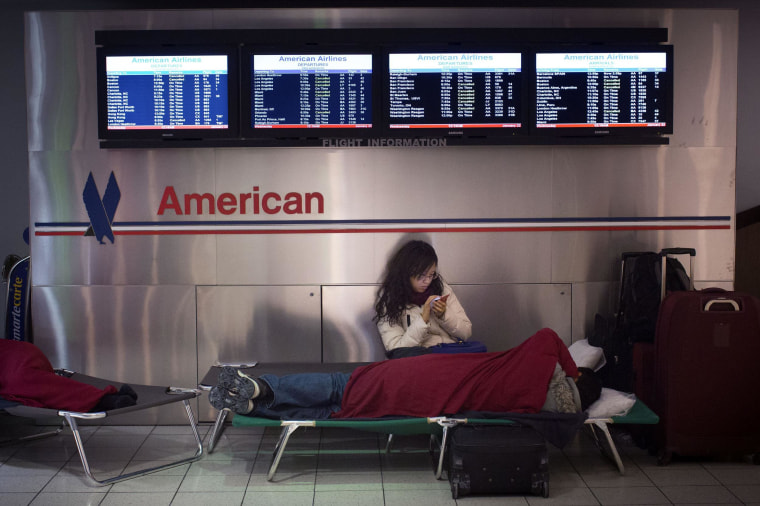 Amtrak said it would reduce the frequency of trains on the Boston-Washington run as well as service between New York and Harrisburg, Pa. Other routes were operating normally, but passengers were urged to check Amtrak.com for other possible changes.
In D.C., most offices of the government reopened on a two-hour delay Wednesday after shutting down Tuesday.
"We've had about 80-plus calls for personal injury collisions today," said Scott Graham, assistant chief of nearby Montgomery County, Md., Fire and Rescue, told NBCWashington. "Some of which have been very minor... turning out to be property damage; some more significant, with minor traumatic injuries, vehicles overturning."
In Maryland, 11 inches of snow had accumulated in Northeast Heights. The storm was blamed for at least one death in the state, that of a driver whose car fishtailed into the path of a tractor-trailer on a snow-covered road 50 miles northwest of Baltimore.
And police said the storm might have claimed more lives: A preliminary investigation showed wet conditions played a role in a two-vehicle crash that killed two people in Prince George's County, Md.
The storm was a conventional one that developed off the coast and moved its way up the Eastern Seaboard, pulling in cold air from the arctic. Unlike the epic freeze of two weeks ago, it wasn't caused by a kink in the polar vortex, the winds that circulate around the North Pole.
— NBC News' Erik Ortiz and The Associated Press contributed to this report.