TULSA, Okla. — The 3,000 electronic games and gaming tables are silent at the River Spirit Casino Resort as the water encroaches, idling more than 1,500 employees in an eerie scene threatening to repeat itself in flood-soaked communities across the Midwest and the Great Plains.
The 200,000-square-foot gambling mecca has been closed since the Arkansas River began flooding last week, and it's expected to remain closed until at least the middle of next week, said Muscogee (Creek) Nation Casinos, which operates the casino.
The casino's pool bar is under water, which has even entered its famed tiki bar, the resort said.
"We're still at the mercy of Mother Nature, waiting for the water to stop rising," Pat Crofts, the company's chief executive, said Tuesday.
The Army Corps of Engineers has been releasing 275,000 cubic feet of water per second from the Keystone Dam, which protects Tulsans from the waters of Keystone Lake and the Arkansas and Cimarron rivers upstream.
David Williams, a hydrologist with the Corps, said at a press conference Wednesday afternoon that "heavy rainfall this morning has largely remained below the reservoir, below Keystone Dam, and short-term weather models suggest that this trend will continue through the remainder of today."
Williams said thereservoir's elevation peaked Tuesday and was not dropping. He added that in the "absence of additional rainfall and inflow coming into the reservoir," the Corps will maintain the release of 275,000 cubic feet of water per second from the dam through late Thursday. It will then begin to reduce the magnitude of that release, he said.
"We were very fortunate last night, for the first time in about a week and a half, the weather broke our way," Tulsa Mayor G.T. Bynum said at the news conference. "The rain that we were anticipating to be pretty severe ended up not being as bad as projected."
More than 2 million gallons of water a second has been flowing toward Tulsa, putting the city's 75-year-old network of levees at risk of failing. If that were to happen, entire neighborhoods would flood with water that the Tulsa Health Department said is likely to be full of snakes, sewage and debris.
Bynum warned that despite the night of better weather, there was still work to be done and residents should "remain vigilant" and while there was no emergency in regards to the levees at the moment, "there is high risk."
He encouraged people living near the levees to consider proactively relocating.
"The river is still having a release out of the dam that's highest than it's been in over three decades, we still have a long way to go before we're in a safe pace in this community," he said.
"This is not a time to be taking a deep breath and relaxing, we're still in a very dangerous situation right now," he said.
The National Weather Service in Norman said a severe thunderstorm watch was in effect until 5 p.m. for parts of south central and southeast Oklahoma, with clusters of storms continuing to impact the southern part of the state.
At least six deaths have been confirmed in Oklahoma since the severe weather and flooding began early last week, the state's chief medical examiner said. Every county in the state remained under emergency declarations Tuesday.
Two levees northwest of Little Rock on the Arkansas side of the river have already been topped as the flooding swallows up much of the Arkansas-Oklahoma border, according to the state Department of Emergency Management, which closed two major bridges spanning the river Monday night.
In Pulaski County, Arkansas, Two Rivers Park and its dam, along with the Big Dam Bridge, were closed as the Arkansas River reached 22.4 feet on Tuesday, on its way to a forecast crest of 27.2 feet by Sunday, well above flood stage.
"This is a very catastrophic, not-yet-over scenario that we're dealing with," Rep. Steve Womack, R-Ark., said.
At the tip of the peninsula formed by the confluence of the Missouri and the Mississippi rivers in Missouri, the Rivers Pointe Fire Protection District told residents of Portage Des Sioux and West Alton to evacuate as the Mississippi crests.
"The levees are tired, just plain and simple," Fire Chief Rick Pender said.
At least seven people have died because of flooding and tornadoes across Missouri, the Highway Patrol and the state Department of Public Safety said Tuesday.
"I've been here 5½ years, and I've been through two 50-year floods," Mark Newlin of Portage De Sioux told NBC affiliate KSDK of St. Louis. "And they're calling this a 100-year flood."
One death has been confirmed in Iowa, that of an unidentified person in the town of Adair, near Des Moines, authorities said.
"This is the worst I've seen it," Russ Bates of Council Bluffs, just across the Missouri River from Omaha, Nebraska, told NBC affiliate WOWT of Omaha. "I think the storm drains just can't handle it."
Bates said he thought he was OK when he left for work Tuesday morning. But when he returned home in the afternoon, water "was coming in my doors."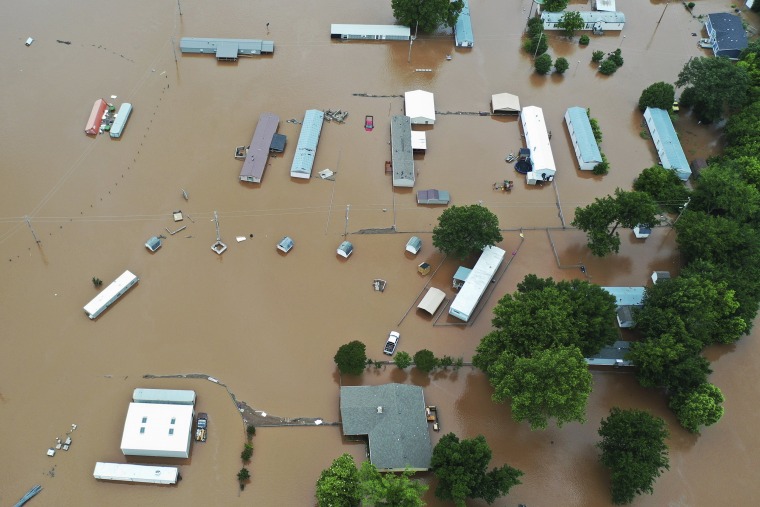 In Casey, about 25 miles west of Des Moines, winds associated with the storm were so fierce that they flipped over four semitrailers on Interstate 80 on Tuesday morning.
"One minute you're driving, and the next second you're on your side sliding down the interstate," Sgt. Nathan Ludwig, a spokesman for the Iowa State Patrol, told NBC affiliate WHO of Des Moines.
The storm knocked over several large trees at the Oakwood Cemetery nearby.
"Oh my goodness. I can't believe how such old trees can just be toppled," Romonia Dinkla, the cemetery's treasurer, told WHO. "It's just amazing, and I didn't want to look in that hole."
While no coffins were disturbed, the cemetery is faced with a mammoth cleanup effort.
"We really don't have the budget for something like this, so we're going to have to rely on volunteers," Dinkla said. "We have a volunteer cleanup every year, but this is going to take major volunteers."
Kerry Sanders reported from Tulsa, Oklahoma. Alex Johnson reported from Los Angeles.
CORRECTION (May 29. 2019, 12:27 p.m.): An earlier version of this article misstated Rep. Steve Womack's party affiliation. He is a Republican, not a Democrat.